Model Karly Loyce Survives Fashion Week With Pilates and Agatha Christie
The in-demand model breaks down her style must-haves, recent obsessions, and what gets her through fashion month.
---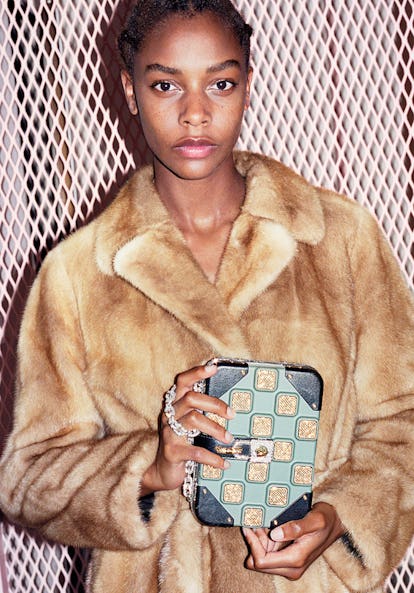 With fashion month upon us, expect to see a lot of new clothes, celebrity appearances, and one particularly statuesque figure: Karly Loyce. Since making her first major mark on the fashion industry by walking in the Céline Fall 2015 runway show, the Martinique-native has quickly became a catwalk favorite, appearing on all major runways including Chanel, Oscar de la Renta, and Brandon Maxwell. Ahead of the Spring 2018 season, where she is all but certain to dominate all four cities, the in-demand model breaks down her style must-haves, recent obsessions, and what gets her through fashion month.
What are three words that describe your personal style?
Effortless, boyish, and chic.
Daily uniform?
Flared or skinny jeans with a pair of derbies, then I throw on a Levi's trucker jacket with my Céline bag and I can go anywhere.
Who do you look to for style inspiration?
I mostly look at magazines and the editorials and photoshoots I work on are a big source of inspiration… Stylists always give good advice.
How are you preparing for New York Fashion Week?
Preparation is key before this crazy fashion month. I'm trying to rest as much as I can even if summer is filled with a million things to do with friends and family. I gradually go back to exercising with Pilates exercises that I learned a few months ago. Skincare is also fundamental. For my face, I use Avene's Cleanance Mask, which is perfect to get rid of blemishes. I also alternate with Caudalie's Instant Detox Mask. After that, I apply Embryoliss's Lait Crème for ultimate moisture and I'm ready for fashion week.
What is your go-to off-duty look?
When I am off-duty, I really like to be comfy, so I'm going for my Levi's mom jeans, paired with a T-shirt—I actually like to use the ones they give us backstage—and a good old pair of Stan Smiths.
What's your favorite piece in your closet right now?
My new Fear Of God bomber jacket; I feel so good in it
What was your last purchase?
I went crazy for the new Saint Laurent Sunset Bag
What's your favorite song to play while getting dressed?
"Unforgettable" by French Montana featuring Swae Lee.
Streetwear or high fashion?
My vision would be a mix of both. It somehow reflects nowadays fashion, chic but still relaxed.
Where's your favorite place to shop?
Being a model, I have the chance to shop in very different places and I love it. In Paris, I would say Galeries Lafayette and Printemps for all designer brands. In London, all the thrift stores to find THE perfect piece that will stand out and make a difference. Finally in New York, all of Soho to find original and truly cool pieces.
What's something you would never wear?
I don't really get the 'shorts with tights' look.
What are you currently reading?
Detective novels! I love to play detective and solve the investigations. Agatha Christie is my favorite writer.
What's are you most looking forward to right now?
I am really looking forward to discovering the new collections during this fashion month, to see what I can incorporate in my wardrobe, and also the next Game of Thrones season—but I have to brace myself with patience on that one…
Related: Who Flexed the Hardest on Instagram During Summer 2017?
Kit Harington Auditioned for "Game of Thrones" With a Black Eye