Meet Gregory Siff, the First Artist Anthony Vaccarello Has Collaborated With at Saint Laurent
Gregory Siff, who counts Helmut Lang, Swizz Beatz, and Zayn Malik among his fans, is the first artist Saint Laurent is getting behind in its new Anthony Vaccarello era.
---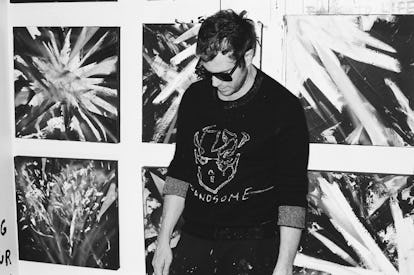 2wenty
During his tenure at Saint Laurent, Hedi Slimane seemed to spend half his time as a talent scout. In addition to musicians, the designer enlisted unknown artist after unknown artist, from teen scions to self-taught names in their forties. That changed, though, last year, when Anthony Vaccarello came over from Versus Versace and took over the house's reigns—that is, until this month, when Vaccarello decided to throw back a bit of Slimane into his revisiting of the house's legacy by collaborating for the first time ever with an artist, on soon-to-be unveiled additions to its fall 2017 collection with the L.A.-based Gregory Siff.
It all, started, oddly enough, with some marshmallows. Siff, whose past collaborators include Helmut Lang, didn't know too much about fashion, but when he spotted Saint Laurent's Slimane-era billboards, featuring "handsome dudes with sunglasses" and "girls in a rock n' roll scene" around town a few years ago, his eyes were glued. The images soon became home to some of the spray-painted marshmallows Siff was then leaving mostly in art institutions like MoMA, LACMA, and the Hammer Museum—until Saint Laurent decamped to the west coast for a satellite show, and Siff took to spray-painting the house's promotional posters instead.
It was to his delight, then, when late last year, he found himself at Art Basel Miami Beach with a crew of "really cool-looking, interesting guys and girls" smoking cigarettes and wearing those tell-tale sunglasses. It turned out he'd ended up in the company of the brand's future: Vaccarello and his muse, Anja Rubik.
"They didn't act like the superstars; they were really people," Siff recalled of how he got up the courage to show them his artwork, and later send Vaccarello some of it in the form of a printed scarf. Before he knew it, he'd gotten an email informing him that Vaccarello "really digged" his work and wanted to use two of his motifs for his fall 2017 collection, whose show, which saw the designer mix men's and women's looks for the first time, included Siff among the crowd also featuring Kate Moss, Charlotte Gainsbourg, Catherine Deneuve, and, of course, Rubik.
Though the rest of the pieces will be released later this summer, so far, it's clear that Vaccarello opted for a face motif featuring the word "HANDSOME" that Siff described as "almost like a male self portrait." If that sounds a little presumptuous, know that Siff is no stranger to ego: "Every good artist paints what he is," goes the Jackson Pollock quote Siff recited, a phrase that puts Pollock among Keith Haring, Jean-Michel Basquiat, and Andy Warhol as his biggest art inspirations. (In other words, "men whose personalities stand by side by their paintings.")
The New York art scene holds another significance for Siff, too: He grew up on Rockaway Beach in Queens with parents who hung out at Studio 54, and whom he credits with giving him "this cool rock star life at a young age." That included frequent traveling, which is how, as a baby, he sighted Warhol himself when he took the Concorde to Monte Carlo. Another of his parents's hot spots was Mr. Chow's, which is how Siff ended up running into the artist again, in another way, too, when he pestered his mom to no end about why a picture of a hamburger would be displayed inside a Chinese restaurant. ("It's art," she patiently explained of the drawing by "Mr. Chow's friend," aka Warhol.)
Once Siff had finished studying at New York University, though, he decided to turn his back on his degree in journalism and communications and found himself identifying much more closely with Kanye West, whose archival inspirational tweets he has taken to posting lately, and whom he felt a strong connection with after he went through a similar loss when his father passed away the same year as Donda West.
"All these things started to put me in an uncomfortable position, but I painted myself out of it," Siff said of how he went from painting sporadically to turning it into an everyday practice—one that he's managed to tie to fashion, too. Eventually, Siff painted, graffitied, and spray-painted enough marshmallows that a few years later, he could be found partnering with none other than Helmut Lang, painting the windows of his Melrose Avenue flagship store and collaborating on a t-shirt line, which benefited the charity Project Angel Food. Then, in 2015, Siff also turned up on the east coast at New York Fashion Week after the designer Kerby-Jean Raymond enlisted him to spray paint leather jackets and pants on the runway as models walked Pyer Moss's show for spring 2016—designs that soon ended up on the back of one Zayn Malik, and have kept Siff a favorite among collectors like Swizz Beatz.
To Siff, though, it was the Pyer Moss's show's involvement with Black Lives Matter that had the most significance, proving how fashion be a "very strong megaphone." And while he's not shying from heavier projects, his collaboration with Saint Laurent has made him appreciate the industry's "realness," in other ways, too. "For me, fashion has always been something that's close to art, like when I'm painting a rough one in black and blue all day and get paint on my sneakers," he said. "People always ask, what is that, where'd you get those? And I'm like, this is my life."
Ruffles, Rhinestones, and Rock 'n' Roll: It Must Be Saint Laurent
Saint Laurent presents its Fall/Winter 2017 Collection during Paris Fashion Week. Photo by Jake Hateley

JAKE HATELEY
Saint Laurent presents its Fall/Winter 2017 Collection during Paris Fashion Week. Photo by Jake Hateley

JAKE HATELEY
Saint Laurent presents its Fall/Winter 2017 Collection during Paris Fashion Week. Photo by Jake Hateley

JAKE HATELEY
Saint Laurent presents its Fall/Winter 2017 Collection during Paris Fashion Week. Photo by Jake Hateley

JAKE HATELEY
Saint Laurent presents its Fall/Winter 2017 Collection during Paris Fashion Week. Photo by Jake Hateley

JAKE HATELEY
Saint Laurent presents its Fall/Winter 2017 Collection during Paris Fashion Week. Photo by Jake Hateley

JAKE HATELEY
Saint Laurent presents its Fall/Winter 2017 Collection during Paris Fashion Week. Photo by Jake Hateley

JAKE HATELEY
Saint Laurent presents its Fall/Winter 2017 Collection during Paris Fashion Week. Photo by Jake Hateley

JAKE HATELEY
Saint Laurent presents its Fall/Winter 2017 Collection during Paris Fashion Week. Photo by Jake Hateley

JAKE HATELEY
Saint Laurent presents its Fall/Winter 2017 Collection during Paris Fashion Week. Photo by Jake Hateley

JAKE HATELEY
Saint Laurent presents its Fall/Winter 2017 Collection during Paris Fashion Week. Photo by Jake Hateley

JAKE HATELEY
Saint Laurent presents its Fall/Winter 2017 Collection during Paris Fashion Week. Photo by Jake Hateley

JAKE HATELEY
Saint Laurent presents its Fall/Winter 2017 Collection during Paris Fashion Week. Photo by Jake Hateley

JAKE HATELEY
Saint Laurent presents its Fall/Winter 2017 Collection during Paris Fashion Week. Photo by Jake Hateley

JAKE HATELEY
Saint Laurent presents its Fall/Winter 2017 Collection during Paris Fashion Week. Photo by Jake Hateley

JAKE HATELEY
Saint Laurent presents its Fall/Winter 2017 Collection during Paris Fashion Week. Photo by Jake Hateley

JAKE HATELEY
Saint Laurent presents its Fall/Winter 2017 Collection during Paris Fashion Week. Photo by Jake Hateley

JAKE HATELEY
Saint Laurent presents its Fall/Winter 2017 Collection during Paris Fashion Week. Photo by Jake Hateley

JAKE HATELEY
Saint Laurent presents its Fall/Winter 2017 Collection during Paris Fashion Week. Photo by Jake Hateley

JAKE HATELEY
Saint Laurent presents its Fall/Winter 2017 Collection during Paris Fashion Week. Photo by Jake Hateley

JAKE HATELEY
Saint Laurent presents its Fall/Winter 2017 Collection during Paris Fashion Week. Photo by Jake Hateley

JAKE HATELEY
Saint Laurent presents its Fall/Winter 2017 Collection during Paris Fashion Week. Photo by Jake Hateley

JAKE HATELEY
Saint Laurent presents its Fall/Winter 2017 Collection during Paris Fashion Week. Photo by Jake Hateley

JAKE HATELEY
Saint Laurent presents its Fall/Winter 2017 Collection during Paris Fashion Week. Photo by Jake Hateley

JAKE HATELEY
Saint Laurent presents its Fall/Winter 2017 Collection during Paris Fashion Week. Photo by Jake Hateley

JAKE HATELEY
Saint Laurent presents its Fall/Winter 2017 Collection during Paris Fashion Week. Photo by Jake Hateley

JAKE HATELEY
Saint Laurent presents its Fall/Winter 2017 Collection during Paris Fashion Week. Photo by Jake Hateley

JAKE HATELEY
Saint Laurent presents its Fall/Winter 2017 Collection during Paris Fashion Week. Photo by Jake Hateley

JAKE HATELEY
Saint Laurent presents its Fall/Winter 2017 Collection during Paris Fashion Week. Photo by Jake Hateley

JAKE HATELEY
Saint Laurent presents its Fall/Winter 2017 Collection during Paris Fashion Week. Photo by Jake Hateley

JAKE HATELEY
See W's most popular videos: