Model Rachel Finninger is Into Behavioral Economics
The Texan on her latest obsessions and beauty tips.
---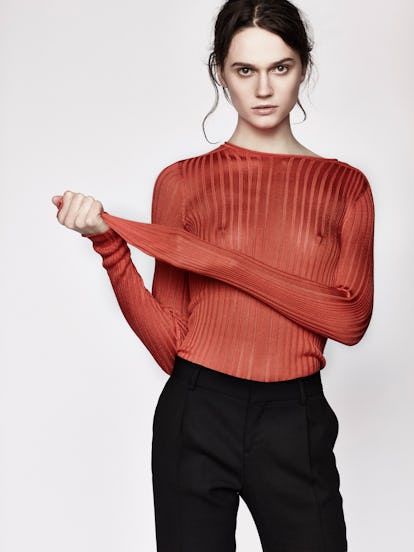 New to the fashion scene, Rachel Finninger walked in some major shows during the spring collections, from Valentino to Victoria Beckham. Here, the model shares how she prepares for photo shoots, her beauty icons, and more.
Your look in three words: Simple. Edgy. Monochromatic.
Five-minute routine: Moisturize, pencil and brush brows, spritz and go.
Never leave the house without: Chapstick, iPhone charger, gum, and iPad to read.
Day to night look: Mascara and lip gloss!
Beauty from the inside out: Having a foundation that is stronger than your circumstances is vital. Being, peaceful, elegant, calm and composed in the midst of crisis comes from within.
Exercise regime: I'm such a runner. I did it throughout high school and lost touch, but now I find that when I'm stressed or anxious I just go for a mile run. I also walk around New York City a lot — the subway is my Stairmaster!
Fashion week nutrition-prep: You wear what you eat. If you're eating junk food in private, you're wearing it in public. When I prep for a shoot I have lots of green juice, onions are also great for your nails and skin to make them shiny. And avocado of course! I do scrambled eggs with caramelized onions and grilled avocados. It's so good!
Beauty essentials: Non-acetone polish remover, cuticle cream from the drugstore, and coconut oil. Oh and the Topshop Brow Pencil!
Skincare secret: Mineral water, and exfoliating gloves in the shower.
Hair remedy: Coconut oil. I use it on my scalp and ends, and throw my hair into a shower cap and leave it for thirty minutes before showering. It leaves your hair so shiny and healthy.
In-tub must-read: I just read the Harry Potter series for the first time! I'm also really interested in Predictably Irrational by Dan Ariely — it's about behavioral economics, it's fascinating.
Fragrance of choice: Tory Burch Absolu.
Best advice from mom: Two tablespoons of apple cider vinegar every morning. It's like a shot. Chase it with some orange juice.
Best advice from the pros: Trim your hair even if you don't want to.
Beauty icons: Carmen Dell'Orefice – she's like an aged wine, she gets better with time. And Cindy Crawford. I like her skincare too.
Motto: Less is more.
Models Have The Best Beauty Advice
Edie Campbell on beauty: "There's more to life than what you look like on the outside, but I guess first impressions count."
Daria Strokous on the best spa-cation: "The Blue Lagoon in Iceland. It's the most surreal place I've ever been and the mud masks are amazing."
Herieth Paul on off-label uses: "Conditioner as shaving cream. It not only softens the hair making it easier to shave, it leaves legs feeling super silky and smooth."
Julia Nobis on skincare: "You can make a very decent body scrub using nothing but equal parts sugar, preferably raw, and olive oil. I have done this in a hotel room using room service supplies. Worked as a treat, tasted awful though."
Andreea Diaconu on advice from the pros: "No eyebrow plucking."
Daphne Groenveld on juicing: "I tried a juice cleanse once at a resort where we spent a lot of time doing yoga, Pilates and meditation. I loved it. I felt calm and my skin looked really good."
Kate Moss's best advice from mom: "Don't mix the grapes with the grains."
Photo by Mert Alas and Marcus Piggott, styled by Edward Enninful; W Magazine September 2014.
Caroline Trentini on event makeup: "Always take a picture with flash for a final check—this shows if the colors of the concealer/foundation are right."
Miranda Kerr on the secret to beauty from the inside out: "Mediation. Nurturing the mind, body, and soul connection. Exercise often. Keep moving. From the outside, using my certified organic skincare. I also feed my body with foods that are high in nutrients like lots of fresh greens and noni juice."
Aline Weber on great skin: "Find a dermatologist—and stick with them."