Moncler's Signature Puffers Get the 1017 ALYX 9SM Treatment
Designer Matthew Williams was "inspired by mud extrusions from the Venice canals" for the earthy color palette of his Moncler Genius collection.
---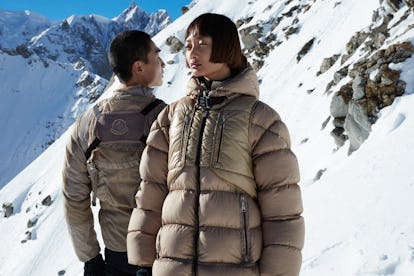 Courtesy of 6 MONCLER 1017 ALYX 9SM.
"It's very versatile, from city to mountain," the 1017 ALYX 9SM designer Matthew Williams says, of his just-launched Moncler Genius collection. Available today, the collaboration features a curated lineup of garments in a restrained palette of black, white, burnt orange, and earthy beige, combining Williams's innovative approach with the sophisticated Alpine functionality of the Italian coat maker.
Standout pieces include a slimmed-down paratrooper-esque parka; a fluffy, body-enveloping puffer in a warm, appealing shade of taupe; and a hooded down jacket frosted with Swarovski crystal dust. Fans of Alyx will appreciate Williams' signature techniques, like technical buckles, laser-cut details, sonic bonding, and garment dyes, but the pieces are sure to be beloved by anyone who's looking to stay warm and active this winter.
Williams, who was also named the creative director of Givenchy over the summer, joins a roster of 11 other designers who were invited to join forces with Moncler this year, including Jonathan Anderson, Simone Rocha, Hiroshi Fujiwara and Craig Green. The vision of the Moncler Genius project, now in its third edition, is to "reinterpret the ordinary through the extraordinary and to inspire emotions in both the city, and the mountain, where Moncler was originally born."
Noting the utilitarian aspect of both brands, Williams says he approached his collaboration with the intention of "bringing the best of both worlds, exploring new territories and creating exciting products," he says. "It's about creating an emotional response and creating a conversation as well."
Rather than referencing a particular era or pulling inspiration from an artwork or film, Williams emphasizes that the Alyx team starts each design from square one: "We don't really work with theme. We work from silhouettes, shapes, and colors," he says, adding that the color palettes were inspired by mud extrusions from the Venice canals.
That distinctly organic feel—a rarity in the world of performance outerwear—extends to the production process as well: certain pieces are made from a regenerated nylon derived from ocean and land based waste, boots are molded from natural rubber, and hooded zip cardigans are knit from virgin wool.
For Williams (who has applied Alyx's look to products by Nike, Stüssy, Mackintosh and Bang & Olufsen, among others) working across different industries and mediums comes easily: "It is really a creative conversation where ideas and concepts are exchanged to bring different areas of expertise together," he says. "It feels very natural."
Related: 1 Moncler Pierpaolo Piccioli: A New Kind of Couture