Bay Watch: Montenegro
With its deep port and arresting natural beauty, Montenegro is fast becoming the Mediterranean's most exclusive playground.
---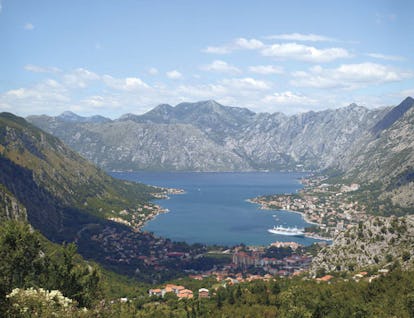 When a vendetta shooting takes place on a bright spring morning at a café in a picturesque public square, it can be inconvenient for more than just the victim. That was the case this past May in Montenegro, the tiny Balkan nation that gained independence from Serbia only four years ago and that is feverishly recasting itself as a luxury travel mecca. Dragan Dudi´c, the owner of a discotheque in the medieval village of Kotor, was sipping coffee on a terrace when he was shot and killed, apparently in retribution for some previous misdeed of his own. Nobody else was hurt that morning (except for the killer, who was severely pummeled by Dudi´c's bodyguards before the police arrived), but the incident, and the subsequent newspaper stories examining Dudi´c's connections to fugitive drug lord Darko Sari´c, offered outsiders an ill-timed reminder of Montenegro's sometimes shady history. It came just as the country was getting ready to unveil several glossy new attractions, such as a $900 million-plus superyacht marina in the harbor that once housed the Yugoslav navy.
In truth, Montenegro is a perfectly safe place these days if you're not a drug runner named Darko or Dragan, and the occasional revenge killing seems unlikely to threaten the country's five-star future. Berths are filling rapidly at the new marina, Porto Montenegro, which Canadian billionaire Peter Munk is bankrolling with other investors like Bernard Arnault and Lord Rothschild. Just down the coast, Amanresorts is opening its latest showpiece, in the fortified island village of Sveti Stefan, where it has converted 118 fisherman's cottages into 47 suites, a bakery, an antipasto bar, and a cigar lounge. And the Swiss-based developer Orascom is about to break ground on a $1.3 billion resort complex amid the olive groves on the bucolic Luštica peninsula.
While the Kotor incident offered an extreme example of the rough edges that the Montenegrin government is eager to smooth out, it also provided evidence of a certain raw authenticity that many travelers are craving these days. Montenegro is at that pivotal moment in which it has eliminated water shortages and power outages but has not yet been colonized by EasyJet. If you want a vacation spot where you can spend the day maneuvering your boat between serene waterside tavernas and decommissioned submarine bunkers, or hiking alone in one of Europe's last primeval forests, look no further.
"The western Mediterranean has become so oversaturated, it's almost a joke," says luxury yachting guru George Nicholson of Camper & Nicholsons. "But parts of Montenegro still have the feel of Saint-Tropez in the Forties. It's unique."
Consider, for instance, the spectacular coastline, a stretch of the Adriatic that has enraptured both 19th-century poets (Lord Byron is said to have called it "the most beautiful encounter between the land and the sea") and modern-day travel guides (Lonely Planet rhapsodizes, "this perfumed land, bathed in the scent of wild herbs, conifers and Mediterranean blossoms…"). The woman sitting behind me on the plane had a more succinct take. "Holy crap," she said as we swooped down toward the Gulf of Kotor and Tivat airport, past the soaring mountains that line cerulean bays dotted with stone houses. Indeed, the scenery along Montenegro's coast—as well as inland, where you'll find the world's second-deepest canyon—is so magnificent as to seem almost indecent, especially when you realize that it's contained in a country the size of Connecticut, with a population of 670,000, equivalent to that of Memphis.
A leisurely tour of the Gulf of ­Kotor, by car or by boat, reveals a place that is increasingly conscious of both its past and its future. The bay's namesake medieval old town, with its limestone captain's homes and quaint squares, is like a "best of" compendium of Ottoman, Venetian, and Hapsburg architectural styles. But on the night I ­arrived, one of the largest new yachts in the world—Al Mirqab, the sleek steel 436-foot behemoth belonging to the Prime Minister of Qatar—was looming just outside the 16th-century town gate. A few miles along the shoreline is the baroque gem of Perast, a picturesque jumble of gray bricks and red tiles that was a major seafaring capital when this area was under Venetian rule. Its population has since dwindled to 400, though its 16 churches and 17 palazzos, most closed or crumbling, are still there, along with several dockside restaurants.
As word of Montenegro's unique charm spreads, the predictable celebrity rumors are spreading with it: that Brad Pitt and Angelina Jolie made an appearance on the coast this year, after a visit to Bosnian refugees (true); that Michael Douglas and Catherine Zeta-Jones bought a palazzo fixer-upper in Perast (false, though they were spotted there recently); and that model Natalia Vodianova was closing in on two apartments at Porto Montenegro (true, but she backed out after a reported tiff with Nat Rothschild, another investor in the development).
The new buzz marks a sharp shift from the past couple of decades, when the tourist industry catered mainly to budget-conscious Serbian families. But avoiding the white plastic beach chairs (or the cruise ships that crowd Kotor in high season) is as easy as veering left when the main road goes right. Across the bay from Perast, a half hour's walk up a steep overgrown path, is the ancient stone village of Gornji Stoliv, which has no streets or stores and a population of two. It's essentially an Adriatic ghost town with exceptional views, a 19th-century church whose bell still rings on the hour, and a grazing bull that's tied by its horns to an olive tree.
In a country this tiny, with the smallest GDP in Europe, any venture as ambitious as Porto Montenegro is destined to have a colossal impact. When its final phase is completed in a few years, the marina development will be composed of about 700 apartments and multiple hotels, shops, restaurants, and a farmers' market, in addition to 650 berths, 150 of them large enough for super­yachts. Dozens of boats are already there, such as the hulking, 213-foot Sputnik, owned by Russian oligarch Oleg Deripaska, another Porto Montenegro investor. Large enough for a helicopter pad, Sputnik is actually just a shadow boat for Deripaska's even larger yacht, Queen K. All boats in the marina benefit from tax breaks and duty-free fuel, thanks to aggressive government incentives. And Munk clearly isn't cutting back on costs, as evidenced by the mature palm trees he's imported from Uruguay and by his A-list design team, which includes Tino Zervudachi and Martin Lane Fox. "I have Rupert Murdoch coming in on his boat this week, and he's not going to come back with his friends if I'm skimping on the trees on the dock," Munk says.
For an example of how not to do things, Munk only needs to look a few miles down the coast to Montenegro's main pocket of overdevelopment. Budva, formerly known for its pleasant old town and sandy beach, is now engulfed by brightly colored concrete eyesores, most built in the past five years by Russian investors in search of a quick buck. The Porto Montenegro set will feel more at home farther south, at Sveti Stefan, the latest Aman resort, where the largest units boast four bedrooms and a pool. The preternaturally scenic island, a cluster of limestone huts reached by a narrow causeway, already had a glam incarnation during Montenegro's previous heyday, in the Sixties, when it drew Marilyn Monroe and Sophia Loren.
If Montenegro's coast is speeding somewhat restlessly toward the future, the country's wild interior remains very much the way it's been for the past few millennia. Three hours from Kotor is Biogradska Gora National Park, one of only three remaining virgin forests in Europe. Farther north you can rent a cabin in Durmitor National Park next to a glacial lake, or camp during a rafting trip down the thrashing river that cuts through Tara Canyon. The more inland you travel, the more things take on a Balkan feel, from the architecture (Orthodox cupolas replace Venetian belfries) to the food (stewed lamb and potato- cheese kaˇcamak edge out grilled snapper and olives). But one surprise for travelers expecting a stereotypically gruff greeting is that the Montenegrins' tough-guy facade crumbles quickly. The waiter who served me coffee at a tiny log hut in the mountains wanted to know if I'd ever interviewed Bruce Willis or 50 Cent; when I admitted that I hadn't, he said, "Okay, maybe someday," and asked if he could friend me on Facebook.
Montenegrins also like to tell jokes at their own expense, many riffing on their reputation for laziness. ("Why does every Montenegrin have a chair next to his bed? Because when he wakes up in the morning he needs to sit down and rest.") A more nuanced view cites a tendency toward a fatalistic hedonism, the product of generations of war and, more recently, recession. "We're not lazy, we just know how to relax," says tech entrepreneur Predrag Lekovi´c, sipping a caipirinha at Almara Beach Club, back on the coast. Opened two years ago, Almara is the local answer to Nikki Beach, with a pulsing soundtrack, Cristal champagne, and curtained sun beds.
For now at least, Montenegro is one of those rare places offering a bit of everything but not too much of anything. But it's certain that more and more outsiders will soon be joining the fun. Tourism is Montenegro's biggest industry, and Prime Minister Milo Djukanovi´c is determined that it only get bigger. After midafternoon cocktails at Almara, I join a group of tipsy locals for the five-minute boat ride to Bigova, a small village where Montenegrins and British yachtsmen eat squid on a vine-covered terrace of Grispolis restaurant, while kids play water polo off the jetty. "Every fish you eat here I caught myself—this morning!" says Siniša Lazarevi´c, whose parents own the place.
His mother, Nada, who opened the restaurant 15 years ago and is now sitting on a very prime piece of real estate, says she hasn't received any offers for it yet and doesn't want to sell anyway. "But in the future who knows what will happen?" she says with the nonchalance of someone who's sure that an interested suitor—whether it's Peter Munk, the Four Seasons, or Darko Sari´c—will one day come calling.