Moran Atias Gets Down and Dirty
The Israeli actress trades Italy's variety-show circuit for the big screen.
---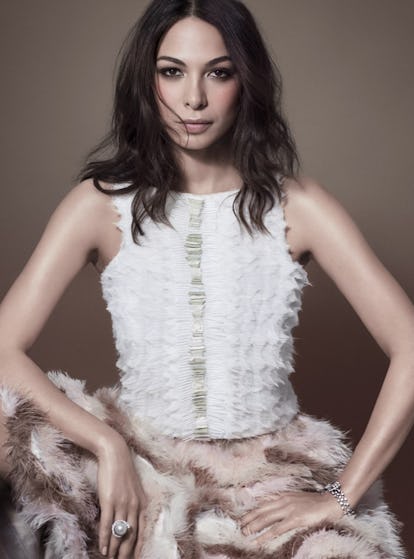 To prepare for her breakout role as a Roman gypsy in Paul Haggis's romantic drama Third Person, Moran Atias worked hard to get unsexy. "That specific sweat and grease took weeks," says the 33-year-old Israeli actress, who went four months without showering. "It takes a lot to be repulsive 
to Italian men," she adds, rolling her eyes.
Atias, who spent her early 20s sashaying across Italy's TV screens for networks best known for their creative misogyny, even attempted to shadow a woman who caught her attention in a gypsy camp in Rome—and who eventually swindled her out of 100 euros. "That's where I found my inspiration for the film," says Atias, whose character, Monika, may or may not be conning an American businessman (Adrien Brody).
Atias, who is now based in L.A., wasn't always so ambitious. For a while, she was blissfully content to sing and dance on tacky Italian variety-television shows. "Now I 
look at images of me then and think, Wow, 
that's short! Oh, my God, that's shiny!" 
she says in mock horror. It was, in fact, the designer Domenico Dolce who suggested that she try acting—or any other career path. "He was like, 'What are you doing?' " Atias recalls.
Later this summer, she stars in the hotly anticipated Tyrant, a Middle Eastern TV drama on FX from the creators of Homeland. Atias plays a dictator's wife who rules with an iron fist encased in a couture glove—a glamorous, deadly combo of Leila Trabelsi (the ruthless former first lady of Tunisia) and Hillary Clinton. Says Atias, gleefully, "This woman runs shit."