A Very Murray Christmas Takes NYC
Miley Cyrus, Jenny Lewis, and Sofia Coppola help Bill Murray celebrate the season.
---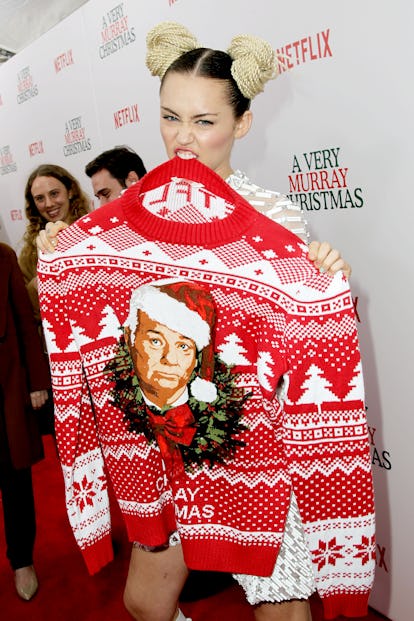 New York's Paris Theater became the site of a full-on frenzy on Wednesday night as a serious group of stars gathered to fete Netflix's Original Holiday Special, A Very Murray Christmas. Written by Bill Murray, Mitch Glazer, and Sofia Coppola (who was also the director), the modern variety show shows famous faces like Miley Cyrus, George Clooney, Rashida Jones, and more singing along with Murray at the Carlyle hotel.
Always the comedian, Murray splashed onto the red carpet, amusing photographers by falling into the backdrop and doing Bond-inspired poses. As unsuspecting friend and co-star Paul Schaffer gave interviews, Murray snuck up behind him, embraced him, and kissed the back of his neck. When Bill Murray calls for anything, he said, "I only have two questions." "What time, and what do I wear," he and Murray said in unison. "Paul had great confidence in me that I could be a singer kind of guy and he elevated everyone to another level," said Murray. "What a one of a kind experience it was to work with someone who was a real band leader. It was never about Paul, it was always about what was best for the whole thing."
Miley Cyrus showed up with braided pigtails and '90s metal clips (they're officially back), posing for photographers in head-to-toe Prada before a mini stampede of fans swept her away.
Of course, the fans weren't restricted to behind a velvet rope—many of the special's stars were eager to share their love of the man of the hour. "Really amazing things happen around him," said musician Jenny Lewis. "I met him at Austin City Limits… On the night that we met, my band and I took him back to our tour bus and he asked me for a bottle of water and a beer. And he took off his hat and poured the bottle of water in his hat and then put his hat on [laughs] and that's when I knew we were going to be friends for a long time."
"It's always a surprise working with him," offered a smiling Coppola, who was not without supporters herself: Among attendees were her husband Thomas Mars and cousin Jason Schwartzman, who appear on the special, her brother Roman, who serves as Executive Producer, and supporters like her friend Lee Radziwill and her father Francis Ford Coppola, who simply came to catch the show.
But no one's stardom could match that of the man of the hour: Bill Murray. "To be honest with you, I'm still pretty blown away when he says my name," joked Schwartzman. "I love him so much, honestly."
Photos: A Very Murray Christmas Takes NYC
Miley Cyrus. Photo by Marion Curtis for Netflix
The cast of "A Very Murray Christmas." Photo by Marion Curtis for Netflix
Jason Schwartzman. Photo by Marion Curtis for Netflix
Francis Ford and Roman Coppola. Photo by Marion Curtis for Netflix
Paul Shaffer. Photo by Marion Curtis for Netflix
Bill Murray, Sofia Coppola, and Mitch Glazer. Photo by Marion Curtis for Netflix
Jenny Lewis. Photo by Marion Curtis for Netflix
David Johansen. Photo by Marion Curtis for Netflix
Stevie Van Zandt and Maureen Van Zandt. Photo by Marion Curtis for Netflix