Meet the 5 Young Co-Stars of Mustang
The five young co-stars of Mustang step into the spotlight.
---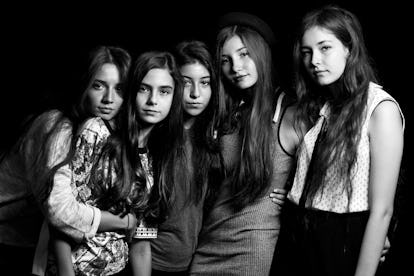 Tapping vigorously at their iPhones and giggling among themselves in the lobby of their hotel during the Toronto International Film Festival, Tugba Sunguroglu, Gunes Sensov, Elit Iscan, Ilayda Akdogan and Doga Zeynep Doguslu look like your typical gang of teenage girls.
But a typical squad they are not—for starters, Iscan is 21, despite her youthful visage. The ethereal newcomers are the stars of the Turkish indie hit film Mustang, in theaters November 20, and the unexpected belles of this year's film festival circuit.
The debut feature of Deniz Gamze Erguven, who with her long brown hair fits right in as the older sibling of the pack, Mustang follows five sisters who become prisoners in their own home after getting caught playing "immorally" with some local boys. The sisterhood onscreen is hardly an act. "We had a real connection when we met each other for the first time. We were always laughing," Akdogan says. "Afterwards, we are really like sisters, always texting and talking."
As with her character onscreen, Akdogan is no stranger to trouble. "Two years ago there was unrest in Taksim [Square, in Istanbul], so my parents didn't want me to go there," she says. "So I told my mom I was going to watch a film at my cousin's house. She kept calling me and I was like, 'Mom, I'm trying to watch a movie!'" Akdogan's master plan was later discovered after her mother found lemons and mint—typical aids in the recovery from getting tear gassed or pepper-sprayed—in her backpack.
As for her younger costars, they're mum about any misbehavior, and maintain that their parents are nothing but supportive of their budding acting careers.
And though the girls are now reside separately between Paris, Amsterdam, and Turkey, their kin-like bond knows no geography. "We opened our hearts to each other," Akdogan says.
The Stars of the 2015 Toronto International Film Festival
Natalie Portman, director-writer-actress ("A Tale of Love and Darkness") On her feature debut as writer-director and star: "You've got to take credit for all of it. You can't do it without your cast and crew, but it's your vision. There's no, 'Oh it's the director's fault.' You are the one to blame. But it's also wonderful, because you get to shape your vision."
Elizabeth Olsen, actress ("I Saw the Light") On playing Hank Williams's wife, Audrey Mae: "Nobody has very nice things to say about her. She was untalented and wanted to be a star, so there were a lot of reasons to have an issue with her personality. But at the same time, she was dealing with an alcoholic husband who was never home, so you end up having compassion and empathy for her. I just tried to be her lawyer—to, you know, defend her."
Donald Glover, actor ("The Martian") "I really like science. Like anyone else who's a millennial, I like Neil DeGrasse Tyson. And Bill Nye's really cool, but I didn't know I'd have to know a lot of science and I definitely didn't know I'd have to know a lot of math. I am not good at math. I hope it doesn't show."

Caitlin Cronenberg
Sarah Gadon, actress On introducing Natalie Portman at the annual TIFF kickoff soiree: "She is such a huge talent, but she's also kind of accessible at a stoner-chic level."
Zoe Kazan, actress ("Our Brand is Crisis") "I play a political consultant, who's brought in by Jane Bodine, Sandra Bullock's character, as her secret weapon. I basically dig up dirt. She's a very mysterious character, she's very unknowable, and she's also the only Spanish speaker on the team. I grew up speaking Spanish, so I got to make use of that."
Jeff Daniels, actor ("The Martian") "I wouldn't say I could fly a shuttle, but I know what one looks like."
Scoot McNairy, actor ("Our Brand Is Crisis") "I cold-called director David Gordon Green a year and a half ago and said, 'I'm a big fan and I really want to work with you.' Sure enough he calls me about a year later. I was really quick to jump at working with him. He's really, really funny and really, really odd. And he's all about having a good time."
Chiwetel Ejiofor, actor ("The Martian") "I spoke to people from the European space agency to talk about not only the technical aspects but also the emotional and intellectual ways they would approach problem-solving … I was fascinated by how all of the different groups communicate and the emotional intelligence these guys have."
Dean Norris, actor ("Remember") "It was really, truly an honor to get to work with Christopher Plummer."
Sebastian Stan, actor ("The Martian).
Naomi Watts, actress ("Demolition).
Barkhad Abdi, actor ("Eye in the Sky") "In 'Captain Phillips,' I had a bigger part, so I showed more. This one, not as much, but it feels good enough."

Photographer: Caitlin Cronenberg
Carmen Ejogo, actress ("Born to be Blue") On playing the jazz musician Chet Baker's romantic partner: "My first introduction to Chet Baker was this photograph taken by William Claxton in the 50s that I fell in love. It was a portrait of Chet with Halema, this part-Indian beauty who was sort of leaned up on his lap. I was just mesmerized by this combination of people."

Photographer: Caitlin Cronenberg
Connor Jessup, director ("Boy")

Photographer: Caitlin Cronenberg
Francesca Eastwood, actress ("Heroes Reborn")

Photographer: Caitlin Cronenberg
Geoffrey Rush, actor ("The Daughter") "I've now entered my 60s and it has hit me that there's a whole other bunch of characters I can play. I'm working with people who are five decades younger than me. I would never in a million years have thought I should be the patriarch in a Henrik Ibsen-derived movie. I can go there now."

Photographer: Caitlin Cronenberg
Jack Kilmer, actor ("Len and Company") "I'm obsessed with home recording. I have many, many songs on which I'm playing all the instruments—drums, guitar and bass—and I run it into an 8-track. It's a high output of music. It's quantity over quality, probably."

Photographer: Caitlin Cronenberg
Keir Gilchrist, actor ("Len and Company") "My interest in film and music are about equal. I have a grindcore band that I do vocals for called Whelm. But I'm not interested in mainstream music or big record labels at all. There's no artist on the radio that I care about, period."

Photographer: Caitlin Cronenberg
Mackenzie Davis, actress ("The Martian")

Photographer: Caitlin Cronenberg
Michael Pena, actor ("The Martian)

Photographer: Caitlin Cronenberg
Michael Shannon, actor ("Freeheld") On playing the real-life cop Dane Wells, who rallies fellow officers to support his gay colleague's fight for equal rights: "I went and met Dane, and he's a very thoughtful, quiet person—a very good person. I thought it would be a challenge, honestly. I thought it would take people by surprise. I'm always hearing a bunch of crap about how I play bad guys."

Photographer: Caitlin Cronenberg
Odessa Young, actress ("The Daughter") "My father was born in Toronto so now I'm bringing him back. It's a nice homecoming for him. He's been out roaming the city, reliving his childhood."
Paul Schneider, actor ("The Daughter") On co-star Geoffrey Rush: "He is like the father I never had and the one I wasn't sure I wanted—until I met him. I, like anyone else, wandered into it in awe and came away more in awe in the sense that he was such a good buddy . . ."
Rhys Ifans, actor ("Len and Company") "When you're young, you have a very clear idea of what selling out is; and then as you get older, there's a period where you think you might have sold out according to your youthful principles. Then you sort of settle into that, and you think, I didn't sell out, I just evolved. And then you evolve further, and you get to my age and you go, You know what, I just fucking sold out. You regress to a second, hardened point like you were when you were sixteen. I'm kind of back there now."
John Goodman, actor ("Trumbo") On playing the Hollywood producer Frank King: "I've already sucked at playing major figures, so I wasn't worried about it. If I ever have to do it again, I'm going to take a lot of the pressure off of myself."

Photographer: Caitlin Cronenberg
Paul Dano, actor ("Youth") "We were on location in the Alps, all alone, and I was sort of the young buck of the group. Right away Michael Caine and his wife Shakira started taking me out for dinner. They made me feel right at home. That was pretty cool—to get off work and go hang with Michael and his wife."

Photographer: Caitlin Cronenberg
Rosie Perez, actress ("Dancing With the Devil") On playing a nurse: "I would like to say that I'm a very empathetic person, and I brought that to the role."

Photographer: Caitlin Cronenberg
Madalina Diana Ghenea, actress ("Youth") "I only started acting four years ago. I'm from Romania, a country where something like this seems impossible. Actually, it all started in Haiti for me. I worked with Artists for Peace and Justice and they started a film institute there. When I met all these talented kids making movies, I thought, 'Okay, maybe I should give it a try.'"
Waris Ahluwalia, actor ("Beeba Boys") "I am a gangster … Oh, you mean in this movie? I'm a gangster in life, so I didn't have to act."br> Special thanks to Jeff Glaab.