My Uncle Billy: An Intimate Remembrance of Bill Cunningham
Earlier this month, the late, great Bill Cunningham was honored in a tribute by a slew of prominent New Yorkers, but the most touching was his niece Trish Jarvis Simonson.
---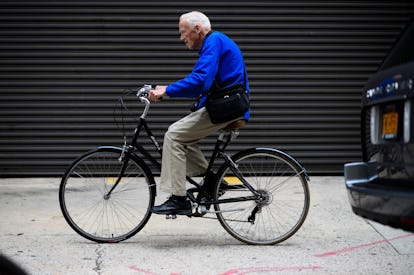 Adam Katz Sinding
Earlier this month, the legendary photographer Bill Cunningham was honored in a tribute at Carnegie Hall by some of New York's most prominent names. Anna Wintour and Michael Bloomberg spoke before a crowd that included Naomi Campbell, Ralph Lauren, Virgil Abloh and Iris Apfel and countless other Cunningham superfans looking to pay their respects one last time. His memorial had been private to family and close friends, and so this was a rare moment of communal mourning for a public that had long admired him from afar, just hoping that he'd pluck them from obscurity and feature them in his columns in the New York Times. Among the boldfaced testimonials, one person showed the audience a private side of Cunningham's seldom seen, and that was his niece Trish Jarvis Simonson who know him simply as "Uncle Billy." Here, an excerpt from her remarks as well as rarely seen family pictures.
First, on behalf of Bill's Boston family, I want to thank the phenomenal people in Bill's New York family for this incredible tribute to my uncle. He would absolutely hate it!
In fact, I am continually overwhelmed by all of the people I meet who were affected by Bill, from the doorman to his apartment building, to the security guards at the Times, to the folks at his favorite café. I am overwhelmed, but not surprised. For as long as I knew Bill, he showed himself to be uncompromisingly sincere and kind.
You all know Bill as a brilliant photographer in a blue jacket on a bike. But as Uncle Bill, he was always very careful to keep the details of his professional life away from us. He would call me about once a month, always wanting to know the details of my life and the lives of my children. But at the first mention of "How are you?" Bill became a master of misdirection, suddenly finding an excuse to get off the phone with a "Bye bye, child!"
Bill was very insistent that his professional and personal lives be kept hidden from one another. So, I'd like to give you a bit of insight into my Uncle Billy as I remember him.
Bill was the second of four children, born to William and Marion Cunningham of West Roxbury, Massachusetts. Bill lived in the shadow of Fenway Park, and, yes, grew up a Red Sox fan. My mother used to recount childhood trips on the bus to Fenway Park with her and her siblings, sent to the park by their mother with a bologna sandwich each. Bill was never one for school, and always had an itch to work in fashion. After a failed semester at Harvard, he realized school was not for him, and decided to come to New York City and roll the dice.
When I was a child, Bill would make two annual trips back to Boston – to come with the family to the beach, and to come home for Christmas. Since Bill's childhood, our family would vacation every summer at Duxbury Beach, a seaside town just south of Boston. In the late 1950s, his parents purchased a cottage there, sealing the town as a family vacation spot for generations.
Some of my fondest memories are of Uncle Billy's visits to the beach. Although it was supposed to be his "time off", he always had a camera around his neck. He was constantly snapping family photos around the house or at the beach, although the family debate was whether there was actually any film in it! I'm proud to say that I was one of his first muses.
As a child, I especially remember the anticipation and excitement when Uncle Billy would come home for Christmas. He would ride the train up from New York City, three hours each way, and would always bring us a gingerbread house from a bakery in New York City.
Sitting around the tree or at the table, Bill would tell stories of his travels to Paris and Milan for the fashion shows. And we would be fascinated to have such a special and talented member of our family. How blessed and proud we were. Again, the camera was always with him, whether we liked it or not.
I remember some Christmases, gathered around the table enjoying dessert, when Bill would all of a sudden demand that everyone go outside for a family photo. "Quick!" he would say "while the light is right!". We'd all moan and groan about being interrupted, but he was insistent, and we eventually complied. I remember one Christmas in particular – my brother Peter and I must have walked this tree a dozen times back and forth before Bill was satisfied with the shot.
Bill continued to visit until his parents passed away in the late 1970s. After that, his visits became more infrequent, but he was never far from our minds. I used to love getting postcards and letters from Bill. He'd send a postcard from Paris, and it would take two weeks for me to figure out what it said!
Until the very end, there was never a doubt in my mind that Bill lived his life to the fullest. From his early years as a milliner, to his later years at the New York Times, and all of the years in between, Bill lived his life on his own terms, never compromising, never settling, never selling out. It is this attitude, more than any Christmas or any postcard, that will be how I will remember my Uncle Bill. Imagine if we were all more like Bill, and made the world brighter for all who knew us.
There will never be another Bill Cunningham. His passion is engrained in this city, and in my memory forever.
Bill Cunningham Remembered by Street Style Photographers
Bill Cunningham in New York, 2015.

Photo Courtesy of Adam Katz Sinding.
Bill Cunningham outside of Trocadero, 2013.

Photo Courtesy of Emily Malan.
Bill Cunningham in New York, 2013.

Photo Courtesy of Dina Litovsky.
Left, Bill Cunningham in New York. Right, Bill Cunningham and Anna Dello Russo, 2015.

Photo courtesy of Driely Vieira.
Bill Cunningham in Paris, Sept 2013.

Photo Courtesy of Simbarashe Cha.
Bill Cunningham at Marc Jacobs FW 2016 in New York, Sept 2015.

Photo Courtesy of Katie Thompson.
Bill Cunningham at Ecole Medicine in Paris, Sept 2013.

Photo Courtesy of Yu Fujiwara.
Bill Cunningham in New York, February 2014.

Photo courtesy of DongHyun Kim.
Bill Cunningham Remembered by Street Style Photographers
Kendall Jenner and Gigi Hadid Dramatically Reading "Baby" By Justin Bieber Will Blow You Away