Naomi Campbell Had a Very Pointed Response When Asked About Kendall Jenner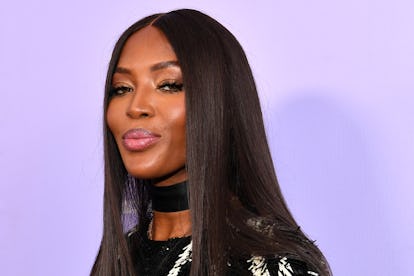 Composite. Dia Dipasupil/Getty Images
Kendall Jenner created waves in last month when she made controversial comments in an interview about walking in way fewer shows than other models, many of whom still make significantly less money than Jenner. This week, Naomi Campbell, who was one of several supermodels to completely revolutionize that career path in the 1980s and '90s, put in her own two cents on the matter. And by "two cents," I mean she literally said two words and offered up the most withering look ever broadcast on television.
The moment came on Wednesday's episode of Watch What Happens Live, when Naomi and fellow guest Cuba Gooding Jr. were taking fan questions. As host Andy Cohen read, one fan had written in to ask Naomi "your views on Kendall Jenner being the highest-paid model while saying she cherry-picks her jobs and could never do 30 shows in a season." As soon as the words left Cohen's mouth, Campbell looked straight into the camera and quipped, "Next question," all while giving off the most shade-filled stare of all time. Guess we know how she feels about that!
Later on in the show, though, Campbell clarified that she's more than happy to talk in length about other up-and-coming models. When Andy asked about her relationship with Kaia Gerber, who often refers to Campbell as "Auntie," Campbell smiled and said, "She's adorable. I'm very proud of Kaia." She went on to recall the time that she, Gerber, and Kaia's mom, Cindy Crawford, all met up at the late designer Azzedine Alaïa's house to discuss the 17-year-old's career. "We sat on the kitchen table and we just went through all the shows she should do and shouldn't do at the moment — 'cause she's a baby, she can get to them — and she has followed everything," Campbell said, adding once again, "Very proud of her."
And for the record, Campbell has thoughts on more than just the modeling industry. On WWHL, she was also asked about the now-infamous tussle between Cardi B and Nicki Minaj at a recent Fashion Week party held by Harper's Bazaar. "It was called the Icon Party, but there were no icons there," she quipped of the feud, adding that, in fact, she'd been "at home on the couch watching TV" with her pal Kate Moss when it all went down. Overall, Naomi said, "I was disappointed. I don't wanna see women of color fight. I don't wanna see women fight, period. So, not there, not that. It's all music, you know, there's no division in music. And music is for everybody, there's no discrimination, so I felt very disappointed."
Related: Carol Alt Points Out Nepotism in Modeling After Kendall Jenner's Controversial Comments
Looking Back at Azzedine Alaïa's Greatest Hits in the Pages of W
Naomi loves some Alaïa. Here, the super wears a chantilly lace dress on the cover of the June 2007 issue, and talks about her required community service at the sanitation department — wearing a look that is just a bit less glamorous then wearing Alaïa.
Naomi Campbell in "The Naomi Diaries," photographed by Steven Klein, styled by Treena Lombardo; W magazine June 2007.
Mr. Azzedine Alaïa himself graced the pages of W, in the September 2012 issue, shot by Jean-Baptist Mondino, who was one of the friends who attended the designer's Fall 2016 show last week.
Azzedine Alaïa in "A Cut Above," photographed by Jean-Baptiste Mondino; W magazine September 2012 (originally 1995).
"Art and Commerce," photographed by Inez Van Lamsweerde and Vinoodh Matadin, styled by Alex White; W magazine October 2009.
Mr. Alaïa is revered for body-hugging dresses, but who needs the dress, when you have this vintage body, shot by Craig McDean for a 2008 issue.
"Emotion," photographed by Craig McDean, styled by Alex White, W magazine October 2008.
Ryan McGinley's romantic and blurred image captures the essence of this Alaïa mongolian coat, for the June 2007 issue.
Kate Moss in "Dream Girl," photographed by Ryan McGinley, styled by Camilla Nickerson; W magazine June 2007.
Oprah! Creative Fashion Director Edward Enninful commissioned a custom bodysuit, skirt, and belt from Alaïa for this style moment, captured by Juergen Teller for the February 2014 issue of W.
Oprah in "All About Oprah," photographed by Juergen Teller, styled by Edward Enninful; W magazine February 2014.
Male model Zhengyang Zhang wears an Azzedine Alaia belt from the Albright Fashion Librar.
Photographs by Steven Meisel, Styled by Edward Enninful
Fashion editor and stylist Carine Roitfeld wore Azzedine Alaïa Haute Couture's crocodile print patent-leather jacket and skirt with her one jewelry, hat, and Sergio Rossi shoes for a W shoot in 2011.
Photographer: Paolo Roversi
Photographs by Alasdair McLellan; Styled by Katie Grand
The designer's close friend Naomi Campbell wears an Azzedine Alaïa jacket and skirt for a 2013 spread shot in Ghana.
Photographer: Willy Vanderperre Stylist: Edward Enninful
Supermodel Joan Smalls wears an Azzedine Alaïa black leather jacket and skirt in a 2013 editorial

Photographer: Steven Klein Stylist: Edward Enninful

Supermodel Joan Smalls wears an Azzedine Alaïa jacket and skirt in a 2013 editorial Photographer: Steven Klein Stylist: Edward Enninful
Tilda Swinton wears an Azzedine Alaïa top, skirt, and shoes with an Emilio Cavallini bodysuit and Alexander McQueen headpiece.

Photographer: Tim Walker Styled: Jacob K

Photographer: Tim Walker Styled: Jacob K
Noami Campbell wears an Azzedine Alaïa dress with Gaspar Gloves gloves, Falke socks and Balenciaga shoes from a 2016 editorial
Photograph by Steven Klein, Styled by Edward Enninful