Naomi Campbell Recalls That Time She "Kidnapped" Kate Moss
Along with Kate instructing her and Christy Turlington to "dress more grunge."
---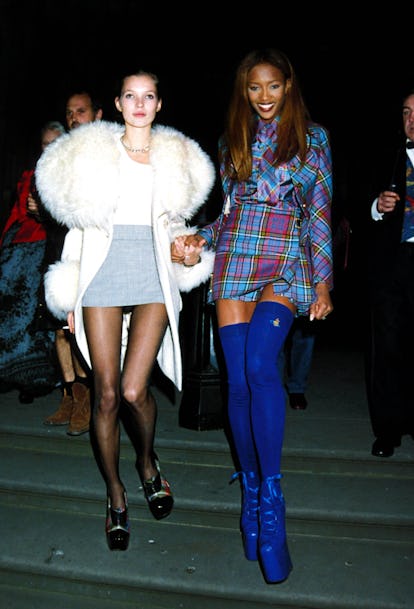 Naomi Campbell's efforts to keep quarantine entertaining have been tantamount to a public service. Every day, promptly at noon, the supermodel begins her programming with an Instagram Live broadcast of her workout (and commentary). Then, at 3 p.m., she switches over to YouTube, where she deigns to let the world in on a conversation with one of her many illustrious friends. It's nostalgia at its finest—and most welcomely distracting. (A sample anecdote: Marc Jacobs once rescued Campbell and various other stranded supers in a Louis Vuitton plane.)
It was only a matter of time before a fellow member of The Trinity showed up. On the 34th anniversary of the day that Campbell began modeling (aka this Tuesday), Christy Turlington took her turn to reminisce, and did not disappoint. After all, they share decades' worth of memories; she was 16 and Naomi was 15 when they first met, and were also once roommates. ("We never had any food in the fridge," Campbell recalled with a laugh.)
Together in the '90s, the pair regularly spent weeks walking what Campbell estimated to be 18 to 21 shows each day. "We used to call it 'being on tour,' like a rock band," Turlington said. Back then, she added, a single show required them to wear not one look, but 10. In the frenzy to get changed fast enough, they'd sometimes bleed from their skin getting zipped up along with their dress.
Of the many more joyful memories, none of them came close to delighting Campbell as much as that time she "kidnapped" Kate Moss. While in Spain to walk bridal shows, Moss went to a club named Archie's. On a whim, Campbell and her then fiancé, U2 bassist Adam Clayton, decided to whisk her away. Their first stop: Paris, where they picked up Turlington. "'You'll meet the other partner in crime," Campbell said she told Kate.
Eventually, they ended up in Dublin, where Moss promptly crashed a wedding. According to Turlington, they made her dress up in a Union Jack. But according to Campbell, it was Moss who was doing the dressing: "[She told us] we had to dress down and get with it, that we were too polished, that we needed to be a bit more grunge." So, they "went Kate's way." As Campbell recalls, her instructions were as follows: "Let's put the black around our eyes. Let's rough ourselves up. Let me put my hair up to make it messy with makeup brushes, because that's all I had."
Campbell also turned to the present, telling Turlington that her nephew, the breakout model James Turlington, is "going to be iconic." But before that, she took one last trip down Kate memory lane. With Turlington's help, she recalled the name of a DJ (BP Fallon) who once asked Clayton about "these new waifs that have come into your business," specifically citing Kate. "I've got a waif in the kitchen," Campbell jumped in. "Would you like to meet Kate Moss?" When she escorted him to the kitchen, his jaw dropped.