Naomi Campbell Recalls the Great Louis Vuitton Model Plane Rescue of '98
With the help of Marc Jacobs, Naomi Campbell and several other models were able to make it in time to his inaugural Louis Vuitton show at Paris Fashion Week.
---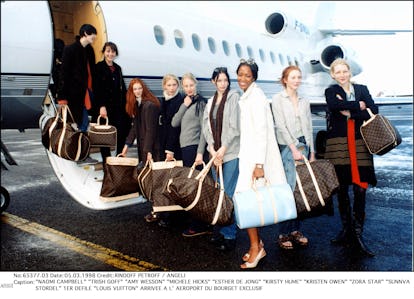 Photo courtesy of Getty Images.
Leave it to Naomi Campbell to bless our feeds with endless quarantine content, whether that's her how-to guide on protecting herself from the coronavirus, or her new socially distant YouTube series, No Filter with Naomi, in which she interviews her famous fashion friends she's been known to collaborate with over the course of her career, from fellow supers like Cindy Crawford to designers like Marc Jacobs.
While reminiscing over their friendship which began over 30 years ago in the late 1980s, Campbell and Jacobs revealed some lesser known facts and stories behind some of their most iconic collaborations.
For example, in between hits of his very large vape, Jacobs told Campbell the story of how, when he was hired by Perry Ellis (and subsequently fired for his 1993 grunge collection), he was supported by both Karl Lagerfeld and Gianni Versace, which led him to be introduced to Donatella Versace and many other supporters and collaborators he's been tight with over the years.
"Very few people know this story," Jacobs told Campbell. "When I got the job at Perry Ellis, the first person to reach out to me was Karl Lagerfeld. He sent me a telegram telling me how wonderful of a human being and a gentleman Perry was, and he was very happy that I was there and that I would be doing this job. Then, when I was fired, the first person who said 'I'm gonna help you' was Gianni Versace. And that's how I met Donatella."
"That doesn't surprise me," Campbell retorted.
But perhaps an even lesser known fun fact about Campbell and Jacobs is the story behind the designer's first show with Louis Vuitton, which he debuted at Paris Fashion Week in March 1998.
Campbell and several other models—including Trish Goff, Amy Wesson, Michele Hicks, Esther De Jong, Kirsty Hume, Kristen Owen, Zora Star, and Sunnva Stordel—were wrapping up Milan Fashion Week on March 5, 1998, but got stranded in Italy after some travel miscommunications.
"We were all being held for some television," she reminded Jacobs, who confessed numerous times during the interview that he is not the best at remembering dates. "And you were sitting there with Joe McKenna in Paris waiting for us to do the fitting and you had no girls because we were all being held."
So Campbell called Jacobs up to ask for his help, and he delivered. "Can I tell you what Marc did?" she asked. "He more than sent a plane. He sent a private plane with Louis Vuitton boxes inside for each of us. There were 12 or 13 of us—plus lovely Andre Leon Talley, he came with us—and we took a beautiful G4 plane from Milan to Paris."
Then, the ever-so-media-savvy supermodel took things a step further and turned a travel malfunction into a photo opportunity. "I remember saying to you, 'Marc, make sure you have the paparazzi there so that when we got off the plane they could shoot us with our Vuitton luggage, we're all arriving with Marc Jacobs for the first inaugural show with Louis Vuitton," she said. "It all went down perfectly," she went on, reminiscing on how she held one of the very first baby blue Louis Vuitton Keepalls Jacobs ever made.
When Campbell exited the plane—dressed in Marc Jacobs, "Because I knew what was going on," she added—paparazzi snapped away, creating an impromptu editorial for Jacobs's inaugural Louis Vuitton collection. "It looked like one of those fabulous, iconic photographs from the '50s or '60s with all the girls on the steps, and you were front and center, representing," Jacobs remarked.
"That show was stunning. I remember after that it was like, you were made for Louis Vuitton," Campbell replied. "These little things would happen, but we always made it. It would always work."
Now, one question that remains of this great model rescue moment is, was Campbell wearing one of her surgical masks on the plane?
Related: Naomi Campbell Puts an Anti-Viral Spin on Airport Style