Naomi Campbell Reveals Details About Robbery In Paris, Comparing it to Kim Kardashian Attack
She compared it to Kim Kardashian's ordeal.
---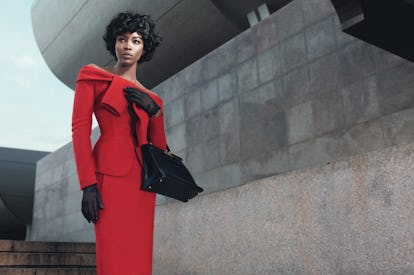 Naomi Campbell shocked fans when she revealed to Wendy Williams during an interview Thursday that she had been the victim of an attempted robbery in Paris in 2012, likening the incident to the ordeal Kim Kardashian West endured in October of last year.
The supermodel was greeted by audible gasps from the audience as well as Williams when she explained that attackers attempted to take her purse from her outside of friend and designer Azzedine Alaïa's home. She was visiting Alaïa after a flight from Switzerland to Paris and explained she hadn't requested security at the time because she felt it was a "quick trip."
Campbell went on to give details about feeling odd about the driver who picked her up at the airport and realizing the car doors weren't locked.
"They followed me from the airport," she said. "They attacked me—the opened my car door and said 'Naomi Campbell, we're going to kill you.'"
The 46-year-old added that at the time she chose to keep the incident on the "down low," but decided to discuss it after Kardashian West was attacked. The reality TV star was robbed of $11 million worth of jewelry after being tied up and held at at gunpoint in her Parisian hotel.
Campbell, who called Kim "very sweet," defended her from accusations that the robbery was a publicity stunt.
"It's a whole ring that's been happening for a few years now," she said. "So I very much sympathize for [Kardashian West], and I felt for her right away. And I hated hearing these stories that it wasn't true. It was absolutely true and it happened to me."
Watch her recount the full story, below.
The model also discussed the photo that was taken of her and Kardashian West in Paris, just days before her attack. Campbell said the photo was purely coincidence, after running into each other at Hermès.
"She's actually straightforward," Campbell said of Kardashian. "She was like, 'I'm inspired by your hair.' And she tells you!"
"I like Kim a lot," Campbell added. "In fact, all of [the Kardashians] are very well mannered. Very sweet, very polite. And I've gotten to know Kim in the last three years, and she's a very sweet girl."
Go behind the scenes with Naomi Campbell here: