Natalia Bonifacci: An Italian It Girl's Guide to Milan
The model, James Franco muse, and Milan Fashion Week front-row fixture talks vintage shopping, jewelry browsing and hidden gems in Italy's bustling fashion capital.
---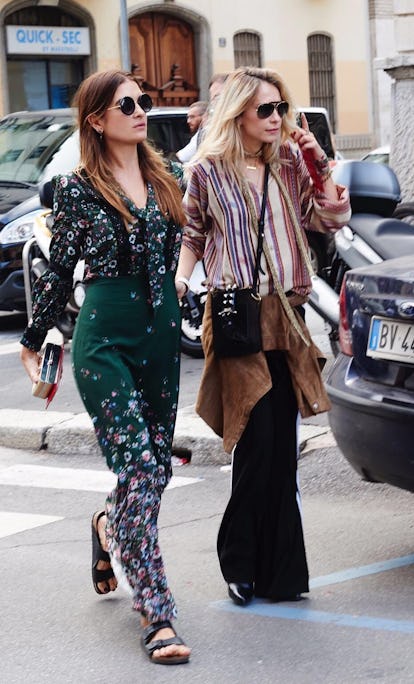 Milan Fashion Week brings plenty of visitors – tourists, editors, hopeful fashion lovers – to the Italian city. And who knows what better to do between shows than a Milanese It girl with an immaculate taste? Here, Natalia Bonifacci, a fixture in the front row, a model, and the star of James Franco's short La Passione shares her favorite places to shop, eat, and people watch.
Neighborhood: I love getting lost through Brera. It's pure magic.
Local brands: For the best blazer you'll ever own you have to check out Corrada, Delfina and Sole's line Blazé, it's beyond. For the knits Sansovino6. For sneakers, I've loved Gienchi for years. (I just got a new pair today actually!) For some little treasures that you didn't know you needed (but you really now want) browse Gilda Ambrosio and Giorgia Tordini's new brand Attico. For my sunglasses, I go to RetroSuperFuture. For handmade slippers, CB Made In Italy. And I just recently discovered the line Alkhal Tekè: they do super refined mules, I believe them to be so special.
Vintage stores: Cavalli & Nastri in Brera for clothing. The store is beyond pretty. Foto Veneta Ottica in via Torino for vintage glasses.
Jewelry and accessories: I discovered Paola Grande Gioielli about two years ago and I've been obsessed since. It's a family owned business and I just went yesterday to meet up with Giulia (Paola's daughter) to pick up some pieces for myself: I love their stacking rings and their statement earrings. Their pieces have a lot of personality.
For beauty: If you need to pamper yourself you have to go to Gaia Venuti's beauty concept store Bahama Mama, hands down!! It's a beauty store that meets a coffee shop that meets a fashion store that meets a beauty center that meets a nail salon. And the girls working there wear the cutest outfits. It's a super unique place for Milan.
People watching: I love walking by the Colonne di San Lorenzo all the way to Corso di Porta Ticinese till i Navigli, Ripa di Porta Ticinese, and then the Alzaia Naviglio to watch the kids, the youth culture. I always have. It inspires me. In the warm season the area (Navigli) can be quite busy with people of all ages. And finally escape for a quiet moment in vicolo dei Lavandai (where time has literally stopped) to take it all in, especially at sunset.
Museum or gallery: Fondazione Prada. Because it's a must, even just for the architecture. There is a part of the building outside covered in gold lief: it's unbelievable. The Pinacoteca di Brera because it's a classic. I also love il Museo del Novecento and Hangar Bicocca.
Coffee spot: I like going to Il Bar, above La Rinascente (an Italian shopping mall) because the view is just so incredible: you can see the Duomo from above! It's "touristy," some of my friends might make fun of me, but it's really a dream location and a break from everything that is going on downstairs. Otherwise Il Bar Magenta. When my brother used to attend college we would often meet up there. And it worth seeing, it's historical, it's over 100 years old.
Favorite breakfast: Old school: Pasticceria Cucchi, do it Italian style if you're in a rush, a quick cappuccino and brioche standing up at the bancone. If you have time sit down then enjoy their amazing pastries (and the Milanese people watching). I also love it in the warmer season for "aperitivo" (happy hour) just sitting outside and meeting up with friends. I'll have a Bellini if it's peach season or a Spritz.
Lunch: La Latteria di San Marco in Brera. It's tiny, tiny, just a few tables, cozy. The menu changes every day. When the weather is still warm I like having lunch outside at Sant'Eustorgio Restaurant in Ticinese area. I have a soft spot for it since when I lived around the corner I used to go all the time with my friends. It overlooks the cutest little square, I love it.
Dinner: There are so many wonderful places in Milan, the list is long, but I love going to Osteria dei Binari whenever I have a chance. In the summer it has one of the most beautiful gardens to eat in Milan, in the winter the dining rooms are beautiful. In particular if you are maybe 10/12 people there is one table in a little nook where you feel you have your little private party. I usually get the cotoletta or a risotto, both "alla milanese" of course! And if it is very late and I haven't had dinner? Quick spaghetti al pomodoro and a glass of wine at the the Bulgari Hotel. Those spaghetti are really something else: just mentioning them makes me crave them.
For a quick drink: Il Fioraio Bianchi Café. Till 8PM at night you can even buy flowers there.
Night out: Just for drinks I usually hit some bars around Navigli or in Brera. To really go out and get sweaty and dance, my favorites are the evenings organized by DOGS Milan. They are really fun! The music is rad and it's a great mix of people.
Makeout spot: Anywhere! I think that if you're Italian any place is your favorite place to make out when you are in love!
Reading nook: The parks in the city, especially Parco Sempione. And I have a soft spot for Giardino Perego, it's tiny and so lovely.
Hidden gem: Nina Nashar's Nilufar Gallery in via della Spiga, although I doubt it's a hidden gem, it's so beautiful, people must know it! And Galleria Rossana Orlandi as well. On a different note Milan is a hidden gem on its own, it's a hidden city, it's not in your face like other Italian ones, you know? Everyone loves Venice, Rome, Florence! With Milan is a different story, some people don't necessarily like it right away. Milan has her magic behind closed doors, behind closed doorways there are beautiful courtyards, behind a crowed busy street there is the most beautiful little square where you can have lunch or the nicest vicolo. Also some areas change so much from day to night. Busy during the day they turn magical and quiet in the evening, illuminated in the perfect way. I think you have to want to get to know Milan in a way, it's a city that doesn't just open up to you right away.
Watch Gucci's Spring 2017 show from Milan Fashion Week: