Supermodels, Space Aliens, and Flying Chairs: Yes, We're Talking About Natalia Vodianova's Over-the-Top Carnival
On the last night of London Fashion Week, supermodel Natalia Vodianova held her annual over-the-top bash. And it did not disappoint.
---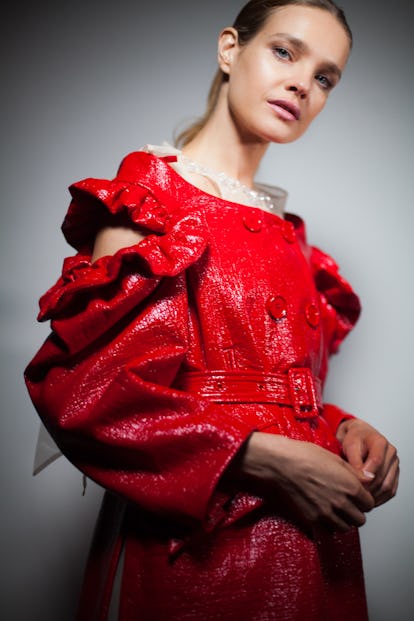 By the end of any fashion week, it is hard to convince even the most professional party-goer to attend a late night bash, having come off what is essentially several days of bottomless Champagne, front row schmoozing, and late nights mixed with early mornings. But then again, not every party is Natalia Vodianova's annual Fabulous Fashion Fund Fair.
On Tuesday night, just hours after the Queen sat front row at London Fashion Week's final fashion show, Vodianova hosted her fifth annual party-meets-carnival, transforming the Roundhouse theater into an outer space oasis that took the "intergalactic" theme to the next level. There were spaceship shaped bars proffering drinks in light-up glasses, waiters dressed as martians, and to-scale replications of the solar system in place of chandeliers—and that was just to start. "It's pretty cool, right?" Vodianova said in a brief quiet moment before the doors opened, taking in the decorated venue. "Space is such a rich ground for creativity. There are many references in fashion and film and music. Everybody loves this cosmic world."
The event marked the model's fifth occasion of the event in support of her non-profit Naked Heart Foundation, which aims to help children with special needs. It was also a return to London, after taking the event to the United States for a New York edition over Halloween weekend last October. "In New York, it was during Halloween and everyone was much more dressed up and it's crazier," said Vodianova. "This is our fourth Fund Fair here, but we still love it as much and we put as much effort into it. It's not like New York is more special; both are very, very special. In the U.S., it is somewhat more nerve-wracking because you are so far away."
For the New York event, the model dressed as a living Jeff Koons balloon sculpture; this year's look—a red patent leather trench coat straight off the Simone Rocha runway—may have seemed a was a bit more understated, but no less striking. "Until the last minute, I had no idea [what I was wearing] because when I am organizing the event, it is the last thing on my mind," she said. "I work with [stylist Jenke Ahmed Tailly] and he, of course, was on it. He had a lot of different options, but in the end we ended up going with something that he had fallen in love with just literally a few days ago. He saw it on the runway and said, 'You have to wear it.' I always wear red to my events, so this is perfect that it is such a beautiful, vibrant red, but also somehow has this cool shape. I almost could be my own Barbarella."
The official dress code for the evening was "Cosmic Cocktail," which each guest seemed to interpret in their own way. Izabel Goulart went straight-forward in a metallic silver mini-dress; Doutzen Kroes opted for a space attendant-approved shiny red trench; Hailey Baldwin seemed to eschew the theme entirely in a body-con Fendi logo dress (perhaps vintage Fendi is all the rage on Mars?).
When guests weren't ogling the numerous supermodels and fashion royals populating the space, including Lara Stone, Edie Campbell, Lottie Moss, Amelia Windsor, Stella Tennant, Natasha Poly, and Stella McCartney, they were plenty busy playing one of the event's many addictive games in the hopes of winning a luxury gift. There was a Versace laser booth, Givenchy Plinko, and a Dior maze, the latter of which was run by Vodianova's children, Neva, 11, and Viktor, 10, the latter of whom described the game as "so easy!" (Spoiler: it wasn't).
But the true show-stopping attraction was also the event's most grand: a full-scale flying swing set, normally reserved for state fairs, situated in the center of the room. "I love flying chairs," said Vodianova. "I hope a lot of people will enjoy it. It is not a natural thing to do, getting on a flying chair with a lot of people in the room. I hope people will profit from them because I just went on them and it was very fun."
And while the chairs—or as they were branded for the evening, "flying saucers"—proved to be a popular attraction, it was a more tucked away booth that seemed to draw the largest crowd: L'Oréal Paris' Intergalactic Kissing Booth, which was offering up a smooch from Kroes to anyone with two tokens to their name (each guest was allotted three at the door, which aliens offering up more for purchase inside). It was a booth that also help a special place in Vodianova's heart—or, lips.
"Doutzen is doing it tonight, but I did our first kissing booth," she said when asked her favorite fashion fund memory. "Really, it is the most splendid memory. It was really so sweet. For four hours, I was meeting all these cool people; girls, boys. I felt thrilled and I reapplied my lipstick maybe three hundred times from missing so many strangers, People kind of wore my kisses like badges of honor."
Any particularly memorable visitors? "There was the DJ who dated Taylor Swift. Calvin Harris. I didn't even know it was him. I gave him plenty of kisses like the other guy and he was really happy. And I was very grateful because in the end, it was a fantastic support because the pictures were everywhere."
Watch: Natalia Vodianova Has a Girl Crush on Julia Roberts in "Pretty Woman"
Related: How Natalia Vodianova and Antoine Arnault Met, Fell in Love, and Created Their Modern Family