Natalie Portman's Stunning New Pixie Haircut Is Actually a Faux Pixie
The Annihilation actress debuts her latest beauty transformation.
---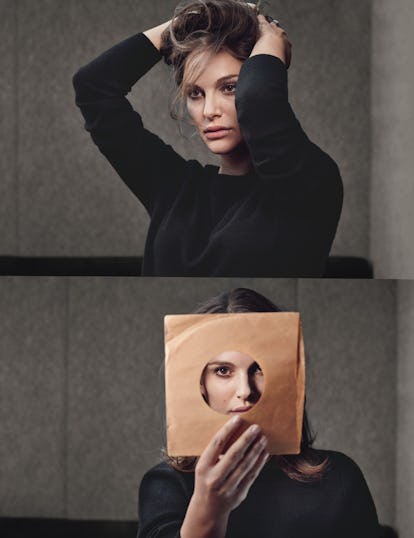 Photographs by Craig McDean. Styled by Edward Enninful. Hair by Orlando Pita for Orlando Pita Play; makeup by Peter Philips for Dior. Manicures by Michelle Saunders for Essie at Forward Artists. Set design by Piers Hanmer.
When it comes to dramatic onscreen makeovers, Natalie Portman is on the short list of actresses willing to undergo some of the riskiest beauty styles for the sake of a role. But since the Annihilation star is just as adventurous with her personal style as she is in picking her parts, her latest movie transformation should come as no surprise. But it is nevertheless a stunner. Spotted on the streets of New York City on Wednesday while filming her latest movie, Vox Lux, Portman stepped out in an ultra-sleek, greased-back pixie cut.
At first glance, the rocker chic aesthetic that Portman embodies in her latest role—she plays a pop star named Celeste in the upcoming musical—could easily be written off as a freshly chopped pixie cut, rivaling some of Portman's most daring looks of the past. But thanks to Portman's savvy hairstylist, the hairstyle requires a double take. Portman's faux do comes in a close second to the iconic buzz cut from when she famously shaved her hair in 2005 for her role in V for Vendetta. Styling her messy lob waves into a slicked back 'do, Portman paired the rest of her look with a vibrant, hot pink lip and dark smokey eye, adding the finishing touches to complete her rock star persona with a black moto leather jeacket and studded high heeled combat boots.
Having garnered a reputation as a red carpet risk-taker along with actresses Angelina Jolie and Kate Hudson, who have also both shed their locks for roles in the past, Portman is nothing short of daring when it comes to her own personal style. However, this time, the Star Wars actress took a cue from actress Blake Lively, who has been known for her faux beauty transformations both off and on the screen, and opted for a devious hair style of her own, further proving that the pixie cut, faux or not, never goes out of style.
Cara Delevingne, Kate Hudson, Angelina Jolie and More Actresses Who Have Cut Their Hair for Hollywood
To play the '70s and '80s supermodel Gia Carangi in the HBO TV film Gia, actress Angelina Jolie cut her dark hair into a shorter style.

Photo by Getty.
After shaving her hair for her role in V for Vendetta, actress Natalie Portman paired her buzz cut with taupe smoky eye and a nude lip on the red carpet.

Photo by Getty.
Anne Hathaway chopped off her long, brunette hair for her role in the musical Les Misérables, and won an Oscar.

Photo by Getty.
Actress Tilda Swinton went completely bald for her role in Doctor Strange, but let her hair grow back in stages.

Photo by Getty.
Attending theComic-Con International 2013, actress Karen Gillian debuts her buzzed cut that shaved her head for her role in Guardians of The Galaxy.

Photo by Getty.
South African beauty Charlize Theron went short for her role in the film Mad Max: Fury Road.

Photo by Getty.
Model and actress Cara Delevingne debuted her newly shaved head as she prepares for her role in her upcoming film Life in a Year.

Photo by Splash News
Kate Hudson gets into character for her role in her new film with singer Sia, debuting her recently shaved head.

Photo by Backgrid.