Don't Worry, Natalie Portman Knows She's Pretentious
That email chain with Jonathan Safran Foer was…something.
---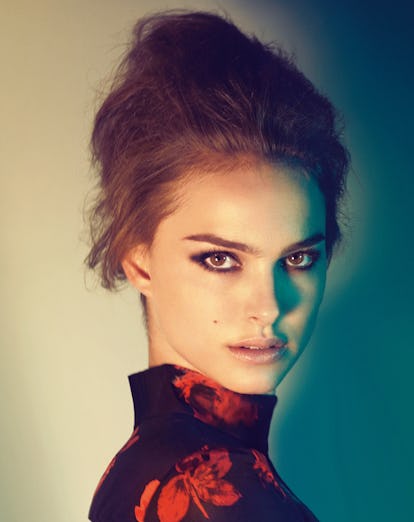 Mert Alas and Marcus Piggott
Natalie Portman has always had a good sense of humor about herself. During her stints as host of Saturday Night Live, she rapped about drugs and Harvard and the craziest stunt she ever pulled: starring in the Star Wars prequels.
But even as she makes fun of herself for being a fancy Ivy League-educated brainiac movie star, she's still reiterating the fact that she's, well, a fancy Ivy League-educated brainiac movie star. And why not? It's the truth! But don't worry, she's fully aware that she can come across as a little pretentious, perhaps reaching peak Literary Natalie when she and Jonathan Safran Foer (the Brooklyn-based novelist who allegedly left his wife to pursue the Oscar winner) released their email correspondence in T Magazine. And what did these two high brow celebrities email about? Oh, you know, life and the meaning of the universe, and wonderment, and bunnies. Naturally.
Now, two years later, Portman and Foer are together again making a documentary about being vegan or something, and in an interview, Portman admits that, well, she is what she is, and what she is, is pretentious. "I am pretentious! So it's good to be reminded. Sometimes, I get too serious or whatever. I don't really mind. It was mainly funny," she said of the mini-backlash to the original piece.
See, she's chill. n fact, she even had a good time filming Black Swan, that movie where she had to do ballet and be tortured by Darren Aronofsky so she could win an Oscar. "I met my husband so I think I was in like dream land! It seemed pretty fun the whole time. He was teaching me how to dance. It was one of those romantic things," she told Hoda Kotb in an interview.
More fun than, say, watching your friend become a "super villain," that's for sure.
Related: Natalie Portman Was "Friendly" with Jared Kushner at Harvard, Kind of Confirms He's a "Dummy"