Natalie Portman Was "Friendly" with Jared Kushner at Harvard, Kind of Confirms He's a "Dummy"
But those days are long behind them.
---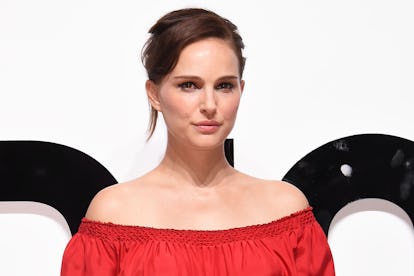 Jun Sato/Getty Images
Back in the early 2000s, the Harvard University campus was graced by a very famous face: Natalie Portman, who enrolled at the school upon completing filming of Star Wars: Episode 1—The Phantom Menace and graduated in 2003. Also wandering those Cambridge, Massachusetts, quads at the very same time was the then-much lesser-known Jared Kushner, who graduated the same year as Portman. During an appearance on The Late Show on Thursday night, the actress revealed that she and Kushner did, in fact, cross paths at school and were even "friendly"—but assured viewers that she has since completely reversed her formerly favorable opinion of the first son-in-law.
After asking if they let "dummies" into Harvard, host Stephen Colbert pointedly said that Portman and Kushner were in the same graduating class. To which Portman just as pointedly responded, "That is correct." Beat. Laughs. And, later, when asked whether she had any memories of the presidential advisor, Portman admitted with a grimace, "We… we were friendly," then confirmed Colbert's statement that he'd heard Kushner wasn't a particularly stellar student. Seeing Portman clamming up about the topic, Colbert attempted to playfully provoke her into elaborating about her experiences with Kushner.
After hemming and hawing about what she could and couldn't say on television in what she called the "last days" of America being a free country, Portman somewhat acquiesced. "Unfortunately, it's not very—there's not a lot funny to say about someone you were friends with becoming a supervillain. So, you know, it's not funny," she said. "He said in some interview that the friends he's lost because of politics, it's like 'exfoliating.' And I was like, okay, I like the spa metaphors," adding that she "proudly" accepts Colbert's conclusion that that makes her a "dead skin cell" to Kushner.
Like any college friends 15 years after graduation, Kushner and Portman have clearly followed separate paths and pursued wildly different priorities: Kushner now has baby soft skin from all that exfoliating (and, presumably, a very pared-down list of pals), while Portman has a tight-knit friend group of badass fellow actresses. Watch Portman's full Late Show interview, here:
Related: Screen Tests: Natalie Portman