Yara Shahidi, In Between Acting and Attending Harvard, Is Emerging as a Political Force
She's being heralded "the voice of her generation."
---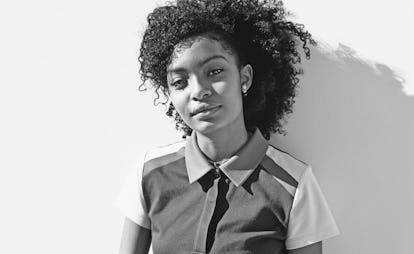 Alex Hodor-Lee
From afar, Yara Shahidi and Tory Burch don't seem to have much in common: The former is an 18-year-old actress and activist, who's aptly starring as a freshman in the TV show Grown-ish ahead of starting at Harvard in the fall, whereas the latter is a 51-year-old designer known for those ubiquitous monogrammed ballet flats, as well as her emerging political voice. But so passionate are both about James Baldwin and history that Shahidi has not only been close with Burch since she was 16, she was also the designer's pick to be the first person to join her onstage Tuesday morning in New York for Burch's namesake foundation's inaugural Embrace Ambition Summit.
With more than two dozen names, from Danica Roem and Margaret Atwood to Katie Couric and Time's Up's Tina Tchen, giving their two cents on how to confront stereotypes and create new norms, the event was essentially a real-life, fleshed-out version of the video that Burch rolled out on International Women's Day last year, starring Gwyneth Paltrow, Kerry Washington, and Reese Witherspoon, among others. Shahidi's discussion with Burch focused on the midterm elections this November and how, as Shahidi put it, "right now, voting is an upper-middle-class hobby." Following the talk—but not before heading to the Time 100 gala—Shahidi, who has been heralded the "voice of her generation," took some time out of her far-from-normal-ish teenage life to share some more thoughts.
There's been no shortage of inspiration when it comes to making change lately, but when and what was the moment in particular that led you to form your voting initiative, Eighteen x '18? The most obvious one was after the election. It's not as though the xenophobia hadn't existed beforehand and that I was unaware of it—it was the outward okay-ing of those values and morals as the morals and values of the society that we live in. So it was knowing how detrimental that is to one's spirit, and then knowing that the midterm elections are coming up and the turnouts are so low. Just because they aren't presidential elections, they aren't really viewed as crucial, but they determine so much. I just wanted to be able to focus on getting my peers—and first-time, 18-year-old voters in particular—to vote in the midterms, and really educate ourselves on what we're fighting for on such a daily basis. You see so many kids doing things like rallying and calling senators, and it's so inspiring. And the way to help continue that work is to vote.
Right. That's something the activists who've emerged from the Parkland, Florida, shooting, whom you've been supporting, keep reminding politicians of, too—they're not just students who keep speaking out, but also the next generation of voters. Definitely. In terms of young people's engagement, I think the two movements to turn to are the March for Our Lives and Black Lives Matter. It's just not recognition that we need gun control—it's a recognition across the board that politicians need to value our voices.
When it comes to choosing a candidate, what issues are most important to you? Honestly, everything's on the table, whether it's immigration and criminal justice reform or gun reform. It's hard to choose one, because I feel like they affect us all—that's been proven in even just the past month. People are affected by each and every issue, so we have to take it from more than just being a one-platform voter and really voting on everything.
I know you had your birthday party, which was vote-themed, in L.A., but where are you registered to vote? In California!
So you're going to do an absentee ballot? Those can be such a pain. Oh, um, yes…that's something I'll be figuring out, too! It's those details that you don't know, like where you vote if you're in college, that the platform will help out with, too—the basic stuff, like, how do you register? If you're at the DMV, great, go register at the DMV. If you want to register online, great, but you have to send it in—and you need a stamp! [Laughs] It's all those details.
You've made a point of saying that people's differences can actually help to unite them and bring about change, but at the same time, they can get in the way even when people want to come together—like how Tory said that when you've talked about adults not getting it, she started thinking back and getting embarrassed about the entirely unrelated tweets and Instagrams she's posted. What do you think are some ways to avoid those hurdles? It's important to get to know one another, and then to engage and support. I feel like there's a fragmenting that just comes from not trying, like, Oh, I just don't get it, I don't get this culture, I don't get XYZ; and it comes from both sides. But there's an importance in trying, and there's an importance in acknowledging that we come from similar circumstances, as much as stuff has changed. Whether it's living through the Nixon era or being born during the Vietnam or Cold War and raised during the Afghan and Iraq Wars, there are definitely parallels. So I feel like it's important to pull away from surface-level differences of generations and time periods and figure out what the core of the story really is. With all of that being said, it's also important to really validate the fact that we are different, and so our journeys will be different. I'm not saying that our advice won't be applicable to one another, but we do have to respect the fact that not everybody has the same journey, context, privilege, or whatever it may be.
Has all this been influencing what you're planning to study when you get to Harvard? Yeah—social studies and African studies!
Do you definitely still see acting as continuing to be a part of your life? I definitely think so. As of right now, it's a pretty sure, maybe, yeah. [Laughs]
You mentioned how playlists can be a way to hype you up when the world's really getting you down. What's on some of yours? Oh, my god, so much. Rae Sremmurd is releasing a three-prong album, so I'm very excited about that. Saba just came out with a fantastic album, which I've been listening to all the time. And then SZA, Beyoncé…
Are there any other combos like listening to Blonde by Frank Ocean while reading Giovanni's Room by James Baldwin that you'd recommend? Oh! Well, the way I do that is I read the first, maybe, two-thirds of the book, and by the last third, I can figure out what the gist is and what the playlist I want is. It's really interesting to look at the parallels between music and media—I actually do it with movies too. But it's a similar combo and feeling you get with Kendrick [Lamar] and James Baldwin—it's a fantastic experience. [Laughs]
Related: Inside Yara Shahidi's Voting-Themed Birthday Party With Ava Phillippe