Yara Shahidi on How Starring in grown-ish Is Helping Her Prepare For Harvard
Before heading off to college, Yara Shahidi will cover a lot of ground on the small screen as Zoey, the big kid on campus in grown-ish.
---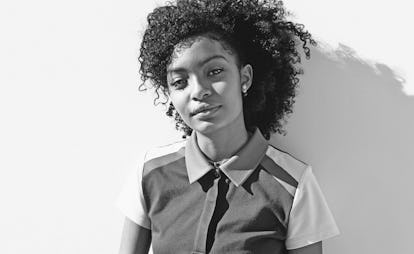 Photo by Alex Hodor-Lee
At only 17 years old, Yara Shahidi is an actress, an activist and a fashion favorite. When she's not shooting new episodes for the TV series black-ish, she does things like go to prom with her best friend Rowan Blanchard and get into Harvard University. You know, regular teenage stuff.
Now, Shahidi is taking on a lead role in a black-ish spinoff called grown-ish, which will follow her character Zoey Johnson as she goes to college and will feature young talent such as fashion scion Luka Sabbat, singing sisters Chloe and Halle Bailey, Selena Gomez BFF Francia Raisa and newcomers Trevor Jackson, Emily Arlook and Jordan Buhat in supporting roles that round out an impressively diverse class of freshmen.
Following in the footsteps of some of Freeform's latest lineup of programming that skews towards older teens and young adults—such as last year's sleeper hit The Bold Type and the forthcoming Alone Together—grown-ish takes its characters to depths that many viewers, young and old, may recognize as relatable. From Adderall addiction and defining the implications of responding to a "you up?" text, to exploring one's sexual identity and reckoning with the political differences that can fracture a friendship, the Freeform sitcom both hilariously and sensitively jumps from covering one "first time" milestone to the next, without ever feeling like too much of an after school special.
Filming the series was an especially important experience for Shahidi, who is currently trying to figure out when, exactly, she's going to have time to attend Harvard. Here, she talks about everything she's learned from playing Zoey.
Congratulations on being accepted into Harvard! Have you decided to attend school this fall or will you defer another year?
Thank you! It's a thing that we're discussing right now, just because I have made a commitment to a show and I have also made a commitment to a school that is very much to my liking. [Laughs.] I'm trying to figure it out because I want to make sure that I get as much of the actual college experience of being on campus and not flying back and forth. So we're working it out so that the best of both worlds can exist. What's so crazy is that the idea was proposed maybe exactly a year ago to date, when I actually hopped on the phone with the creator of the show, Kenya Barris. He was like, "So, what about Zoey going to college?"
Do you feel like grown-ish is preparing you for the college experience?
Yes and no. [Laughs.] She's made me more wary. Like, all this happens in college? I truly look forward to just going to class and going to sleep! She's definitely opened my eyes to the many things that happen in college that I was oblivious to. At the same time, it's almost like Zoey has lived that life so Yara doesn't have to! So I feel like there's going to be many an experiment that people will go through where I'll be like, my character's already done it so I don't need to.
It's cool that you're able to learn from your character without having to experience some of the crises she goes through on grown-ish! What do you plan to study at school?
I'm going to double major in social studies, which is their interdisciplinary sociology, economics, philosophy and anthropology major, and African American studies.
Is there anything you plan to specialize in or work on after graduation?
I know I want to end up in D.C., but not in politics. Politics-adjacent. But I'm trying to figure it out. I think the reason I chose that major is because there are a lot of people I look up to in the nonprofit world, and even in the economic world of venture capitalism and all sorts of stuff, who happened to be social studies majors at Harvard. I've even met people who've used it for their pre-law degree, so it's a great foundation that's specific enough to go into the workforce and also broad enough to take your graduate studies and use them however you want to.
I know being committed to social justice is very important to you; will we see Zoey engaging in any politics on the show?
Zoey's personal political agenda has always been something I've questioned. What we've seen on black-ish is her being somewhat apolitical. She's always had an opinion but it's been driven by ideologies more than anything. Like, "I believe in my friends," which is something she said in the "Lemons" episode of black-ish. I feel like what's interesting is that she's always had an opinion, but now she's placed into a setting where her existence is political and politicized, and I think with the characters surround her, whether it's Ana played by Francia Raisa or Aaron played by Trevor Jackson, she has friends on either side of the political spectrum. Now, she's really forced to reckon with what she really believes in because she can no longer say these broad statements and just have it end there. She's realizing the consequences of either not having an opinion or the real life consequences of having an opinion and sticking to it.
What was the experience like, working on a show that promotes inclusivity and diversity through its characters and their trials and tribulations?
It was a great experience, on camera and behind the camera as well. In the writers' room, walking into a writers' room that is gender balanced and ethnically diverse was really cool. Walking on set and having a female DP, it was those things that really made the experience. Or even having female directors or younger up-and-coming directors. I feel like we really took the term [inclusive] and tried to apply it to all parts of the job. And on screen, I think what is acknowledged is that with the diversity that we have it's all great and we're trying to explore that, and there's still so much farther to go. There's still so much that we're not depicting, and part of that is finding natural ways to include it into this narrative, but I feel like it's a good start for a show that's in its first year!
I see the characters exploring a lot of things that may be typical of what most people explore or start to realize when they reach college—sexuality, drug use and Adderall addiction, socioeconomic differences. The show is not just diverse in terms of ethnicity and race, which is going to have such a huge impact. After witnessing Zoey experience a lot of things for the first time in just the first few episodes, what else can we look forward to?
Without spoiling anything, she continues to go down the same path of self-exploration. So we see the Adderall storyline, it does not just disappear after the second episode. It is something that's addressed for quite a few episodes actually. Then we have ones in which she has to resolve her relationship with Ana, and then on the flip side we have relationship storylines that we'll see more and more of, but we also see Zoey in the environment where it's like, "Okay! She's getting her world together. She's getting her life together." She has an internship and is actually taking matters into her own hands in terms of the classes that she's taking and such.
Will there be any crossover between grown-ish and black-ish?
Quite honestly there is very little crossover. You see her parents of course, so she does not disappear from the Johnson household and there are flashback moments. But really other than a visit here and there, you don't see much crossover. Of course, Zoey's still on black-ish. Subtly throughout the season there are references to family because again she is part of the Johnson family and household, but at the same time it is very much her own journey. I think part of seeing Zoey in this new context is the idea that there is very little crossover from her past, so she doesn't fall into the same relationships or dynamic she did in the Johnson household.
That makes a lot of sense since the show is about growing up! I keep thinking it would be so funny if Zoey's brother, Andre Jr., visited her at college and witnessed the shenanigans she gets into.
Are you the oldest?
Yep, I have two younger brothers.
We have the same family dynamic! I have two younger brothers.
It's hard being the one to set an example, right?
[Laughs.] It's great though because I kind of thoroughly enjoy being the oldest and the only girl, and my brothers are my favorite people!
Sometimes it is nice being the oldest and the only girl because there are a few things you don't necessarily have to share with your siblings.
Very true! [Laughs.]
I really think you do set a positive example for everyone in the real world to look up to and learn from, especially with your commitment to using your platform for activism and public policy change. In regards to the show, do you find that playing Zoey positions you as setting an example for your actual family?
What's funny about Zoey is that we are in many cases polar opposites. [Laughs.] So it's hilarious to have that dichotomy of loving Zoey and at the same time there are certain times where I'm like, I hope my brothers aren't learning from her. [Laughs.] What I love about her is that she's real. Of course there are things that are hyperbolized for the sake of comedy, but as much as we see her thriving and killing the game we also see her in circumstances in which she doesn't have it all together. What I appreciate most about her is that she's an example of how it's okay to not have it all together! We're seeing the coexistence of these two qualities of both her being able to thrive in her life and being able to succeed in all these facets of her life, and also seeing her struggle. Moving into grown-ish made Zoey more real for me and it was the first time I felt there was more crossover between me and my character. In shooting this, I've become both closer and far apart from her. She's even further away from Yara, but at the same time there are more moments in which I can relate to how she's feeling right now and that is really powerful.
For sure! And to see young people of color on television experiencing the things that we all go through and the mistakes we all go through is really powerful for viewers as well.
Yes! It's really cool because I feel like the other part of the show that I appreciate is how you see us deal with our consequences. Because it's a serialized show, you see us having to actively deal with the circumstances we've gotten ourselves into. It isn't this fake perfect world. Even as silly as episode three may seem, where Zoey's juggling two guys, you see the reality of how things don't go back to normal as before. She has to deal with those kind of relationships, which I appreciate because it doesn't paint a fake idyllic world where you make mistakes and tomorrow starts anew.
Related: Why 17-Year-Old Yara Shahidi Is Already a Fashion Favorite