Yara Shahidi Reflects on Time Passing the Week After Prom and Before High School Graduation
"I wonder if I can change my cap and gown to make it Comme des Garcons-inspired."
---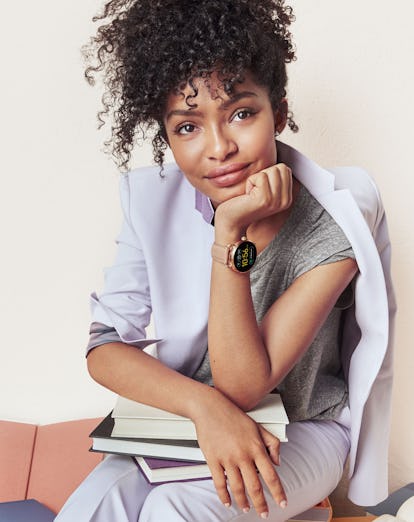 At the age of 17, Yara Shahidi already has more life experiences under her belt than many adult actresses. She began her career as a 6-year-old, and in addition to pursuing activism and modeling, has had a starring role on black-ish since the show premiered in 2014. She's also about to start filming her own spinoff, college-ish, which follows her character Zoey as she heads off to school.
Fittingly, Shahidi herself is about to do the same, and is currently in the throes of two more major life experiences. This week, she will attend the Dwight High School graduation at the Metropolitan Museum of Art in New York City. And at the end of May, she went to prom with her friend and fellow-actress, Rowan Blanchard. On Tuesday, Shahidi also confirmed on Instagram that she'll be studying at Harvard University, and told W back in March that Michelle Obama wrote her a recommendation letter.
"I wonder if I can change my cap and gown to make it Comme des Garçons-inspired," said Shahidi with a laugh over the phone last week, making a reference to the current Costume Institute exhibit at the Met. Due to her acting schedule, Shahidi was actually home-schooled for most of her high school career, and in addition to meeting many of her classmates for the first time, has also never been to the museum before.
Shahidi seems to have boundless energy for new experiences, and in the middle of all this, she also gladly agreed to be the new face of Fossil watches. It's a fitting collaboration, seeing that Shahidi not only collects vintage pocket watches, but is also obsessed with history, and plans to study the subject in the fall.
So, we caught up with Shahidi again one week after her prom and before her official graduation, and she couldn't help but get a little existential about the past, present, and future.
How did you pick your Ungaro prom dress?
I've never been one to conform, so I wasn't really looking for a traditional prom dress. It was pretty retro; it had shoulder pads. I tried dancing around in it during the fitting, and I could dance in it. I'd also never really worn green before, so I thought it would be an adventure.
Did prom live up to its expectations?
I didn't really have any. I appreciate the life that I live; it's been pretty cool and I've had some amazing opportunities when it comes to life experiences. So because of that I haven't really had high standards for traditional teenage moments. Prom was definitely cool and I met a lot of my classmates, but it did kind of remind me of an event—except everybody was finally my age!
What are some things you've learned in high school that you're never going to forget?
Overall, what I really valued about my education is that I could tie it to what's happening in my world and our current socio-political climate. In all of my classes, my teachers have done a fantastic job of taking the curriculum and making it relevant. Two things that come to mind are reading Giovanni's Room by James Baldwin, which feels especially relevant with Moonlight winning Best Picture and with the rise and domination of Frank Ocean—these pieces of media and cultural icons who are bringing sexual identity front and center. As I was reading it, it tied to so many pieces of media that I've loved recently, even though it was written in the 1950s. I actually made a playlist; I found songs that related to what the book was talking about, and it only made it a more heightened emotional experience.
And then the other thing that was really eye-opening was being in A.P. U.S. History this year. It wasn't so much about becoming aware of our past, but really learning about the details, such as the Chinese Exclusion Act, which is essentially being mimicked now. There are so many similarities, down to exact phrasing of policies.
How has freshman year Yara changed from senior year Yara?
I like to think that we've remained pretty consistent. Without sounding full of myself, I feel like I've gotten more eclectic over the years. I think I've become more confident in my speaking skills, and taking the same principles that freshman Yara believed in and amplifying them, whether it's my activism or my interest in literature, music, and history.
And what about your stye? Is there anything you look back on that you're like, "Oh my god, why?"
I actually went to a school that had a uniform, but when I look at my casual street style, it was really funny because I loved these muscle tanks. I owned so many. I also really loved headbands with bows.
Did you wear a watch growing up? And do you still? Everyone has their phones, but watches can have an importance to people.
Wearing a watch is definitely more intentional; it's a choice . For me personally, it's grounding when you have a watch. As much as I love my phone, it does take you away from reality. I love my watch, and it's an obsession that began with pocket watches. In my head, it was the symbol of being a historian. And so, the first one I got was a 70-year-old pocket watch with a dog engraved on it. My grandpa gave it to me after I campaigned for it for a year. My second watch was from World War II, and the third one was a small little wristwatch that I saved my money for for a year to buy.
It makes sense if you're such a history buff that you're also into watches. Have you listened to the podcast S-Town with the clockmaker?
I finished it 48 hours after its release. I had a reminder set on my phone. He was a horologist, and I did identify with his thoughts on the importance of time.
What made you want to work with Fossil?
Because of my personal obsession with watches, it was a natural fit. I also really love a brand that promotes being one's authentic self. I just did an event with Fossil at The Wing in New York, for example, where they brought girls from the Lower East Side Girls Club and we talked about activism and Gen Z. It was promoted in such a natural way.
Do you think that Gen Z has a different approach to time, in the sense that we can relive memories instantly and we have timelines of our entire lives?
That's an interesting question. I've thought about it in different aspects. First and foremost, I feel like we expect more of ourselves sooner; you see people "growing up faster" because of the access we have. There's no longer an orthodox timeline, and sometimes it does create a sense of false adulthood, and sometimes it just creates really enlightened kids who are cool to be around! At the same time, I think we can take memories for granted. I'm hyper-paranoid about over-documenting my youth, in a way where no memory is held special because we can capture all of them—and all of the in-between moments, too, that are forced memories because you pulled out your phone. Having a father who is a photographer and a cinematographer, I think it's really made me hold sacred those traditional pieces like a timepiece or a camera and staying in the moment. If you're so focused on documenting the moment, there won't be a moment to document.
If there was a period of time you could go back to, what do you think it would be?
Quite honestly, I have no desire to go back in time. Having studied different periods of time, I've realized the monumental progressions we've made that I appreciate in my daily life. From an analytical and research perspective, and in trying to amplify my activism, I think maybe I would go back to the '60s and '70s. To be in an era where multiple movements are happening simultaneously that pertain to civil rights—the Civl Rights Movement, the Black Power Movement, the Women's Movement, the Labor Movement—with all these incredible activists, I feel that would be especially interesting.
Are there figures in history that you would have liked to have met?
James Baldwin. James Baldwin all the way. I'm obsessed with him. If I could travel with him while he wrote books, that would be a dream.
Are you interested in studying history at Harvard?
I actually already committed and I'm double majoring in social studies, which is a concentration of sociology, anthropology, philosophy, and economics, as well as African American studies. For me, that felt like my version of applied history.
And what about the future? Do you have any curiosity?
Yes and no. I've spent a lot of time reading dystopian literature. I realized reading Brave New World, Fahrenheit 451, and Animal Farm may not have been the best trifecta of books to read when thinking about the future. But I do have to say, I'm excited about the near future because of the progress we're making—just take me four years in the future under a new administration.
Why 17-Year-Old Yara Shahidi Is Already a Fashion Favorite
Actress Yara Shahidi attends the 2012 'Dream Halloween' presented by Keep A Child Alive at Barker Hangar on October 27, 2012 in Santa Monica, California, wearing a pretty, blush-colored tulle dress with white sneakers and a flower in her hair.

Imeh Akpanudosen
The teen actress wore a masterful printed dress with black-and-white heels to the Hollywood Foreign Press Association and InStyle's celebration of the 2015 Golden Globe award season November 20, 2014 in West Hollywood, California.

Jason LaVeris/Getty Images
Shahidi looked casual in a white crop top and high-waisted skinny jeans at the Wayke Up fundraiser at Sofitel Hotel on December 14, 2014 in West Hollywood, California.

Jason LaVeris/Getty Images
Actress Yara Shahidi paired a plaid dress with black high-top sneakers at the premiere of "Jurassic World" at Dolby Theatre on June 9, 2015 in Hollywood, California.

Jason LaVeris/Getty Images
The actress and model wore a matching, printed jacket and skirt set, with strappy black sandals and an embellished necklace, to the 2015 BET Awards at the Microsoft Theater on June 28, 2015 in Los Angeles, California.

Jason LaVeris/Getty Images
At Kari Feinstein's Style Lounge at Sunset Marquis Hotel & Villas on September 17, 2015, Shahidi looked chic and casual in a plain white button down, white sneakers, a-line skirt and playful hat.

Rebecca Sapp/Getty Images
At the premiere of Disney-Pixar's 'The Good Dinosaur' on November 17, 2015 in Hollywood, California, Shahidi wore a long dress, leather jacket, and a pair of oversized glasses.

Jerod Harris/Getty Images
Yara Shahidi stood out at InStyle and Warner Bros.'s 73rd Annual Golden Globe awards post-party at the Beverly Hilton Hotel on January 10, 2016 wearing a bright, printed suit with strappy sandals.

Lester Cohen/Getty Images
Yara Shahidi masterfully balanced her loud, fitted dress with a pair of sleek white pumps and delicate jewelry at the ESSENCE 7th annual Black Women In Music event at Avalon Hollywood on February 11, 2016 in Los Angeles, California.

Jason LaVeris/Getty Images
Actess Yara Shahidi looked sleek in a blue jumpsuit with coordinating jacket at the 33rd Annual PaleyFest Los Angeles featuring "Black-ish" at the Dolby Theatre on March 13, 2016 in Hollywood, California.

Paul Archuleta/Getty Images
Actress Yara Shahidi attends BET Black Girls Rock! 2016 at New Jersey Performing Arts Center on April 1, 2016 in Newark, New Jersey, wearing a bright white jumpsuit, with a bold red jacket and matching sandals.

Gilbert Carrasquillo/Getty Images
Shahidi attended the Television Academy's 9th Annual 'Honors Awards' at Montage Hotel on June 8, 2016 in Beverly Hills, California, wearing a black-and-white strapless dress with delicate, high-heeled sandals.

Emma McIntyre/Getty Images
Yara Shahidi wore a multi-colored striped dress with neutral accessories at the 2016 BET awards at Microsoft Theater on June 26, 2016 in Los Angeles, California.

Prince Williams/Getty Images
Boho chic. Yara Shahidi paired a maxi dress with high-heeled sandals and a neutral bag at the Just One Eye x Creatures of the Wind Collaboration Dinner at Just One Eye on August 18, 2016 in Los Angeles, California.

Stefanie Keenan/Getty Images
In one of her most daring looks yet, Yara Shahidi embraced head-to-toe red at the Television Academy Reception for Emmy-Nominated Performers at Pacific Design Center on September 16, 2016 in West Hollywood, California.

Rodin Eckenroth/Getty Images
Yara Shahidi looked ladylike in a flowy, ethereal gown at the BBC America BAFTA Los Angeles TV Tea Party at The London Hotel on September 17, 2016 in West Hollywood, California.

JB Lacroix/Getty Images
Yara Shahidi wore an angelic white gown to the 68th Annual Primetime Emmy Awards at Microsoft Theater on September 18, 2016 in Los Angeles, California.

Steve Granitz/Getty Images
In a distressed mini-skirt and embellished, satin bomber jacket, Yara Shahidi looked playful and age-appropriate at the Teen Vogue Young Hollywood 14th Annual Young Hollywood Issue at Reel Inn on September 23, 2016 in Malibu, California.

Araya Diaz/Getty Images
Yara Shahidi looked sleek in a fitted skirt, black top, and cross-body bag at the premiere of Amazon Studios' "An American Girl Story – Melody 1963: Love Has To Win" on October 10, 2016 in Los Angeles, California.

Rodin Eckenroth/Getty Images
Wearing the perfect summer look, Yara Shahidi hit the red carpet at NYLON Nights Los Angeles on October 13, 2016 in West Hollywood, California.

Chris Weeks/Getty Images
Shahidi wore a digital-printed ensemble with her hair in long pigtails to the 23rd Annual ELLE Women In Hollywood Awards on October 24, 2016 in Los Angeles, California.

Stefanie Keenan/Getty Images
Actress Yara Shahidi wore a bold, printed, metallic minidress with coordinating strappy sandals to the Glamour Women of the Year 2016 on November 14, 2016 in Los Angeles, California.

Axelle/Bauer-Griffin/Getty Images
In an off-the-shoulder printed dress, Shahidi looked easy and breezy at the 1st annual Marie Claire Young Women's Honors on November 19, 2016 in Marina del Rey, California.

Matt Winkelmeyer/Getty Images
In a black-and-white lace dress with Victorian details, Shahidi embraced a high-fashion look at 102.7 KIIS FM's Jingle Ball 2016 at Staples Center on December 2, 2016 in Los Angeles, California.

Jon Kopaloff/Getty Images
In a ladylike pink jumpsuit and strappy black sandals, Yara Shahidi looked playful and ladylike at W Magazine's It Girl luncheon on January 7, 2017 in Los Angeles, California.

Stefanie Keenan/Getty Images
Yara Shahidi looked ready for a night of dancing at the 2017 InStyle and Warner Bros. 73rd Annual Golden Globe Awards post-party on January 8, 2017 in Beverly Hills, California.

C Flanigan/Getty Images
Yara Shahidi looked elegant in a long, white dress at the 2017 Annual Artios Awards on January 19, 2017 in Beverly Hills, California.

Araya Diaz/Getty Images
Allen Berezovsky/Getty Images
In a sheer, floral gown, Shahidi looked elegant at Harper's BAZAAR celebration of the 150 Most Fashionable Women on January 27, 2017 in West Hollywood, California.

Rachel Murray/Getty Images
Actress Yara Shahidi wore a matching top and pants to Entertainment Weekly Celebration of SAG Award Nominees on January 28, 2017 in Los Angeles, California.

Rachel Murray/Getty Images
Watch Willow Smith, Zendaya, and Kiernan Shipka's Heartfelt Rendition of "Changes"