Millie Bobby Brown Was Very Upset That Cardi B Didn't Attend the Time 100 Gala
She just wanted to party with Cardi.
---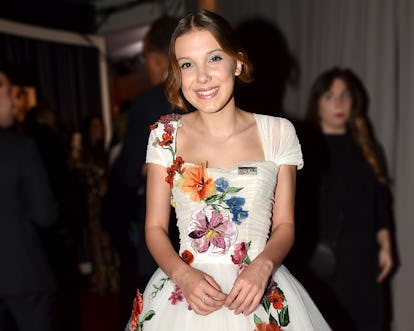 Patrick McMullan/Getty Images
Millie Bobby Brown thought she was going to have a chance to party with Cardi B at the TIME 100 Gala, so was understandably (and hilariously) shocked when she found out that wasn't going to happen.
When walking the red carpet, the Stranger Things star was stopped by a TIME reporter who asked who she was most excited to see at the event. "I'm most excited to see Cardi B," Brown said without missing a beat. "What if I told you Cardi B isn't here tonight?" the reporter asked. Brown, who was evidently so shocked that her jaw literally dropped, disappointedly asked, "Is she not?" Honestly, it is pretty heart-breaking.
"Why not?" she asked after taking a second to process the news. "Why didn't she come? Give me—oh wait—she is pregnant. She is pregnant. I'll give her that, but that's it. Next time, she better be here. She better turn up." You can watch the full video of Brown's sad revelation here.
The 14-year-old star is a major fan of the "Be Careful" singer; she even attended her performance at Coachella on April 15. As an amateur rapper herself (the videos documenting Millie's skills are definitely worth a watch), she's channeled Cardi's lyrics into her own work, referencing "Bodak Yellow"'s line about "bloody shoes" in a rap about her Stranger Thing's character's "bloody nose."
And even though Brown didn't get the chance to meet her rap idol, the night still had quite a few highlights. She took to her Instagram Story to share a few shots with fellow attendees, including actress Yara Shahidi, former Dear Evan Hansen star Ben Platt, and Cameron Kasky, Jaclyn Corin, David Hogg, Emma Gonzalez, and Alex Wind, the group of Parkland students behind the March for Our Lives. She also shared a photo of herself and Gonzalez with the caption, "Shaved head girls ?."
After the event, Brown took the opportunity to share a message with her fans about what the experience of being on the list of "100 Most Influential People" has meant to her. "To be the youngest honoree this evening is not only extremely special but it meant a lot to be able to share this with you all. Influence is a very meaningful word and I don't know how I fit in the criteria of that word but thank you #time for thinking differently," she wrote in a note on her Instagram Story. "What I want to give to you is my dedication and craft. My work is yours. I am very excited about the upcoming projects that are arriving soon. Till then I'll catch ya in the upside down."
Related: Millie Bobby Brown Is Already One Of Hollywood's Most Stylish Starlets at 13 Years Old