Natalie Portman Got on the Ground on the Red Carpet to Save Her Vox Lux Costar Raffey Cassidy From a Wardrobe Malfunction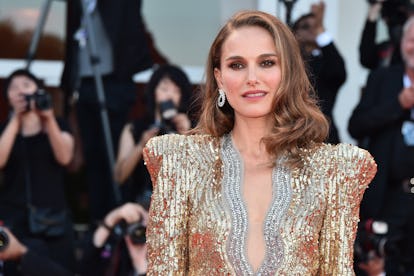 Dominique Charriau
Not all heroes wear capes; some, apparently, wear sparkly gold Gucci gowns like the one Natalie Portman was squatting in when she got onto the ground of the red carpet at the Venice Film Festival to help out a costar. Setting a shining example of sisterhood, Portman ignored all of the cameras flickering on her as she bent over to save Raffey Cassidy from a wardrobe malfunction.
The 16-year-old Cassidy, who plays a younger version of Portman's character Celeste in Vox Lux, which opened yesterday in the United States, had a red-carpet snafu with her ethereal blue gown. While posing for photos alongside Portman and their costars Stacy Martin and Brady Corbet, Cassidy's heels became entangled in the tulle skirt of her dress. Martin and Corbet attempted to free her feet from the gown before backup arrived. After an assistant ended up working through the situation, Portman got onto the ground to help finish the job. The pair ended up walking away laughing about it, with Portman putting her arm around Cassidy.
No doubt she and Cassidy share a strong bond from working together on Vox Lux and playing the same character. But when doing so, the pair didn't directly compare notes on how they would be playing Celeste. "We didn't do a lot of work together, trying to combine the characters," Portman told the crowd at the Venice Film Festival, "because she's a completely different person after those 15 years. So it was incredible for me to see it afterwards and see what Raffey did with the character and see that it was so different than where Celeste is when I pick up the character."
Another thing she didn't know going into the project? Apparently that she would be getting an executive producer credit. When asked about it, Portman told Vanity Fair, "I do? That's awesome! I didn't have a relationship—I guess that's something my agents added in, and I didn't realize." She also revealed her next project—the upcoming biopic of rival twin advice columnists Dear Abby and Ann Landers—that "it's very, very early. We're still working on the script, and I think it's going to be a while. I'm really interested in how you can become your own worst enemy and how identical twins [are] kind of a personification of fighting yourself." Portman will be playing both roles, which means that come red-carpet season for that film, if any wardrobe hiccups pop up, she will be the one forced to save herself.
Venice Film Festival 2018: See Emma Stone, Lady Gaga, Dakota Johnson and More Celebrity Fashion on the Red Carpet
Dakota Fanning arrives for the Jaeger-LeCoultre Gala Dinner during the 75th Venice International Film Festival at Arsenale on September 4, 2018 in Venice, Italy. Photo courtesy of Getty Images.

Daniele Venturelli
Cate Blanchett walks the red carpet ahead of the 'Suspiria' screening during the 75th Venice Film Festival at Sala Grande on September 1, 2018 in Venice, Italy. Photo courtesy of Getty Images.

Daniele Venturelli
Ryan Gosling walks the red carpet ahead of the opening ceremony and the 'First Man' screening during the 75th Venice Film Festival at Sala Grande on August 29, 2018 in Venice, Italy. Photo courtesy of Getty Images.

Daniele Venturelli
Tilda Swinton and Dakota Johnson at the 75th Venice Film Festival on September 1, 2018 in Venice, Italy. Photo courtesy of Getty Images.

Andreas Rentz
Claire Foy walks the red carpet ahead of the opening ceremony and the 'First Man' screening during the 75th Venice Film Festival at Sala Grande on August 29, 2018 in Venice, Italy. Photo courtesy of Getty Images.

Ernesto Ruscio
Natalie Portman walk the red carpet ahead of the 'Vox Lux' screening during the 75th Venice Film Festival on September 4, 2018 in Venice, Italy. Photo courtesy of Getty Images.

NurPhoto
Stacy Martin walks the red carpet ahead of the 'Vox Lux' screening during the 75th Venice Film Festival at Sala Grande on September 4, 2018 in Venice, Italy. Photo courtesy of Getty Images.

Elisabetta A. Villa
Raffey Cassidy attend the 'Vox Lux' premiere during the 75th Venice Film Festival at the Palazzo del Cinema on September 04, 2018 in Venice, Italy. Photo courtesy of Getty Images.

Barcroft Media
Lady Gaga and Bradley Cooper walk the red carpet ahead of the 'A Star Is Born' screening during the 75th Venice Film Festival at Sala Grande on August 31, 2018 in Venice, Italy. Photo courtesy of Getty Images.

Daniele Venturelli
Chloe Grace Moretz, Luca Guadagnino and Mia Goth is seen arriving at the 75th Venice Film Festival on September 1, 2018 in Venice, Italy. Photo courtesy of Getty Images.

Stephane Cardinale – Corbis
Emma Stone walks the red carpet ahead of the The Favourite screening during the 75th Venice Film Festival at Sala Grande on August 30, 2018 in Venice, Italy.

Elisabetta A. Villa/Getty Images
Ryan Gosling and Claire Foy at the First Man photo call during the 75th Venice Film Festival at Sala Casino on August 29, 2018 in Venice, Italy.

Stefania D'Alessandro/Getty Images
Tilda Swinton walks the red carpet ahead of the 'At Eternity's Gate' screening during the 75th Venice Film Festival at Sala Grande on September 3, 2018 in Venice, Italy. Photo courtesy of Getty Images.

Ernesto Ruscio
Dakota Johnson walks the red carpet ahead of the 'Suspiria' screening during the 75th Venice Film Festival at Sala Grande on September 1, 2018 in Venice, Italy. Photo courtesy of Getty Images.

Stefania D'Alessandro
Lady Gaga making her arrival to the 75th Venice Film Festival for A Star Is Born on August 30, 2018 in Venice, Italy.

Jacopo Raule/Getty Images
Naomi Watts walks the red carpet ahead of the opening ceremony and the First Man screening during the 75th Venice Film Festival at Sala Grande on August 29, 2018 in Venice, Italy.

Stephane Cardinale/Corbis/Getty Images
Joe Alwyn walks the red carpet ahead of the The Favourite screening during the 75th Venice Film Festival at Sala Grande on August 30, 2018 in Venice, Italy.

Andreas Rentz/Getty Images
Jeff Goldblum attends The Mountain photo call during the 75th Venice Film Festival at Sala Casino on August 30, 2018 in Venice, Italy.

Stefania D'Alessandro/Getty Images
Jury member Clémence Poésy walks the red carpet ahead of the The Favourite screening during the 75th Venice Film Festival at Sala Grande on August 30, 2018 in Venice, Italy.

Daniele Venturelli/Getty Images
Hannah Gross walks the red carpet ahead of the The Mountain screening during the 75th Venice Film Festival at Sala Grande on August 30, 2018 in Venice, Italy.

Andreas Rentz/Getty Images
Nicholas Hoult walks the red carpet ahead of the The Favourite screening during the 75th Venice Film Festival at Sala Grande on August 30, 2018 in Venice, Italy.

Ernesto Ruscio/Getty Images
Lottie Moss walks the red carpet ahead of the opening ceremony and the First Man screening during the 75th Venice Film Festival at Sala Grande on August 29, 2018 in Venice, Italy.

Stephane Cardinale/Corbis/Getty Images
Araya Hargate walks the red carpet ahead of the '22 July' screening during the 75th Venice Film Festival at Sala Grande on September 5, 2018 in Venice, Italy. Photo courtesy of Getty Images.

Stephane Cardinale – Corbis
Izabel Goulart walks the red carpet ahead of the Roma screening during the 75th Venice Film Festival at Sala Grande on August 30, 2018 in Venice, Italy.

Dominique Charriau/Getty Images
Tye Sheridan walks the red carpet ahead of the The Mountain screening during the 75th Venice Film Festival at Sala Grande on August 30, 2018 in Venice, Italy.

Vittorio Zunino Celotto/Getty Images
Doina Ciobanu walks the red carpet ahead of the The Mountain screening during the 75th Venice Film Festival at Sala Grande on August 30, 2018 in Venice, Italy.

Vittorio Zunino Celotto/Getty Images
Charlotte Groeneveld walks the red carpet ahead of the The Favourite screening during the 75th Venice Film Festival at Sala Grande on August 30, 2018 in Venice, Italy.

Daniele Venturelli/Getty Images
Sara Sampaio walks the red carpet ahead of the 'A Star Is Born' screening during the 75th Venice Film Festival at Sala Grande on August 31, 2018 in Venice, Italy. Photo courtesy of Getty Images.

Stefania D'Alessandro