What's Next for Nathalie Du Pasquier
The Milan-based designer opens up about her new collaboration.
---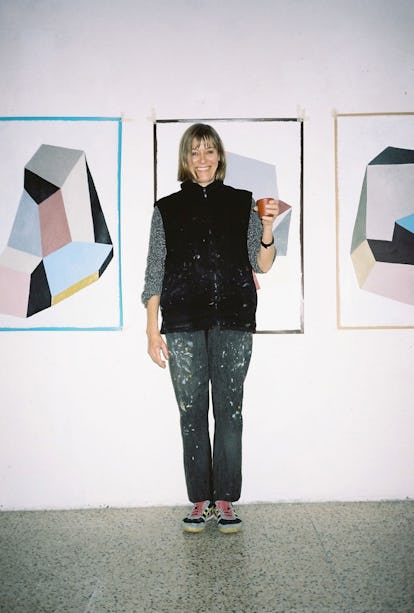 During the annual Salone de Mobile fair in Milan, I finally met one of my all-time design heroes, Nathalie Du Pasquier. As one of the founding members of the Memphis Group, Du Pasquier was the mastermind behind the Milan-based design collective's almost-primitive patterns. The 57-year-old designer and I chatted about her work with Memphis; her recent sculptural installations; and her newest projects, including an exciting collaboration with American Apparel.
How did you develop the patterns in your collaboration with American Apparel? Their initial idea was to use my patterns from the '80s. If you agree to work for someone you want them to be happy, but I decided to take the spirit of those old patterns and do new ones.
The video American Apparel released promoting the collection feels very close to your aesthetic. Were you involved with making it? The video is really nice, and I can say that because I did not do it! I like that it is very low tech, or at least it seems to be. When I saw it I thought I could have done it myself. Apart from the patterns of the collection, they have used some of my interior drawings from the '80s. They have a touch of naivety that works well with the song, which also reminds me of when I was very young.
That song was written by you and George Sowden, and performed by you with Mike Vicini. What was the story behind it? It's a small record I made in '81 for an Italian record company. That was my first and only attempt at show business. You cannot do everything!
In the '80s, you collaborated with Fiorucci, another youth culture brand. How did that influence your recent work? I worked for Fiorucci for a very brief period, 6 months between '81 and '82. I designed a few patterns and collaborated on some accessories. Not much of what I did was produced, but for the first time, surrounded by many fashion designers, I did many drawings of clothes. At the moment, I am working on a book that includes those drawings. They are quite amusing but I am not sure they can be called fashion drawings. I have never been very interested in or able to follow trends. I am more interested in doing things others are not doing. I don't know what it means to work for a youth culture brand. I provide patterns that in my opinion could work for any age, then and now. I aim for timelessness!
Your sculptures and constructions seem to be a careful placement of objects in fields. What is their relationship, if any, to your 2D pattern design? I think both the constructions and the patterns are kinds of collage. For the patterns, I have accumulated a number of elements, textures and types of structures over the years that I continue to play with. I have always found it intriguing to give the illusion of space on a flat plane. Similarly for the constructions, I have a box full of pieces of wood and other materials that I assemble around some modules I determined about 15 years ago. I build my pieces randomly, moving the elements until I feel satisfied with the result. They are not the result of a previous plan or drawing. The constructions are constantly recycled, rebuilt differently and repainted.
Much of your work has an exciting use of color. Do you have any favorite combinations? My attraction to particular colors depends on my mood. I tend to use subtle combinations and all a sudden a strong contrast. I like surprise, but tomorrow I could say something else.
Photos: What's Next for Nathalie Du Pasquier
Nathalie Du Pasquier by Pascal Moscheni.
By Nathalie Du Pasquier (2013).
ICE print for Wrong for Hay, 2013 by Nathalie Du Pasquier.
American Apparel X Nathalie Du Pasquier, 2014.
By Nathalie Du Pasquier (2012).
Cell print for Wrong for Hay, 2013 by Nathalie Du Pasquier.
By Nathalie Du Pasquier (2010).