By Design
Renovation can be a bitch, as any homeowner will tell you. The stakes are even higher when you're talking about a circa 19th century museum housed in a landmarked Andrew Carnegie mansion. The Cooper-Hewitt...
---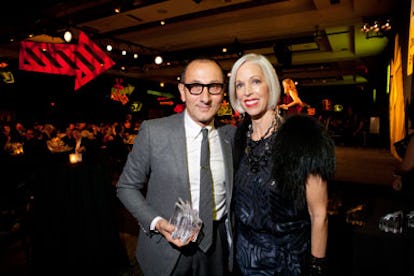 Renovation can be a bitch, as any homeowner will tell you. The stakes are even higher when you're talking about a circa 19th century museum housed in a landmarked Andrew Carnegie mansion.
The Cooper-Hewitt is handling its current construction with humor—signs posted on its Fifth Avenue façade reference plastic surgery and the ageing process—but it was forced to decamp to Pier Sixty Thursday night for its annual National Design Awards event.
No matter—upon entering the cocktails, guests were faced with a black cardboard model of the museum, its lines rendered in orange Scotch tape. That same tape was a running theme for the evening. Further into the room was a wall proclaiming "Design is…" with rolls of tape available in various hues and Sharpie markers so guests could art direct their answers.
It was an apt prop for the crowd, considering a host of stars from every facet of the design world were there. Gilles Mendel, the evening's honoree in the field of fashion also added some glamour to the occasion, bringing out the likes of Trish Goff, actress Roxane Mesquida and Doutzen Kroes, not your average design awards attendees.
"Who is that?" queried one woman admiring Kroes' white gown-clad posterior. "That is some butt."
Others were star-struck by the smattering of celebrities milling around.
"If I stand here long enough, Sigourney will HAVE to pass me!" declared one man as he ignored the multiple calls for dinner, hoping to rub shoulders with the statuesque Sigourney Weaver.
Once inside the dinner room, whose windows overlooked a boat slowly docking as the night went on, guests were seated at black tables with place settings written on rolls of that same Scotch tape (more on that later). The appetizers were speedily consumed, as was the steak main course—we did have eleven awards to get through.
First up, a few words on that renovation—its price tag of $54 million was just $900,000 shy of being realized, so attendees were asked to chip in by writing a number on the tape from their place setting.
"You can hear the terror going through the room," joked one of my tablemates.
Then it was onto Natalie Morales who served as the initial emcee. Steven Heller picked up the Design Mind Award; President Bill Clinton presented, via video to much disappointment, the Corporate Institutional Achievement Award to Knoll (Clinton has worked with them on his Global Initiative), and then Weaver took to the podium to hand out the Architecture Design Award to Architecture Research Office. The connection seemed tenuous until the actress explained that the firm is working on a new home for the Flea Theater, of which she and her husband are directors.
"They gave us 60 interior ideas!" she enthused.
Less explicable was why Stefan Sagmeister had a strip of orange tape on his arm when dolling out the Communication Design Award to Rick Valicenti.
Bergdorf Goodman's Linda Fargo was forgiving to her audience in her speech honoring J. Mendel.
"It will be no more than 45 seconds," she promised (she came relatively close), as she extolled Mendel's virtuosity with revolutionizing fur and the horror he caused his father by shaving it down.
He apparently wasn't the only one who has been shocked by Mendel's technical wizardry. Mendel recalled a salesman telling him, "You make fur that doesn't keep you warm."
Technical difficulties were unfortunately a bit rife throughout the evening (they began with some hiccups in Clinton's tape). After Ben Fry nabbed the Interaction Design Award, Sting and Trudie Styler came on screen, after some tweaking, to hail Shelton, Mindel & Associates for Interior Design.
"You've also been a lot of fun to have around," said Sting (they've overseen two of the couple's homes).
"Most of the time," Trudie clarified.
Peter Shelton went on to give one of the more entertaining—and long-winded—acceptance speeches of the evening, mentioning a former employee who wanted to use the health coverage for drug rehab and recalling a time when they discovered a man had been living in their offices for three months. His wife kissed him mid-sentence and just about dragged him off stage.
Just after 9pm, Morales had to bid an apologetic farewell—"4am is approaching fast"—and the Cooper-Hewitt's Bill Moggridge and Caroline Baumann took over. Gustafson Guthrie Nichol won for Landscape Architecture and Don Goeman took home the Product Design Award. Then Matthew Modine decided to inject some color into the proceedings.
"Man this is a tough room," he said. "It is so dry. It's like the Mojavi desert." After a few digs at the New York Post—"I'm never getting a good review in the Post again"—he waxed poetic on Lifetime Achievement Award winner Matthew Carter, who has created among other fonts, Bell Centennial, Georgia and Verdana.
"It simplifies one resume," he said of his honor. "Now instead of listing all that [other] stuff, we can just reduce it to 4 words: 'National Design Award, etc.'"
The last presenters of the evening were a rather unlikely pairing, White House Social Secretary Jeremy Bernard and Pharrell Williams.
"This is you," said Bernard, cutting in on Pharrell Williams's lines.
"It's cool, man," replied the singer-designer, continuing, "Let me just break the ice. Sigourney Weaver, Avatar! Okay, I feel better now." A few quips later, they announced that Design Matter on Design Observer had won the People's Design Award.
Phew.
For those who were still standing after the ceremony, there was an after-party in the cocktails area. But many headed to the Boom Boom Room, where J. Mendel was toasting their win with friends like Bibhu Mohapatra, Tati Cotliar, Manish Arora and Lisa Airan. Brook Shields showed up around 11:30 to congratulate the designer and hang with his kids, before heading out 15 minutes later (presumably to rest for her Addams Family performance the next day).
Photos: Richard Patterson