National Exemplar's Underground Appeal
A small New York gallery is staging monumental installations.
---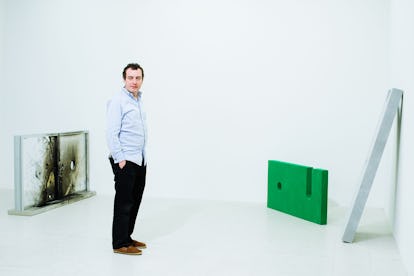 One of the first things the gallerist Eneas Capalbo did when he moved to New York in the late '90s from his native Buenos Aires was to start an underground bar, quite literally, in his basement apartment in Greenwich Village. Capalbo, who is also a painter, would push his mattress out of the way so that his artist and writer friends could hang out. "I guess the gallery is the same, only it's open earlier," says the dealer, 38, of the National Exemplar Gallery, a pocket-size office on lower Broadway, where he has mounted installations selected or made by established artists like Richard Artschwager, Terry Winters, Keith Sonnier, and Nate Lowman. There are also soon-to-be-stars on Capalbo's roster, like Sebastian Black and Matt Kenny, whose paintings of an anthropomorphized World Trade Center are currently on view. The gallery's name, which alludes to a utopian community in rural Ohio in the '20s, suits Capalbo, who has very specific ideas about how people should look at art: very little of it at a time—if the art is good, that is—and free of fanfare. "People say I am very dictatorial," he says. "But I don't see it."
Photography assistant: Matt Munson.