Hollywood Remembers Naya Rivera, a Charismatic Force on Glee
Naya Rivera's Glee co-stars joined the multitude of celebrities across Hollywood mourning her tragic death on social media.
---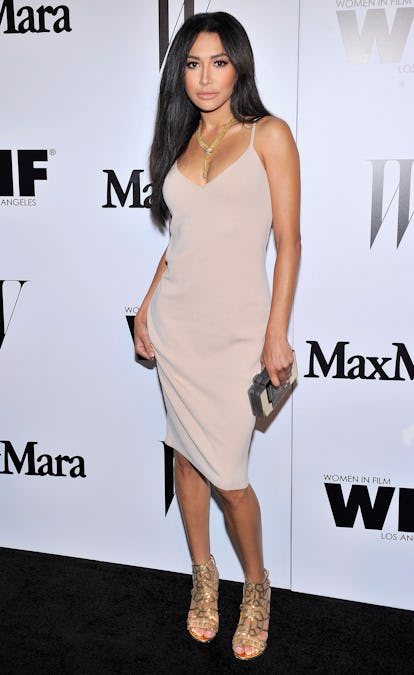 Getty Images
Actors and musicians across Hollywood are remembering Naya Rivera, the Glee actress who passed away in a California lake while on a boating trip with her four-year-old son, Josey.
Rivera's body was found on July 13, just days after she was reported missing in Lake Piru and authorities continued an exhaustive search of the area. She was 33 years old. It is believed that she was caught by an undercurrent in the lake, and after using her energy to save her son's life by pushing him onto the boat, she was unable to get herself on and was pulled away. Rivera's body was recovered on the seven-year anniversary of the death of her Glee cast mate, Cory Monteith, who passed away from a heroin overdose in 2013.
On Glee, she played Santana, a mean girl cheerleader stock role who evolved into a character much more important than viewers initially anticipated. Her character on the series joins the Glee Club in jest, to make fun of those who were seriously involved, only to become one of the a capella group's most powerful and charismatic voices, most recognizable on the cast's covers of songs like Amy Winehouse's "Valerie," Barbra Streisand's "Don't Rain on My Parade," Fleetwood Mac's "Songbird," and a mash up of Adele's "Rumour Has It" and "Someone Like You."
Santana's relationship with a fellow cheerleader named Brittany was regarded as a win for queer representation on television, especially for Latinx viewers, and her coming out arc, in which she revealed her sexuality to her grandmother and mother, played by Ivonne Coll and Gloria Estefan, respectively, was widely celebrated. After a seasons-long romance with Brittany, Santana also dated a character named Dani, portrayed by Demi Lovato.
Before she hit it big on Glee, Rivera appeared on episodes of sitcoms Smart Guy, The Fresh Prince of Bel-Air, and Family Matters as a child.
Since her death was officially announced there has been an outpouring of remembrances from Glee cast members and other Hollywood celebrities on social media. "Naya had such a gigantic presence, a void that will now be felt by all of us – those of us who knew her personally and the millions of you who loved her through your TVs," Glee actor Kevin McHale wrote on Twitter.