Five MINUTES WITH NERO
The London-based trio of Dan Stephens, Joe Ray, and Alana Watson is one of those responsible for getting dubstep out of the warehouse and onto the radio.
---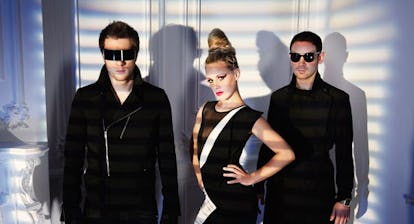 In case you haven't been assaulted by its signature bass whump on Rihanna's album Rated R or Justin Bieber's single "As Long As You Love Me," dubstep is no longer just for twitchy club kids. And while Nero—the London-based trio of Dan Stephens, Joe Ray, and Alana Watson—is one of those responsible for getting dubstep out of the warehouse and onto the radio, the electro-dance group with the Daft Punk-lite look has also been moving towards a more melody-driven sound all their own, abetted by Watson's breathy vocals. They re-released their UK smash album Welcome Reality stateside in October, and tomorrow night they will be DJ-ing at L.A.'s Greystone Manor. We spoke with Dan Stephens and Alana Watson a little over a month ago, after their show in New York—which left them stranded in the city just in time for Hurricane Sandy.
How did you guys come together as a group? Stephens: Joe and I were both writing music, and living near each other in London. We decided to make a track together—that was kind of it. Alana came a little later. We'd heard her singing, and managed to convince her to actually get in front of a microphone and put something down.
Not a lot of dubstep or EDM acts feature vocals. It's part of what makes you guys stand out a bit. Stephens: Alana's voice works great with the music, which is quite dark. But her voice is so airy and angelic. Watson: Aw, how cute.
Alana, I think it's your turn to say nice things about them now. Watson: Well, Dan and Joe are amazing, classically-trained musicians, but they bring a kind of real grimy sound.
Do you guys listen to a lot of other dubstep? Stephens: We don't really listen to dubstep in our spare time. When we're writing, we're listening to stuff completely outside of dance music, like 60s and 70s rock. We've also always really been into that whole 80s synthesizer sound a lot.
Speaking of the 80s, we should talk about this look of yours. How did that come about? Stephens: Around the time we were writing the album, I started wearing a lot of Balmain and Hedi Slimane's Dior Homme stuff. I've always liked that military biker look, and Joe and Alana are the same. We're really into cyberpunk as a genre: Blade Runner and 80s anime. The clothing is just really iconic. It borders on futurism but also feels retro.
Retro-futuristic? Stephens: Yeah. We wear the visors as well. The original ones we wore were Martin Margiela, but we have them custom-made now.
Alana, what's your stage style like? Watson: I wear black, but want to keep it sexy and feminine, so a lot of lace and leather, too. Maybe call it a leather-clad fembot from the 80s?
Are there certain fembot-friendly labels you gravitate towards? Watson: I've got a Balmain leather jacket. I've also got a really good Burberry Prorsum leather jacket as well, which I love. And I've been looking at some things by Simon Preen, this UK designer who's not that well known but who's doing amazing things.
Do you change when you get offstage. or is this generally how you dress? Stephens: That's actually what I wear on the street. We're not too recognizable without the visors.
Will you guys be playing New York again soon? Stephens: We're done with New York for the foreseeable future.
But you'll be here during the next major storm again, right? Stephens: Yes, exactly. The next hurricane, we're there.