Netflix's Fyre Festival Documentary Trailer Shows What Really Went Down
Disaster-relief tents, bare mattresses, a viral photo of two slices of bread, no supermodels.
---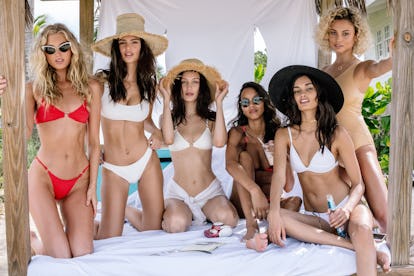 "The Greatest Party That Never Happened"—that's how Billy McFarland and Ja Rule's infamous Fyre Festival will be inscribed in history, according to the trailer for the new documentary Fyre, out on Netflix January 18. According to a press release by the streaming service, the documentary, by Jim & Andy: The Great Beyond director Chris Smith, will offer "a first-hand look into [the] disastrous crash of Fyre as told by the organizers themselves." (Worth noting that one half of said organizers are currently incarcerated for multiple counts of fraud.)
The trailer opens with the fantastical expectations set up by Fyre Festival: its supermodel endorsers, like Emily Ratajkowski, Bella Hadid, and Kendall Jenner; its extravagant, purported private-island location; the impressive lineup that included Desiigner, Tyga, and Pusha T (this was early 2017, remember). But it quickly sours depicting the conditions that greeted the attendees, who had paid at least $1,500 for tickets and some of whom bought packages in the six-figure range—the disaster-relief tents, the bare mattresses, the visitors stranded at the airport, and the eventual viral tweet of two slices of bread, a slice of cheese, and some lettuce in a Styrofoam takeout container. The supermodels never showed up. Per the press release, Netflix promises "an exclusive behind-the-scenes look at the infamous unraveling of the Fyre music festival."
At the time, the news was greeted with not a little bit of schadenfreude: The most privileged of festivalgoers were treated to a scam of a still-impressive scale, even after this summer's summer of scam.
According to Pitchfork, the film was produced in part by Vice and Jerry Media, the production company behind Fuck Jerry. It's just one of the competing retellings of the festival that are in the works right now: Hulu is also releasing a documentary series produced in part by Billboard and Mic, and Seth Rogen and the Lonely Island (perhaps facetiously) hinted on Twitter that they were planning to make a scripted series about a music festival that goes "HORRIBLY WRONG" (Rogen's emphasis). Two Fyre Festival narratives; two Anna Delvey shows; two documentaries about men summiting Yosemite's El Capitan; two upcoming biopics about Leonard Bernstein, in which the composer is played by Bradley Cooper and Jake Gyllenhaal. Only Cooper's film has the Bernstein estate's blessing to use his music. Fyre Festival is just the beginning of the drama.
Related: Fyre Festival Burns Out: A First-Hand Account of the Music Festival Fiasco that Became #FyreFraud