New NEUW Denim
Par Lundqvist (above) isn't just a denim designer—he's also a denim collector of epic proportions. The Swedish Lundqvist, one of three men behind Australia-based NEUW denim, which is newly available stateside, has around 2,500 jean...
---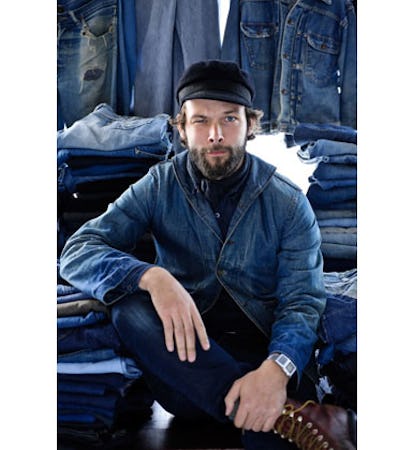 It's an obsession that all started with music: "[My band] had grand plans, but unfortunately we were still pretty crap, so we had to take jobs on the side to be able to afford our daily beer and noodles," says Lundqvist. "I applied for a job at a denim store." He quickly got hooked on denim lore—stories of gold diggers, cowboys, and "some of my musical and style heroes—Velvet Underground, Ramones, Jesus and Mary Chain, all wearing jeans. Looking sharp, mean, and amazing."
But rather than just wear his vintage denim (which he does, day-in-and-day-out, head-to-toe) he also began to re-cut, and add tucks to give the jeans the perfect fit and look. It's these tweaks, like adding darting at the ankle for a slight taper, that became the foundation of NEUW denim and their process of "Vintage Revision." Though the finishing is thankfully understated — "Just like the original workwear garments, the external details are subtle," says Lundqvist, "we prefer discovery."
But for a departure from subtlety, there's NEUW's Black Colour line. "I wanted to create a sharp alternative to the indigo jean," says Lundqvist. "So I went to one of the oldest, still-active denim mills in the world and asked them to develop a new version of the colored fabrics they used to create in the 1950s." The result? Rather than the traditional combination of the colored top thread and white bottom thread, they used a black bottom thread to give the final product a dusty undertone and a murky black inside that shows off when cuffed.
NEUW denim is available at several US retailers including Atrium (atriumnyc.com) OAK (oaknyc.com), and Madison (madisonlosangeles.com).