The New Riverdale Trailer Is Both Steamy and Suspenseful
Season 2 is close at hand.
---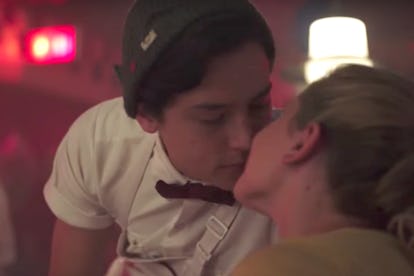 Riverdale/Youtube
As fans eagerly await the second season of Riverdale, The CW's hit Archie adaptation, they can at least start to piece things together from the latest steamy, mysterious trailer. There's kissing! There's Bughead! There's…Varchie? There's a gun! There's a phone call about whatever the season two plot is about! Murder, probably.
One thing's for sure: Season two will be even scarier than season one. An earlier trailer for the new season questioned the motive behind shooting Fred, and from this new one, it looks like every character is in trouble, or at least concerned about it. We see Jughead at home in the dark with a baseball bat (very Stranger Things!), and Archie nearly in tears as he calls his mom for help. But perhaps there's a clue in the music; the background song in this trailer is a cover of "I'm Confessin (That I Love You),", so keep your eyes peeled for confessions of that nature in the season premiere.
The first season of the dark comic adaptation was an overnight success, making instant teen idols of its four leads—KJ Apa, Cole Sprouse, Lili Reinhart, and Camila Mendes—in a way not seen since the days of Gossip Girl and The O.C. But success is not without its drawbacks. Reinhart spoke candidly to W about dealing with fame and anxiety, noting that "the show took off in such a way that fame followed very quickly after, and it wasn't really a smooth transition," and Apa was recently involved in a car accident after a long day on set (he's OK). But judging by the steamy, intriguing new trailers, nobody should expect Riverdale-mania to slow down any time soon. It's just getting started.
The new season of Riverdale premieres on October 11. Check out the latest trailer, below:
Related: Riverdale's Lili Reinhart Declares "I Am Not Betty Cooper"
The Ultimate Guide to the Best Fall Coats to Buy Now