Hard Day's Night
The sight that greeted me Thursday night as I arrived at Lincoln Center for the New York City Ballet's Fall Gala was not your average balletomane crowd. Both sides of the walk to the David...
---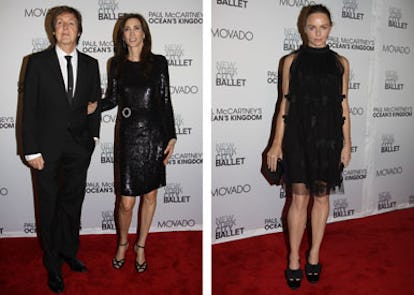 The sight that greeted me Thursday night as I arrived at Lincoln Center for the New York City Ballet's Fall Gala was not your average balletomane crowd. Both sides of the walk to the David H. Koch Theater were lined with barricaded hordes of people, wielding iPhones and personal cameras. One young boy clasped a neon yellow sign declaring "Some day I'll perform live with you. Kyle."
No, this child was not an aspiring dancer, though god love him if he were. The cause for all the hoopla was the anticipated arrival of Sir Paul McCartney, who wrote the music and libretto for the evening's world premiere "Ocean's Kingdom." As one twitter follower put it, "From the looks of the crowd, are you sure it's not for St. Paul?" (@jomodesignscom, that would be you)
One in the same to many a musical fan, clearly. At the pre-performance cocktail reception on the theater's promenade (the evening was sponsored by Movado), a live band played a cover of "Let It Be" while regular ballet patrons like Vice Chairs Fiona Druckenmiller, Carol Mack and Charlotte Moss; Fe Fendi; Ralph Lauren; Marissa Mayer and Zachary Bogue, and Patricia Shiah sipped champagne and took in the scene outside from the balcony overlooking the plaza.
"I grew up with The Beatles, but I mean, I wasn't screaming on the Ed Sullivan show," laughed Coco Kopelman.
Some were perhaps more overt about their fandom: a woman with very Yoko Ono-esque glasses milled around (it wasn't actually Yoko, I checked) and there was a man with a rainbow dyed goatee.
"All the crazies are out!" laughed one woman.
Gilles Mendel felt some sympathy for Stella McCartney, who designed the costumes for "Ocean's Kingdom"—just a few seasons ago he created the costumes for "Call Me Ben." But on this evening, his sartorial mind was on figure skating—he was heading to Chicago the next morning to tape "Fashion on Ice," for which he designed twelve outfits for figure skaters.
"You have to worry more about underwear," he remarked.
As a preamble to the performance, NYCB Music Director Fayçal Karoui and the orchestra gave a 101 educational lesson into McCartney's score, before Peter Martins, NYCB's Ballet Master-in-Chief, toasted Sir Paul with a cup of freshly poured tea in lieu of the traditional vodka shot, to much laughter as necks craned towards the former Beatle, seated in the front row of the central mezzanine.
Then the performance commenced, a love story between a princess and prince from aquatic and land kingdoms, respectively, with Sara Mearns and Robert Fairchild dancing the lead roles. Stella McCartney's range and modernity were evident in the territory she covered, from Mearns' airy bi-level dress to the more tribal tones in the terra groups and S. Katy Tucker's projections added extra pizzazz to the staging.
Needless to say, when a bashful Stella and gracious Paul took to the stage for their bows, it was to a standing ovation.
Reviews afterwards were a bit mixed.
"It sounded more like a score for a movie," said one consistent ballet-goer of the music.
But the costumes were consistently lauded, even out of context.
"There were a couple I was obsessed with. I love the suits, there was fluorescent yellow one piece," said Liv Tyler. "And there was a coat I was obsessed with, it was like her military coats, and it had leather in front and then tails. I thought, Ooh, I want that to be my winter coat."
Even Tyler's hook-up will probably make that an impossibility and with good reason: these were serious costumes for people doing plies and codas, not pedestrian walks through the snow.
"You're working with athletes and choreography has a basic need, you have to work around the dancers and fit into a very clear story line," explained Stella, who took her cues from her father's vision of the ballet. "He was very clear from the beginning that it was more along contemporary lines than traditional ballet."
No father-daughter spats?
"I think we were both very mature about it all," she said with a smile.
Dinner was held in a tent—on the same grounds as the New York Fashion Week—on whose ceiling oceanic undulations were projected. Trays of water with floating flowers and votive candles illuminated the tables—and acted as de facto space heaters on a rather muggy night.
"Am I having a hot flash?" queried one guest.
She wasn't, but Georgina Pazcoguin, who danced the lead of Scala earlier in the evening, seemed to experience some heat when she sat down and eyed actor Andrew Garfield across the table (next to Steve Buscemi). A drink later she was next to him, where she stayed for the remainder of the vegetarian meal (a nod to Stella, I presume).
Yes, this was no ordinary NYCB gala. For one, it was the first time the dinner was held in a tent, due to the overwhelming attendance (usually it's on the theater's promenade). And a long center table saw Sarah Jessica Parker chatting with Naomi Watts, while Jon Bon Jovi sat across from Sir Paul. Anjelica Huston milled around and Alec Baldwin was one of the gala chairmen (inexplicably, since he declined any interviews).
Whether this Golden Globe-like atmosphere will persist for galas to come remains to be seen. But at least Sir Paul was modest about his place in the collaboration that produced it.
"I would just suggest something to Peter [Martins] and most of the time he'd listen to me. I thought he'd say, 'Stick to the music, kid!'" he said of their work, ending with, "NYCB forever!"
Photos: Alec Baldwin, Liv Tyler/Jessica Seinfeld/Naomi Watts, dancers: Julie Skaratt. Steve Buscemi, Stella McCartney, Paul McCartney, Sarah Jessica Parker and Anjelica Huston: Mary Hilliard