In Honor of Oscar
New Yorkers for Children pays tribute to the late designer Oscar de la Renta.
---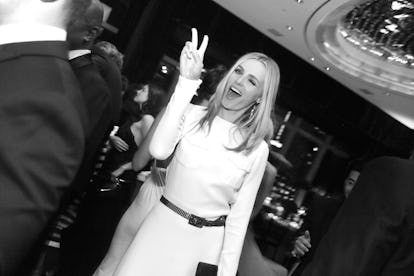 There are spring galas that are performance-based (see: anything dance-related), those that are heavy on the speeches and light on the, well, levity (shall remain nameless) and then there are others where people show up ready to let loose. The annual New Yorkers for Children Spring Dinner Dance: A Fool's Fete, this year sponsored by Saks Fifth Avenue, falls into the latter category. Held Thursday night in the ballroom of the Mandarin Oriental hotel, it burst with energy as attendees crowded every bar, nook and even the silent auction, chatting as though they hadn't seen each other in years.
"I like this one. It's more fun and cool," observed designer Sophie Theallet as she and her date (whom she dressed) Julie Macklowe ponied up to one of two main bars.
"I'm ready to dance even though there's no music!" said Dori Cooperman shimmying in a metallic paillette column dress, the back of which was partially undone. Designer Bibhu Mohapatra gallantly fixed it for fear it would slip ("I'm not modest!" she laughed).
In one corner, Helen Schifter posed for a selfie with Bill Cunningham, while the evening's honorary chair Dayssi Olarte de Canavos chatted with friends about a recent trip to Cartagena.
Of course, the evening had its poignant moments, too. This specific gala honored the late Oscar de la Renta who was on NYFC's Board since 1998 and was a devoted champion of the NYFC's efforts to help children in the foster system.
"He helped raise tens of millions of dollars," said Alina Cho in a tribute speech at the beginning of dinner, which introduced a video in which the psychologist and philanthropist Susan Burden declared, "He brought the fashion people to our table."
Needless to say, many of the women in attendance wore their own Oscar de la Renta dresses.
Many heartstrings were also tugged when the night's guardian scholar Shavonn Wheeler, who benefitted enormously from NYFC's efforts, addressed the crowd.
"Growing up, I felt I was never the chosen one," she said in a moving speech about her harrowing childhood from which she emerged thanks to educational support from NYFC. "For the first time in my life, someone recognized my potential and chose me. Now I'm on track to get a bachelor's degree from John Jay college in 2016."
Wheeler managed to hush the crowd, not an easy feat, which Christie's Lydia Fenet noted before beginning the live auction of funds for school supplies, "I love that you're quiet, it's a very unusual thing."
She went on to raise $100,000 in pledges. "It's a magical night," she observed, cheekily.
The room clearly agreed. After dinner, people moved to the dance floor with abandon.
"Oh my god," said Waris Ahluwahlia, as he glanced up from his dessert. "Look at them go."
Photos: In Honor of Oscar
Dayssi Olartede Kanavos and Amy McFarland
Helen Lee Schifter and Gillian Miniter