The Niche Instagram Accounts Keeping Us Sane (Or, at Least, Distracted)
If we see one more loaf of bred or tone-deaf influencer we might scream.
---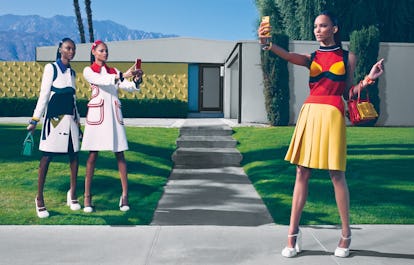 Photography by Emma Summerton, Styled by Giovanna Battaglia
We are all very happy for our friends who have suddenly rediscovered their love of baking, but if we see one more misshapen loaf of bread on our Instagram feeds right now we're not sure we can handle it.
The cruel irony of this matter of self-isolation is that it's left many of us more helplessly glued to our phones than before, desperately scrolling for any sort of stimulation only to be forced to look into the lives of other people similarly stuck at home with little else to do (not to mention prone to coming across some of the more out-of-touch antics of the influencer and celebrity classes). So why not cleanse your feed with some content from off the beaten path? Here, W editors suggest their favorite niche accounts that encapsulate everything from design inspiration to dark memes to some good old-fashioned Glenn Close jokes.
@Press_SF
Press is an independent bookshop in San Francisco that sources, as they put it on their website, "cool, weird, hard-to-find, and forgotten art, fashion, design, photography, craft, and counterculture books primarily from the '60s, '70s, and '80s." On Instagram, they post a selection of images from a couple of titles every day, which usually get sold in a matter of minutes. All of the photos are from the pre-digital era, which means they have a beautifully nostalgic, faded glow. And at a time when the same minimalist Tumblr aesthetic keeps getting recycled by so many "tastemaker" accounts, it's genuinely refreshing to see something totally and completely original once in a while.—Andrea Whittle, Features Editor
@PatiasFantasyWorld
I truly don't even know where to begin with explaining @patiasfantasyworld. "An Instagram account run by three individuals (@realistic_lacefront, @saint.deepthroat, and @patia000000) known for re-sharing irreverent memes that seemingly originated on Facebook" just doesn't fully encapsulate it, but what I can say is that when @patiasfantasyworld was removed from Instagram at the beginning of quarantine I thought I'd never see that account ever again. I wasn't sure how I was going to make it through without my daily dose (or really, more like hourly, because the account posts at least 10 memes a day) but then, about three weeks into quarantine, a miracle occurred. The account was suddenly back up and running. And now I can finally let myself peer into that deranged little page whenever I'm glued to my phone (because you know there's nothing else to do right now anyway).—Brooke Marine, Associate Digital Editor
@NickCaveAndTheBadMemes
"Nick Cave" and "joy" aren't phrases that usually occupy the same space in my mind, but @nickcaveandthebadmemes' dark humor always gets me. The account may no longer be strictly limited to Nick Cave— expanding to equally nihilistic memes involving The Cure, Kate Bush, David Bowie and other "sad bastard" music fare, plus some 80s and 90s nostalgia thrown in for good measure. Bonus points for its Twin Peaks counterpart, @sadpeaks.—Tilden Bissell, Digital Designer
@Nice_Shells
I have no idea who @nice_shells is, but I worship them. This is a bizarre, wonderful account that is dedicated solely to celebrating shells as a design motif, in everything from vintage Versace denim to 18th century Japanese manuscripts to topiaries shaped like snails. Captions are droll and straight to the point: "Pretzel shells by Taylor's sweet revenge in Wallingford Connecticut," accompanies a carousel of photos of crumb-dusted pretzels topped with white chocolate scallops and augers; "Dino shells" announces a series of shell-and-dinosaur mashups, including a triceratops-shaped taco stand. Every post feels like a brain massage.—A.W.
@mvrc.t
Instagram's robust community of surrealist 3D animators is a mainstay of my Discover page. The more bizarre the better, but even when the works borderline on disturbing, they tend to soothe me. It's like visual ASMR. Artist Marc Tudisco perfectly fits into that groove. With a mix of dancing babies, sushi-skinned athletes, and rubber people falling to their demise, it's exactly the right kind of pretend "fucked up" to take my mind off all the actual "fucked up" happening at the moment.—Kyle Munzenrieder, Senior News Editor
@wemetatacme
@wemetatacme is the Instagram account for the dating podcast of the same name, hosted by Lindsey Metselaar. The Instagram stories, however, are where things get really entertaining. We Met At Acme is known for its user-submitted Instagram story polls. If Metselaar thinks other people might have the same question, or is curious to see how others would respond, she posts it as a poll using the Yes/No sticker tool. Current questions include: "Normal to think everything that comes out of your SO's mouth after being quarantined together is annoying?" (70% of voters said yes) to "Fair to ask your partner to give you a mani/pedi during this time?" (45% said yes). Whether it's questions being answered that I personally have, or crazy dating stories that sound completely made up, this account never stops making me laugh. Also, the polls are great to do with friends––or even on a (FaceTime)date.—Jenny Oliver, Social Media Manager
@TheKawaiiSweetshop
The most unexpected corners of the Internet have emerged as my saving grace. Who knew sparkly resin molds made into keychains, earrings, and memorabilia would be the thing that brings me the most joy under these circumstances? Maybe this is what people are talking about when they talk about "the new normal." In any case, a few days ago, my sister sent me a random post from the account @thekawaiisweetshop. It was a TikTok video of some Sailor Moon wands the owner of the account had made. "For my next birthday," the message to me read. But all I could think about was when I would be able to cop something from the bonafide cute Instagram account of this self-proclaimed "Resin Artist" based in Houston, Texas. Their daily updates of new glitter shipments, hologrammed ephemera, and the oddly satisfying act of popping the pieces out of their rubber molds, strangely enough, make me content. And although it does not make sense to purchase gross amounts of tchotchkes at this time, I want everything.—Maxine Wally, Senior Digital Editor
@MignonetteTakesPictures
In a complete plot twist, my most shared animal Instagram account right now is not my best friend's meme account for her blind black cat—sorry, @cursedcat.eps—but @mignonettetakespictures. Chalk it up to me reverting back to my Tumblr days due to spending so much time at my parent's house, or my cute aggression running rampant because I haven't pet one of New York City's many dogs in over a month. Still, if bombarding my friends and coworkers with videos of baby goats and pictures of mini pigs every morning is wrong, I don't want to be right.—T.B.
@dublin_zoetrope
On the grid @dublin_zoetrope doesn't look like much aside from a collection of white actresses of a certain age and caliber, but dig into the accompanying captions and you'll find a rich, on-going storyline that rivals anything Ryan Murphy has produced. The main plot, of course, centers on the antagonistic frenemieship of over-achiever Meryl Streep and constant runner-up Glenn Close. Though, the assistant-abusing Faye Dunaway, the Laura Dern-Laura Linney binary, and the dueling theatrics of Patti LuPone and Bernadette Peters. Real celebrities acting woefully out of touch just isn't hitting right now, which only makes the account that much more fun.—K.M.