Nicki Minaj's Controversial Tweetstorms End in a Postponed Tour
A chaotic album release only gets worse for Nicki Minaj.
---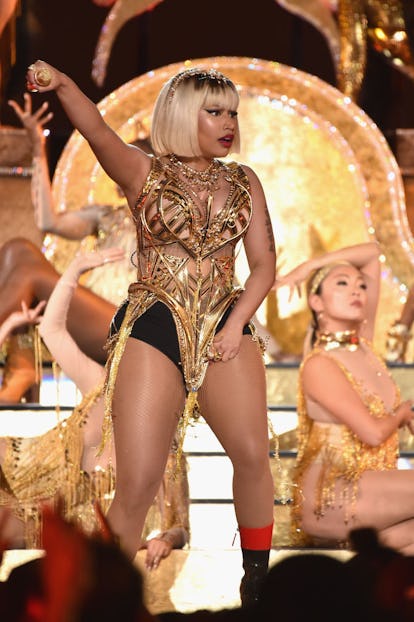 Kevin Mazur/Getty Images
Nicki Minaj's upcoming tour may be in some hot water. After claims that she was feuding with Travis Scott and Kylie Jenner over the No. 1 spot on the Billboard charts, Minaj took to Twitter to say she was just being sarcastic and using "dry humor" with regards to the alleged beef. But she then proceeded to tweet about Harriet Tubman, comparing herself to the iconic abolitionist who escaped slavery, which did not sit well with many of her followers on social media.
"She said she could've rescued more slaves had they known they were slaves. I fought for streaming services to count toward billboard," Minaj tweeted.
Minaj also insisted that if Spotify had not delayed her album release—after she played a sneak peek of Queen on her Apple Music radio station—she would be at No. 1. Though it may be true that Spotify's treatment of Minaj's album release held the rapper to an unfair standard that's different than that of male rappers like Drake or Travis Scott when it comes to album promotion cycles, Minaj caused enough of a stir on social media that some are speculating that the low ticket sales for her upcoming stadium tour may be in part a symptom of the aftermath from her recent tweetstorm, in which she called out Travis Scott for using his baby, Stormi Webster to promote his album, Astroworld, and pointed a finger at both Spotify and Billboard for their lack of support. Minaj has always been a bit of a jokester online, and an examination of her lyrics certainly proves that the rapper has a good sense of humor, but perhaps her hijinks concerning Queen have sent fans a little bit over the edge.
At the VMAs on Monday night, there appeared to be no confrontation between Travis Scott, Kylie Jenner, and Minaj (Scott and Jenner's seats were moved from right behind Minaj to elsewhere in the audience). But on Wednesday morning, she announced that Future would no longer co-headline the North American leg of her tour. "Future and I will now start the European leg of our tour first, so those dates will stay exactly the same… so because of that, with Future's schedule, I may have to take another co-headliner, or I may just do it like I did the Pink Print tour and it wouldn't be a co-headline," she explained in a video on Twitter before adding, "I probably would just have three or four opening acts" for the U.S. portion of the tour.
According to Page Six, an unnamed source at Live Nation believes that Minaj's reshuffling of her tour dates, and Future's backing out of the North American portion, is a response to low ticket sales. "These are big arenas with up to 20,000 capacities," the source explained. "Sales for opening night in Baltimore is 2,000 tickets. L.A. is 3,400, New Orleans, 1,000, Denver, 1,300, Chicago, 3,900. Even her hometown, Brooklyn, is only 5,050."
But Minaj has an alternate explanation for why she had to reschedule her tour, though she did not cite the ticket sales numbers, of course. She simply needs more time to rehearse, in order to make the tour worth it for the fans. "This is all happening because I pushed my album back two months, and I just finished writing and recording literally hours before the album came out," the rapper said. "So now I just simply don't have the time to rehearse and be on the road to give you guys the level of show that I want to give…I promise it will be worth it."
Related: Twitter Reacts to "Barbie Dreams," Nicki Minaj's New Take-No-Prisoners Diss Track