Nicola Formichetti Also Can't Wait for More Stranger Things
The Diesel designer, whose enthusiasms range from pimple-popping to Maurizio Cattelan, shares his culture diet.
---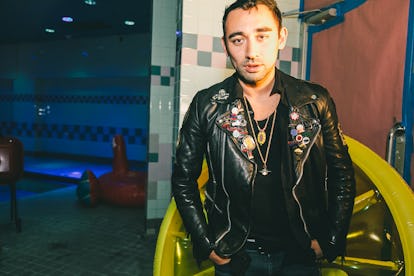 Since starting off the year partnering with both Grindr and Pornhub in his role as creative director of Diesel, Nicola Formichetti has kept up a steady stream of eye-catching collaborations, which he's now rounding out by partnering with the Italian artist and professional provocateur Maurizio Cattelan. More specifically, he's teamed up with one of Cattelan's many infamous art works: a solid gold toilet titled "America" currently occupying the fourth floor bathroom of the Guggenheim, which, on a recent visit, Formichetti confirmed is fully functioning. Though his experience with the piece had its drawbacks — "I was very busy trying to figure out how to set up the timer on my phone to take a selfie," he said — it was still at the center of his holiday party with Cattelan and Ladyfag on Friday night, where things got really intimate (the dress code was "underwear.") Before the festivities kicked off, Formichetti shared what else he's been obsessed with in his culture diet.
First thing you read in the morning: Instagram Stories.
Books on your bedside table right now: Remember Who You Are: Remember Where You Are and Where You Come From by David Icke.
The TV show keeping you up at night: Netflix's "The Crown."
Last movie you saw in theaters: Trolls.
Last piece of art you bought, or ogled: A Robert Mapplethorpe Polaroid.
Last museum exhibition that you loved: "Beyond Caravaggio" at the National Gallery in London.
Release you're most eagerly anticipating: Stranger Things season two.
Last song you had on repeat: "Stargirl Interlude" by The Weeknd featuring Lana Del Rey.
Last concert you saw live: CL's Hello Bitches Tour.
Last piano piece you mastered: "Fantaisie Impromptu" by Chopin.
Favorite Snapchat and Instagram accounts to follow: @DrPimplePopper.
What you're most looking forward to in 2017: A better world.
Last thing you do before you go to bed: Meditate.
See W's most popular videos: