Meet 17-Year Old Nicolaia Rips, the Eloise of the Chelsea Hotel
The teenage prodigy's new memoir about growing up in the infamous Chelsea Hotel is full of funny insights—and she happens to be just as quotable in person.
---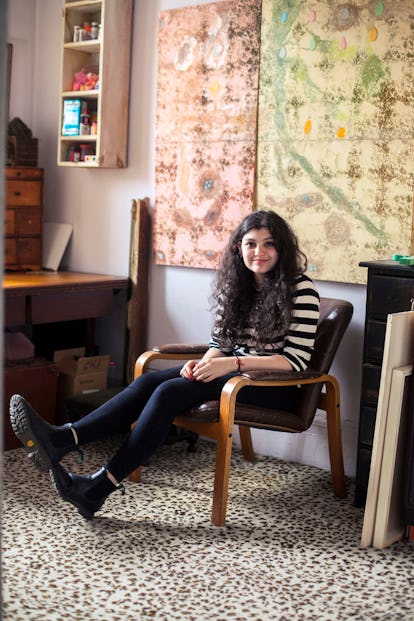 The average high school student probably feels lucky to graduate with a diploma, a few gifted checks, and a minimum of scars from adolescence. Nicolaia Rips has emerged with a published memoir to her name. The 17-year old New York native's book Trying to Float: Coming of Age in the Chelsea Hotel hits shelves, digital and otherwise, this week, not long after the end of her vocal studies program at Manhattan's LaGuardia High.
A charmingly self-deprecating and very funny collection of short chapters chronicling the awkwardness of elementary-school growing pains against the backdrop of living in the iconic and infamous Chelsea Hotel, Trying to Float is at once highly insightful and deeply familiar.
"It's about being an outsider, not fitting in, but being able to build your own world around that," explained Rips, a wide-eyed teenager clad in all black, a lioness's mane of curls framing her face. She was seated at a table in the El Quijote, a restaurant adjoining the Chelsea Hotel. As a child she spent many an evening napping in the banquettes here, while her parents dined out.
Trying to Float was born out of Rips's self-described "whiny" nature: as a kid, she would complain to her parents about the various indignities she suffered at school. They told her to write it down. By eighth grade, she had a sizable collection of such complaints, and a teacher asked her to read a chapter at graduation.
"My dad was like, 'Well, she's not a total idiot!'" recalled Rips. (She ended up reading "Pool Party," in which she recounts nearly drowning a baby and the child's mother—accidentally!). "He worked with me on it the summer after and really helped me solidify my stories."
The result is a witty portrait of Rips's wildly eccentric upbringing. There are early years of illiteracy, a product of her father's refusal to teach her how to read, which almost resulted in her being held back (twice). She was spared that particular indignity, excellent fodder though it would've been, when her parents concocted a fake rare eye disease as an excuse (in collusion with her principal). One of her favorite baby-sitters in the Chelsea Hotel was an alleged prostitute named Jade who would offer her champagne when Rips was 10. And of course, there are her parents: her mother is Sheila Berger, a former model-turned-artist and her father, Michael Rips, whose fondness for sitting in coffee shops all day obfuscated an actual profession (he is, in fact, a lawyer). The openness and depth of detail in Trying to Float begs the question of what Rips actually chose to leave out.
"Did I ever talk about my dad's dung sculptures? He collects sculptures [made of] human dung. [They're] African fetish objects. This is what my college fund and inheritance is going to," said Rips with a well-honed deadpan. "They also start to smell in the summer. This was, I believe, definitely a big barrier in me having friends."
Rips's alienation from her fellow students provide the undercurrent in Trying to Float. Fortunately, she had the residents of the Chelsea Hotel for companionship, among them a heat-packing "sexually ambiguous and incredibly violent eighty-year-old black albino" named Stormé; a pair of older talking heads Rips dubbed "Mr. Crafty" and "Uber-Crafty"; and a 50-year old James Dean type named Artie, the only resident who outright refused to pay his rent.
"When they [find] out I lived in a hotel, people ask me, 'Did you get room service?' And I'm like, 'No! It's the Chelsea Hotel—it's a shit hole. We go downstairs. This isn't the Plaza. Sid Vicious lived here—that's what we're famous for,'" said Rips, who is temporarily living on the Upper West Side while the hotel undergoes controversial renovations. Her uptown venture has been quite a culture shock. "[It's] horrible. There's nothing to do there. It's a wasteland. There's no personality."
Rips will be moving again, soon, when she heads to Brown University this fall, where she hopes to study literature and continue writing, though nothing is set in stone. As she put it, "I'm kind of idealistic because I'm 17, but I think it's fine." (She will probably put her LaGuardia-molded vocal skills into use in an a cappella group.) And she coyly hints at a potentially forthcoming second book, focused on her high school years. It would seem that the one-time outsider has become, well, whatever the opposite of that is. Just don't tell Rips that.
"I wouldn't want to fit in!" she said, bristling at the notion. "Because what's the fun in that? Who fits in and then goes on to do something great?"
Watch all the episodes of "The Myth of Orpheus and Eurydice," a four-part film series by Gia Coppola, here. Produced for Gucci by W magazine.
Photos: Meet 17-Year Old Nicolaia Rips, the Eloise of the Chelsea Hotel
Photo by Emily Malan. Produced by Biel Parklee.
Photo by Emily Malan. Produced by Biel Parklee.
Photo by Emily Malan. Produced by Biel Parklee.
Photo by Emily Malan. Produced by Biel Parklee.
Produced by Biel Parklee.