Nicole Kidman and Jessica Lange Get Real About Why So Many Actresses are Turning to TV
The two big-screen icons speak out about roles available to women in new interviews.
---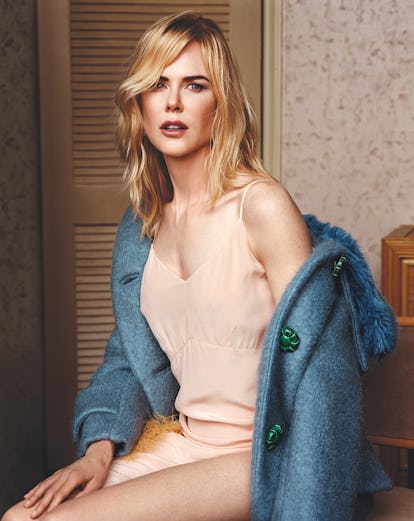 Photographs by Alasdair McLellan, Styled by Edward Enninful; Hair by Shay Ashual at Art Partner; makeup by Diane Kendal for Marc Jacobs Beauty at Julian Watson Agency; manicures by Casey Herman for Dior at the Wall Group. Set design by Stefan Beckman at Exposure NY.
Though television was once perceived as the last resort of fading film actors, in the past five years, it's pulled an increasingly high-profile roster of Hollywood talent into its ranks. First, it was anthology series like Ryan Murphy's American Horror Story, which allowed actors like Jessica Lange to experiment with a rotating roster of characters from season to season. Cable programmers like HBO, Cinemax, and Showtime have also offered immense creative freedom to actors and directors like Clive Owen and Steven Soderbergh on The Knick, Jude Law on The Young Pope, and David Lynch, returning to television at last with Twin Peaks: The Return. True Detective offered a platform for the likes of Matthew McConaughey, Colin Farrell, and Woody Harrelson. And, while as with most things, this was an opportunity that was primarily first extended to male artists and the "auteurs" who gave prestige television its reputation, television has also offered women an area to push their characters and projects further.
Take, for example, Big Little Lies. During a recent panel discussion, actress Nicole Kidman—one member of the miniseries' astonishing ensemble cast—explained that she and Reese Witherspoon were inspired in part by Jane Campion's Top of the Lake. "At the time there was True Detective, which had male leads, and we wanted to do something that had female leads and was set in America," she said, according to The Hollywood Reporter, adding that Top of the Lake "was the stepping stone" to realizing their vision.
"We weren't being offered the sort of roles we wanted in terms of complexity and that was born out of a desire to create an opportunity for ourselves and our friends," Kidman said. Based on Kidman's testimony, and that of other actors who have turned to television—Top of the Lake and Handmaid's Tale star Elisabeth Moss has spoken about the increased creative control offered on the small screen—it still seems television is where actors turn only when strong film roles are no longer available. The difference is, now, television is also where the most exciting stories, the most nuanced characters, are being developed. Kidman stars in China Girl, the second season of Top of the Lake, which was one of the best-reviewed pieces to emerge from the Cannes Film Festival earlier this year. Big Little Lies was a viral hit. The Handmaid's Tale launched a thousand thinkpieces and inspired countless protests with its all-too-prescient speculative fiction narrative.
"I think there's an enormous appeal for actors working there because you have time to develop a character and for stories to unfold," Kidman said. "That's where obviously the great roles are being developed for women right now."
Actress Jessica Lange echoed this frustration in a new interview with AARP magazine, in which she discusses how "ageism is pervasive" in Hollywood. "It's not a level playing field," she said. "I think about how few wonderful actresses of my generation are still doing viable, important film work. You go to television. You go to stage." Lange had planned to retire before Ryan Murphy approached her about American Horror Story in 2011—when she debuted in the series, she was 62. "It's the desire to do something brave," she said of her emergence as a television star, "to be challenged." And for many women actresses, no matter their reputation and bankability, television is where this challenge can most readily be found.
Related: Julia Roberts and 17 Other Oscar-Winning Actresses With TV Projects in the Works
If Nicole Kidman went on Survivor, she'd probably crush it: