Nicole Kidman and Naomi Watts, Still Blissfully BFFs, Attended Michael Kors Together
Nicole Kidman was the most surprising front-row star of New York Fashion Week.
---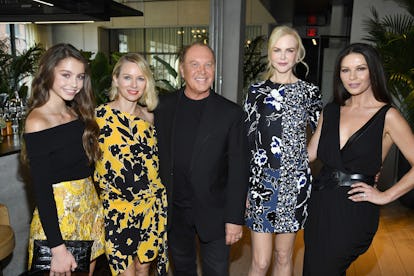 Dimitrios Kambouris/Getty Images
Nicole Kidman and Naomi Watts have known each other since high school (they attended the same school, and were part of the same theater company), and they became friends on the set of the 1991 film Flirting. Since then, they've "gone through a lot together," Watts told People in an interview earlier this summer; for the past 25 years, their friendship has been a well-documented one. (They even recently celebrated their 25-year anniversary with a blowout party.)
So it makes sense that only the prospect of sitting front-row with her best friend would entice Kidman to attend what appears to be her first New York fashion show in four years.
It was shortly before 10:30 a.m. at Spring Studios, where, each year, Michael Kors stages his runway show. A set of velvet ropes—à la Selena Gomez at Coach—cordoned off a section of seats; security guards checked seating assignments to ensure only those who were meant to be there, were. A cluster of photographers began to gather, indicating the marquee names of the designer's perennially celebrity-heavy front row would soon emerge—and take their seats between the ropes. (No need to check their tickets—everyone here knows who Nicole Kidman is.)
From the main entrance, actress Catherine Zeta-Jones entered with her daughter, Carys Zeta Douglas; at the same time, Kidman and Watts stepped out from backstage, arm-in-arm as they made their way to their seats. The two actresses, clad in floral Michael Kors dresses, perched on the folding stools that had been erected along a makeshift boardwalk that would serve as a runway, limbs draped over each other like young lovers in the park. Photographer Mario Testino and Zeta-Jones sandwiched them on either side.
Kors is known for casting the biggest models (Bella Hadid and Kendall Jenner both made repeat appearances Wednesday morning), for accompanying shows with live music (two seasons ago, Rufus Wainwright made a memorable appearance; this year, it was Sara Bareilles, and for featuring fashion week first-timers among his front row: Last year, his show was the only one attended by Sistine Stallone, a newcomer to the modeling world, and this year, the front row was no less full of celebrity offspring coming up in the fashion world. Gabriel-Kane Day-Lewis, Clara McGregor, and Thylane Blondeau, in addition to Carys Zeta Douglas, were all present and accounted for.
But Kidman, fresh off a winning streak including Big Little Lies, The Killing of a Sacred Deer, and Top of the Lake: China Girl, who is not exactly a newcomer when it comes to fashion, may have been the most surprising attendee. After all, she has only attended one other New York Fashion Week show: Calvin Klein Spring 2014, which she stopped by with Alexander Skarsgard back in September 2013, though her BFF Watts is not infrequently spotted at New York Fashion Week (the actress, who recently also wrapped up a critically adored run on Twin Peaks: The Return, last attended a Michael Kors show during the Spring 2016 season).
In a season that has had its share of unexpected guests in the front row—Lionel Richie at Jeremy Scott; Diplo at Helmut Lang Seen By Shayne Oliver; Whoopi Goldberg at Vaquera—Nicole Kidman may take the superlative as this season's most surprising front-row star.
Nicole Kidman's favorite birthday had a sexy fireworks show: