Yang Mi, One of China's Biggest Social Media Stars, Is Michael Kors' Latest Campaign Star
The actress and new face of Michael Kors Collection weighs in on such eternal questions as filter vs. no filter and how often to post.
---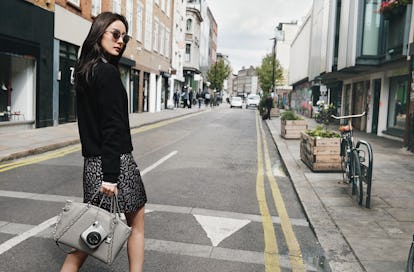 Chinese actress Yang Mi came to New York with a very specific objective: attending designer Michael Kors's Spring 2018 show, which will stomp through Spring Studios at its usual 10 a.m. spot Wednesday. (She also admitted, in an email to W, she was on the hunt for ideas for looks for film premieres later this year—after all, she's in the midst of shooting a new television series in China entitled Legend of Fu Yao.) Yang first met Kors at the designer's "Young China" exhibition opening in 2015 in Beijing; then, last year, she appeared front-row at his Spring 2017 show; and earlier this year, he designed her look for the Metropolitan Museum of Art Costume Institute Gala for "Rei Kawakubo: The Art of the In-Between"—so needless to say, Kors has set his sights on a new muse.
Now, Yang has been unveiled as one of the faces of Kors's newest campaign, which she shot in London with photographer Tommy Ton. Yang stars alongside Selah Marley, the up-and-coming model daughter of musician Lauryn Hill, and Ella Richards, the granddaughter of Rolling Stones guitarist Keith Richards. In the campaign, she walks through the narrow streets of London in a jacquard leopard-print skirt, a black sweater, and a long grey overcoat; a silver Instax dangles from one hand.
But for all she appears a fan of analogue photography in the campaign, the real-world Yang is also pretty handy with her R9 (an iPhone analogue), with legions of followers 70 million strong on Weibo, the Chinese chat app, and nearly 300,000 on her Instagram—certainly thanks, in no small part, to her on-point selfies and regular dispatches from her world travels. (Unlike Cardi B, who recommends an Instagram post "every two hours," Yang is an advocate of some restraint.) Here, the actress and social media star weighs in on the secret to her signature selfies, her best posts, and the private account she keeps for friends and family—her "finsta," or the Weibo equivalent.
What's your Weibo handle? What about Instagram? For Weibo, I keep it classic, just my name (@yangmiblog). For Instagram, it's another take on my name (@yangmimimi912).
How often should you post? It depends on my mood. On my public account, once every few days. But I do have a private account for my friends and family and I cannot stop posting.
What's your secret for taking a winning selfie? My secret for a winning selfie is to just show half of my face. That has become my signature, haha!
How many selfies do you take before posting? Let's say 4 or 5… It's a high success rate 🙂
Filter or #nofilter? Sometimes you gotta have a filter. It just depends on my mood.
What is your favorite thing to post? I like to post selfies, share my thoughts, and also posts to create awareness for great causes.
Greatest hits: My favorite moments:
Related: How Rihanna Single-Handedly Made New York Fashion Week Fun Again
Tilda Swinton Cuddles with a Puppy During a New Interview