Nicole Kidman Stayed in Character as a Cop the Entire Time She Filmed Destroyer
She learned how to shoot guns and lived inside of the curmudgeonly cop she portrays on screen, but her kids still don't think this was her best work.
---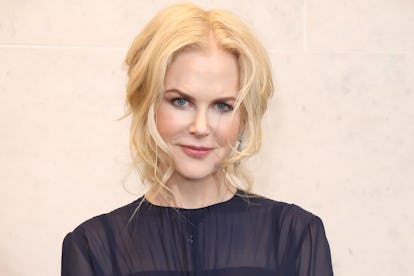 Mike Marsland/Getty Images
Nicole Kidman knows a thing or two about really committing to a role.
As part of The Hollywood Reporter's roundtable for actresses—which included appearances and commentary from Lady Gaga, Glenn Close, Rachel Weisz, Kathryn Hahn, and Regina King—Kidman opened up about her artistic process during the production of Karyn Kusama's Destroyer, a revenge thriller about an undercover agent in the California desert. Not only was Kidman rendered essentially unrecognizable with a gaunt face and scrappy wig for the role, she also apparently stayed in character the entire time she filmed the movie.
"I entered so deeply into her," Kidman confessed. "I don't always do this with a character, but this one I had to because I didn't want to feel like I was ever shifting into a performance: I stayed in character the whole time." Part of that method acting included learning how to operate firearms for the role, as the character she portrays is a pretty good sharpshooter. "I had to really learn how to use guns. I had no idea how. So I put in a lot of time," the actress admitted. "I live in Tennessee. I have a gun range just down from my house. I would go down there and I could shoot anything that is in that film."
When asked (by Gaga no less, who revealed that she worked very hard to separate herself from the character of Ally in A Star Is Born) how to separate herself from the role while staying in character for the duration of production, Kidman revealed that her source of inspiration to do so came from her young children. Still, living inside of the curmudgeonly character of Erin Bell when she was off set did not always sit right with Kidman's husband, country musician Keith Urban. "You didn't have to call me Erin, but it just kind of enters the psyche," she said. "My husband was like, 'I cannot wait for this thing to end.'"
While Kidman revealed that she felt Kusama was finally able to get her film made thanks to the progress of the #MeToo movement—a limitation which a few of her fellow performers at the table bonded over, including Close and Weisz, both of whom star in films this year that took years to make just because of the fact that they focus on women—she also leaned in to the old "one for me, one for them" Hollywood adage when making this film, except the "them" is not necessarily the general public, but her kids. "I did Aquaman, and I did it for them, actually," Kidman admitted. "Because when you do something like Destroyer you say, 'They're never going to be seeing this.' But you do Aquaman, and it's like, 'Oh, my gosh.' I ate a gelatin goldfish in a scene, and they thought that was my best work."
Related: Nicole Kidman and Keith Urban's Normie Nashville Barn House Sells for $2.7 Million—See Photos