Nicole Kidman (and Her Wig) Are Coming for Your Oscar Nomination in the Destroyer Trailer
Or, more accurately, coming for the baddies.
---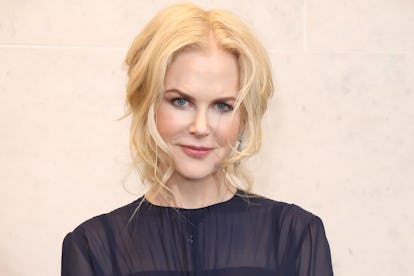 Mike Marsland/Getty Images
Fresh off the film festival circuit, the first trailer for Nicole Kidman's awards contender, Destroyer, debuted this morning—and without overusing the "you've never seen her like this before" hyperbole, this really does put the actress in new cinematic terrain.
As a crime thriller in the vein of Al Pacino's filmography, Kidman stars as an unstable detective who has to relive some traumatic memories, thanks to an infamous gang leader resurfacing after decades of silence. That's because years prior, when Kidman's character, Erin Bell, went undercover to infiltrate the gang in a California desert, some terrible stuff went down, and she's never been able to to fully recover. "I've spent my whole life scrappin'. Jealous, hungry, scared," she narrates in the trailer. "I wanna find something decent, something good." That "good" might come in the form of finally getting her long-gestating revenge, even if that means putting her family in the line of fire.
"I grew up on these kind of films. I watched [Al] Pacino play these roles, I watched all of the men in the '70s get the chance to do it, but I don't have a female [equivalent]. That's exciting as an actress to get the chance to do that," Kidman explained to EW about her Destroyer role earlier this year. "This character is also so far removed from me, so that's part of the appeal as an actor: going to places I haven't been given the chance to go. I'm all about finding characters and stories that make me go, 'This is new, but it's still emotionally relevant.'"
Destroyer—also starring Bradley Whitford and Tatiana Maslany—will be released in December, in perfect harmony with eager Oscars voters. Between this and Big Little Lies season two, it's a good year for Nicole Kidman, indeed!
See Hollywood's Biggest Onscreen Physical Transformations, From Nicole Kidman to Mariah Carey
Christian Bale is no stranger to shape-shifting for a role. He famously transformed himself from an underweight wisp for his role in The Mechanist into superhero shape for Batman Begins in a matter of months (thanks to Hollywood trainers and muscle memory, no doubt). For his latest transformation, he's turned himself into an older man to play Dick Cheney in the upcoming Vice.

Photo
A poster child for modern Hollywood glamour, Charlize Theron gained weight and did away with every ounce of glamour in her body to play her gritty role in Monster (2003), for which she won an Oscar.

Photos courtesy of Getty and Everett Collection.
Having already used prosthetics to age herself for The Grand Budapest Hotel, Tilda Swinton wears prosthetics again and switches gender in the upcoming Suspiria. Or, at least, that's what everyone assumes. The part is actually being credited to the name "Lutz Ebersdorf."

Photo courtesy of Getty and IMDB.
Matt Damon ran 13 miles a day and ate only chicken breast to lose weight for his role in Courage Under Fire, which proved to be his first major breakthrough role as an actor before Good Will Hunting.

Photos courtesy of Getty Images and Everett Collection.
Mariah Carey, the portrait of pop diva glamour, allowed herself to go through a drastic make-under for her critically acclaimed role as a social worker in Precious.

Photos courtesy of Getty and Everett.
Halle Berry wore prosthetics for her multiple roles in the Wachowski sisters' 2012 film, Cloud Atlas. Here, she plays a 1930s English socialite.

Photos courtesy of Getty and Everett Collection.
Dramatic transformations are far more common in comedy (and, looking back, often problematically so), but Tom Cruise's transformation into the power hungry agent Les Grossman in Tropic Thunder is still a standout in his long career 10 years later.

Photo courtesy of Getty and IMDB.
Already lithe, Natalie Portman lost weight and got herself into dancer shape in preparation for her Oscar-winning role as a psychologically tortured ballerina in Black Swan.

Photos courtesy of Getty and Everett Collection.
In the role that perhaps started all those jokes that all an actress needs to do to win an Oscar is "uglify" herself, Nicole Kidman wore a prosthetic nose to play the poet Virginia Woolf in The Hours. Sixteen years later, we think we can all agree that it was Kidman's acting skills that won her the accolades, and not the nose.

Photos courtesy of Getty and Everett.
Having been in beefcake shape just a few years before for Prince of Persia, Jake Gyllenhaal lost 20 pounds for his role as an unethical freelance photographer in Nightcrawler.

Photos courtesy of Getty and IMDB.
A decorated multi-sport child athlete (she once competed in the Junior Olympics), Hilary Swank still had to gain 20 pounds of muscle for her role in Million Dollar Baby (2004).

Photos courtesy of Getty and Everett Collection.
Once regarded as just a Hollywood beefcake, Matthew McConaughey lost 47 pounds for his role in Dallas Buyers Club and ultimately won an Oscar for the performance.

Photos courtesy of Getty and Everett Collection.
Everyone remembers that the album art for 50 Cent's major label debut record, Get Rich or Die Tryin', could have doubled as a Men's Health cover, but the rapper dropped 50 pounds for his role in All Things Fall Apart.

Photos courtesy of Getty and IMDB.
Renée Zellweger gained weight, added padding, and even mastered a British accent for her role as a depressed everywoman in Bridget Jones's Diary (in the sequels, she relied more on the padding rather than going through the full transformation again).

Photos courtesy of Getty and Everett.
Tom Hanks lost major weight and grew his beard and hair out for his role as a man stuck on a deserted island in Cast Away.

Photos courtesy of Getty and Everett.