Nicole Kidman and Keith Urban's Normie Nashville Barn House Sells for $2.7 Million — See Photos
Complete with glass bricks and granite countertops.
---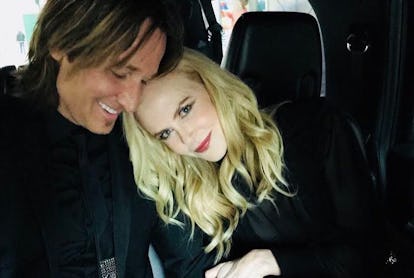 instagram.com/nicolekidman
As a celebrity couple, Nicole Kidman and Keith Urban seem remarkably normal. Well, minus the fact that they have never texted—at least, that is according to Kidman. But the pair's seemingly easygoing existence is reflected in their real estate portfolio as well. For instance, the Nashville barn home they've shared for for the past 11 years hardly sticks out as the residence of two global stars. Since Kidman and Urban just unloaded the property for $2.7 million—after scooping it up for $2.45 million and lowering their asking price over the course of two years by $750,000—the transaction allowed a rare look inside their home. And it is surprisingly conventional.
Their country estate in Franklin, Tennessee—about 30 minutes away from the city center of Nashville—has the kinds of finishes you'd see in the average contemporary suburban home. There are granite countertops in the kitchen and master bathroom, glass bricks in the guest bathroom, and skylights in the living room. The outside is as anonymous as it gets: a red brick home with a porch and sun room. The elements that make it less run-of-the-mill are the neighboring barn and guest home, as well as how secluded the country home is. It's located at the end of a long driveway, nestled in tall trees, with access to trails and "a hilltop site with a view," per the listing description.
The four-bedroom and five-bathroom home, totaling 5,086 square feet, has some amenities. There's a full gym, which both Kidman and Urban have trained in. There's also a walk-in closet the size of a starter apartment in New York City. Ultimately, though, it's easy to see why Kidman and Urban chose to unload this property when they have a 12,000-square-foot mansion in Nashville proper, not to mention a penthouse in Sydney, a mansion in Beverly Hills, and a duplex in Manhattan's Chelsea, per Variety. As for which home she and Urban consider to be their primary residence, a recent Variety profile suggests it's Nashville, but, considering how in-demand Kidman is these days, that's subject to change. As she says, "I like not predicting myself. I like not knowing where I'm going to go next, or what's going to happen."