What's Next for Nike
Set designer Kate McCullough has created a case for storing athletic gear with style.
---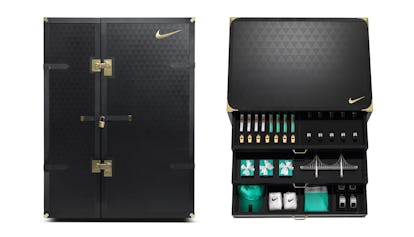 With all the advances in running and fitness gear, working out has never looked so stylish. But storing all that gear in a manageable way can be an exercise in frustration. In honor of its 10th annual San Francisco Women's Marathon race, Nike teamed up with installation artist and set designer Kate McCullough to create a luxurious trunk designed to store all the accouterments associated with racing, including Nike's new X Collection. Open the padlock to this gold-trimmed bespoke vessel and you find drawers and compartments for everything from shoes and apparel to finisher's necklaces and a built-in record player blasting "I left my heart in San Francisco." Part artwork, part wardrobe, it's certainly the chicest place to store one's sports bras.
Nike X Collection Showcase Trunk will be on display at the NWBLK Gallery in San Francisco October 16-20th. Afterwards, it will be auctioned off to benefit the Leukemia & Lymphoma Society.