Nina Agdal Has Had It: The Model Is Ready to Speak Out About Body Shaming in Fashion and On Instagram
The model recently took to Instagram to post a message about body-shaming.
---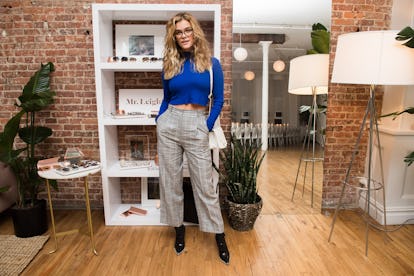 Hunter Abrams/BFA.com
Nina Agdal regularly shares pictures of herself on Instagram, but last month one of her posts went viral. And not because of the image, which showed the 25-year-old model wearing a pair of jeans and nothing else, but rather due to the powerful message that accompanied it. In the lengthy caption, Agdal detailed a recent cover shoot that had been called off after the fact, due to a publication's claims that she didn't fit into the samples—a fact which Agdal denied. "Shame on you and thank you to the publisher for reaffirming how important it is to live your truth and say it out loud, no matter who you are or what size." A few weeks later, while attending a dinner for the launch of Mr. Leight, a new luxury eyewear brand by Larry Leight, the founder of Oliver Peoples and his son, Garrett Leight, Agdal explained why she shared the post and why Instagram is "not f-cking reality."
What made you decide to post your message on Instagram?
I took quite a break from working and from the modeling industry, and it just put everything into perspective for me. I've been holding this in for a while. This is what a lot of girls go through, whether you are a zero or a six or a twelve. We all have insecurities that can just take over your life. It gave me incredible anxiety. It was not a good year for me, but I finally got myself back and I went into this shoot. Then after going through all of this, and finally being back to happy Nina, the response comes back and it is, "You are not good enough." At that point, this was not my first rodeo. I started modeling almost ten years ago. I was just like, "I have to say something." There are so many girls that see this and it is such a perception game that I'm not going to support anymore. There are so many ways to make yourself look better or like your life is perfect. My life is not perfect, I'm going through it too. Instagram is such an easy tool to create this perception that their life is perfect, and I was just not going to do it anymore.
How did you feel the second after you hit publish?
I texted my best friends, and I was on my couch crying. I was freaking out. For 30 minutes I just sat on my couch and cried. It felt like a relief to me, to finally say something this real. Instagram is a perception game. It is not f-cking reality. So to finally publish something that meant something to me, from me, definitely made me feel super emotional and vulnerable. But I felt happy. I am so happy I did it.
What has the reaction been like since then?
The support was overwhelming. I don't even care about this, but it was the most viewed and commented and liked post that I've ever done on Instagram. It just shows how important this is. I read every single one of the comments. What meant a lot to me was parents writing and being like, "My girl is 14 years old and trying to [model], and I'm so happy you are doing this."
What else are you doing to support this message now?
I'm being very selective with what I'm doing right now because this is very important to me. I'm not trying to jump into whatever job jumps up… I just support people that truly believe that all women are beautiful. At the end of the day, there should be no judgment or body-shaming on anyone. Obviously I want to continue modeling, but it is just going to be a different direction where I can speak my own story, too, and not just be a face.
Are there any other women that you are inspired by right now?
I met Iskra [Lawrence] at the Aerie dinner, and obviously she speaks for millions of people out there, and a whole community, and it was just so inspiring to see someone who has this passion to help other women. I think there is still a long way to go, and I'm just going to do the best I can on my side.
Watch: Nina Agdal Poses with Art by Female Artists
Related: Bella Hadid Says She Doesn't Want to Be On Social Media, "It Makes Me So Crazy"