Nina Agdal Doesn't Read Books. Yet.
She tells you the beauty do's and don'ts of a Sports Illustrated cover girl.
---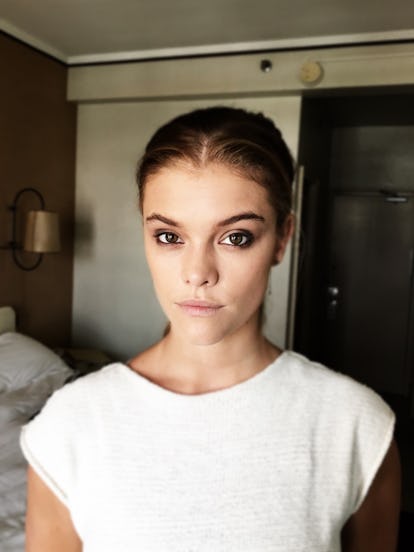 On Monday afternoon, the Dutch model and Sports Illustrated cover girl Nina Agdal was getting her make-up done in Miami Beach for W's first Boomerang photo shoot. It seemed as good a time as any to ask the 23-year-old to hold court on the ins and outs of her beauty routine. One word of advice: throw out that lip gloss.
Your look in three words: Fresh, dewy, natural.
Five-minute routine: Wash my face with water, pat dry, apply sunscreen, rosewater spray, lip scrub, lip balm.
Never leave the house without: My passport since I never know if my next stop will be the airport. And Eos lip balm. Ain't nobody got time for crusty lips.
Exercise regime: At least 45 minutes exercise, five to six times a week. If I have time, one hour of cardio work with my trainer or at Tone House and an hour of Y7 Yoga or SLT.
Nutritional lifesaver: Lunchables, just kidding. I love Lunchables though. Non-fat greek yogurt. It's an easy quick snack and keeps me full.
Beauty essentials: Rosewater spray, sleep, H20, happiness.
Skincare secret: Keep your face clean. I don't believe in using too many products. I think that confuses your skin.
Hair remedy: Skip the shampoo once in a while and try not to wash it too often.
In-tub must-read: People Magazine? I don't read books, yet.
Spa-cation at: The Standard Spa, Miami Beach.
Fragrance of choice: Chance by Chanel.
Best advice from mom: My mom actually arranged for all my friends and I to have a make-up tutorial when we first started wearing makeup. That way we learned how not to do our makeup.
What was the takeaway from the make-up crash course? Use eye shadow instead of eyeliner to make the look softer.
Best advice from the pros: Highlighter and a clear brow gel. Easy and makes a big difference.
Beauty icons: Sophia Loren, Brigitte Bardot, Helena Christensen.
Beauty motto: Don't overdo it. If you're doing a strong lip, keep the eyes simple, and the other way around. And throw out your lip gloss.