A Model Navigates Art Basel Miami Beach
Sports Illustrated's Nina Agdal on how she learned to stop worrying and appreciate art.
---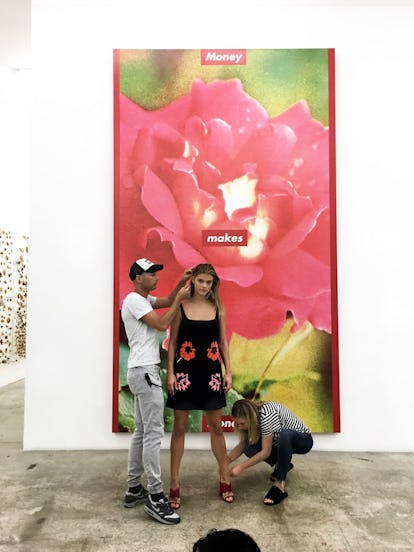 On Monday, a couple of days before the official kick-off of Art Basel Miami Beach, the model Nina Agdal was getting ready in a room at The Raleigh hotel.
She was about to go to the Wynwood Art District to the Rubell Family Collection for her only gig for the duration of the fair, a photo shoot. Unlike fashion week, or a shoot for Sports Illustrated, Basel is playtime for the model.
"I just have, like, a bunch of events," she says, rattling off a list of the parties she's thinking of attending. Not that anything is in stone. "It's all up in the air. You kind of see what's going on and then you just go," she says casually.
Agdal, 23, is at her third Basel fair. She was 18 when she came to Miami on a family vacation from her native Denmark and was signed by Elite Model Management. Then, she shared a model's apartment with five other girls off Euclid Avenue in South Beach.
"I didn't know if it was going to work out, but…it did!" she chirps.
Agdal's circumstances have changed a great deal since. She's a regular in Sports Illustrated – she landed the 50th anniversary cover with Chrissy Teigen and Lily Aldridge – and she most recently booked a Michael Kors holiday ad.
Now, when she comes to Miami, she can afford to indulge in her favorite local past-times – workouts at Green Monkey followed by eggs at the Icebox Cafe; a down-home dinner at Jimmy'z Kitchen.
"You can go there in your sweatpants and people don't care," she says of the SoBe staple.
Although she's an expert when it comes to Miami, Agdal admits she's a novice when it comes to art. The shoot at the Rubell's will be her first time at the pioneering family museum. (She's in for quite an introduction: "No Man's Land" is an all-female exhibit from the permanent collection.) And, she thinks of Basel first as a social opportunity.
"It's like Miami's biggest networking week. Every New Yorker is here," Agdal says.
She's getting better, though, at participating in the fair.
"When I was younger, I was like, 'I don't even know why people have this on their walls,'" she says. "Now, I've learned that, if you see something that makes you happy, makes you feel good or sad or something, then you're into art."
She went on: "You don't have to be able to name the artist or describe it. I can look at something and go, 'I like this, I guess I'm into it,' because I find it amusing or inspiring. It's the same with fashion, you like it or you don't like it."
After the fair, Agdal is returning to Manhattan to an apartment she just bought in Murray Hill, a long way off from that model's apartment in South Beach. No, she still hasn't decided what she'll hang on the walls. She's a newbie at this, remember.
"I've been told not to rush it because I know myself and I'll move in and go, 'Oh my god, I want everything,'" she says. "I'm going to be more selective. I'm, like, adult-ing. It takes time."
Casting by Erin Simon, Produced by Biel Parklee.
Watch the full video here: