At the Center of All Things with No Vacancy Inn, the Collective Connecting Music, Art, Fashion, and Beyond
The roving collective No Vacancy Inn, cofounded by Tremaine Emory and Acyde, is the latest cool-kid hub.
---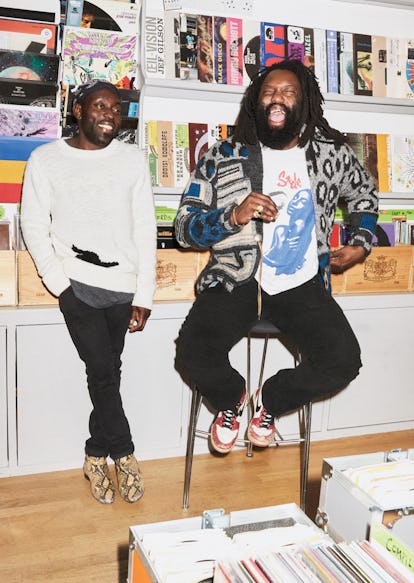 Photograph by Tung Walsh
The annual bacchanal that is Art Basel Miami Beach has never been only about art. High fliers from the worlds of fashion, design, and music also converge on the city for an ever-growing circuit of fairs, dinners, and DJ sets—but rarely do all these creative disciplines come together under one roof. That was the idea behind Communiversity—a five-day confab of talks, interviews, and performances headquartered in a rented house in Miami this past December. Culminating in a beachfront crab boil and a living room concert by the A$AP Mob, with DJ sets by Venus X and Off-White's Virgil Abloh, Communiversity was a collaboration between No Vacancy Inn and Know Wave, two of the most influential multiplatform collectives at the center of youth culture. On tap were conversations with Abloh and Heron Preston, chants by the Los Angeles female duo Odwalla88, and talks by the artists Jacolby Satterwhite and Eric Mack, all broadcast on Know Wave's Internet radio station and filmed for No Vacancy Inn's new YouTube channel. A$AP Rocky was left speechless when the artist Brian Belott gave a Dada-inspired performance that had him manically spewing gibberish to ­create a stream-of-consciousness soundscape.
"We're about exposing people to new things to get a conversation started," says the style arbiter and connector Tremaine Emory, 35, who grew up in Queens, New York, and moved to London in 2010 to work for Marc Jacobs before cofounding No Vacancy Inn—a roving global salon that on any given day can take the form of a podcast, pop-up, or streetwear line—with the London DJ and musician Acyde. Emory, whose mentors include Robert Duffy, the longtime business partner of Marc Jacobs, and nightlife impresario Serge Becker, became the social director for the London hot spot La Bodega Negra and a creative consultant to Frank Ocean and Kanye West, as well as to brands like Stüssy. Acyde, 41, a cerebral former marketing manager for Nike, has worked on projects with the A$AP Mob and now consults for Converse. ("He's triple OG," says longtime friend A$AP Bari.) The pair met in 2010 and bonded over their shared taste in books, style, vinyl, and Cuban cigars. "We talked about James Baldwin, Miles Davis, and hip-hop history—and where the culture is going," recalls Acyde, who quickly teamed up with Emory to curate parties in East London and cohost No Instagram, a podcast for Know Wave radio featuring neglected influencers from bygone eras. As influencers themselves, they increasingly felt a need to own their unique cultural viewpoint. Abloh, who is also West's creative director, calls No Vacancy Inn, founded in 2015, "the most authentic perspective I've seen in modern times: real intellect, real points of reference, real ideas."
Just as record shops, clubs, and vintage stores were hubs for cool kids in the pre-Internet era, No Vacancy Inn has positioned itself as a nerve center for the upstarts of the digital age. "The Internet promotes apathy," says Acyde, "because people think they know all about those clothes or that music, because they've seen it online. So they don't have to go out there and experience it for themselves." By curating both online and analog experiences, whether via Instagram, radio, parties, or pop-ups, No Vacancy Inn hopes to teach the next generation about the history and context of the music and style they regard as their own. "We try to poke wounds," says Emory, "to keep those cultural connections to previous eras from disappearing" like so many Snapchat stories.
Emory talks of convincing "the kids listening to [rapper] Lil Uzi Vert to read James Baldwin" and persuading "the old guys" raised on Baldwin to give Lil Uzi Vert a chance, forging links between generations. At Art Basel they debuted a clothing collaboration with A$AP Bari's cult label, VLONE; this past January they teamed with Abloh to launch Off-White c/o Art Dad LLC, a collaboration presented as part of the Off-White men's runway show during Paris Fashion Week. Such disparate artists as the Ukrainian-born modernist Sonia Delaunay, the Italian futurist Fortunato Depero, and British rockers the Stone Roses inspired the gender-neutral capsule collection of oversize coats and boiler suits. Coined by Emory and Acyde, the name Art Dad sums up their philosophy that you're never too old to be young. "It's a reaction to everything being about youth, youth, youth," says Emory. "It's about someone who holds on to their personal style, matures, and still lives in the moment."Adds Acyde, "Cool to a lot of people means being kind of effortless. But there's always effort behind something. Even being cool is an effort."
Watch W's most popular videos here: