Nobu Malibu Is the Celebrity Pandemic Bubble
A deep dive into what's become the new red carpet for Angelina Jolie, Demi Lovato, and the Kardashian-Jenners: the Nobu Malibu valet.
---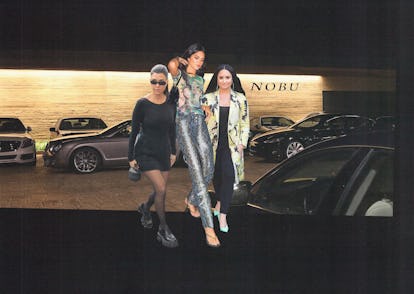 Photos by Marc Piasecki, Jackson Lee, Gotham, FG/Bauer-Griffin, courtesy of Getty Images. Collage by Maridelis Morales Rosado.
On August 6, Kris, Kendall, and Kylie Jenner joined Fai Khadra, Stassie Karanikolaou, Victoria Villarroel, Zack Bia, and Corey Gamble for dinner at Nobu Malibu. In what we now consider "normal" times, that would have been perfectly ordinary. And for the Kardashian-Jenners, it still is. Kylie has made at least three such outings since Nobu Malibu reopened, and Kendall, at least seven. Even amid a pandemic, the family and the establishment remain synonymous. "Kendall is like, 'My quarantine bubble is my friends, family, and the entire waitstaff of Nobu, we're just keeping it really tight-knit and intimate,'" my colleague eventually couldn't help but quip.
There are other reestablished regulars, too. Demi Lovato and fiancé Max Ehrich have paid Nobu Malibu at least six visits since it reopened on June 6. Leonardo DiCaprio, Kaia Gerber, and Jaden Smith have dropped by at least twice. The same goes for Justin and Hailey Bieber—if you're only counting last week. It's enough of a scene that Kim Zolciak "bumped into" Marlon Wayans while out to lunch with three friends, giving the pair the chance to end their feud. (They celebrated by cozying up for selfies.) Well over 100,000 U.S. businesses have closed since the pandemic began, but Nobu is not among them. The restaurant, apparently, has been thriving, and the same seems to go for its celebrity fanbase.
For the uninitiated, Nobu is a chain of Japanese restaurants that got its start on La Cienega Blvd. in 1987. To say it's been exclusive ever since may be an understatement; even in its early stages, Tom Cruise had trouble getting a seat. Soon, Robert DeNiro had petitioned Nobu Matsuhisa to open another location, which is now just one of more than 40 Nobu outposts everywhere from Milan to Cape Town to Dubai. (There are also about a dozen Nobu hotels.) No matter which Nobu you choose, rest assured: The seats will be full, the fish will be fresh, and the prices will be steep.
Still, Nobu Malibu stands apart. Even those who'd never dream of scrolling through a "where to see a celebrity in LA"-type list are drawn to its location, which is almost literally on top of the beach. The panoramic ocean view is practically built into the restaurant's architecture, down to the outdoor fireplaces that keep it open-air in winter. If there's anything accessible about Nobu Malibu, it's that no matter where you sit, you get to take it all in.
But from March 16 to June 6, Nobu Malibu enthusiasts had another thing in common: Not one of them could land a reservation. The pandemic had closed its doors, prompting a flood of geotagged throwbacks and tributes. (Sample captions: "When everything was easier" and "I won't take anything for granted ever again.") For some, a mirage of future sashimi became a beacon of hope: "When this is all over, let's go to Nobu," one wrote just two days in.
"This," of course, is still far from over. But for the patrons who never questioned their return to Nobu, the wait finally is. Non-celebrities have realized as much; enough teens posted TikToks of themselves booking reservations as Kendall that she and the hosts apparently set up a password.
To be clear, Nobu Malibu doesn't seem to have broken any rules since reopening. California is still under a stay-home ordinance, but restaurants are now permitted to offer sit-down dining outdoors. Guests are allowed (and legally permitted) to access the bathrooms, as Nobu guests have thoroughly documented with mirror selfies, but the rest of the establishment's interiors—bar and lounge included—remain off-limits. (Though one Yelp reviewer curiously posted a photo of herself enjoying champagne and miso soup while apparently indoors.) The Nobu staff undergoes daily wellness and temperature checks, and is "frequent and extensive" when it comes to hand-washing. They also "rigorously" disinfect guest and service areas every 30 minutes, and instruct guests to view the menu via QR code.
Nobu Malibu also offers takeout, though for celebrities, that may be beside the point. The point is to see the view—and, above all, to have others see you. An appearance can even be powerful enough to serve as damage control. In late November, for example, Elon Musk attempted to reveal his supposedly bulletproof Cybertruck and ended up shattering its glass. A few weeks later, he drove to Nobu and declined to use the valet. By the time Musk had finished his meal, the Cybertruck had been photographed repeatedly—this time, in the immaculate condition he'd always intended. The following morning, TMZ ran a redemption story headlined "No Shattered Windows!!!"
Back in March, when posting Nobu throwbacks was at its peak, Instagrammers were careful to clarify their photos were relics of the past. After all, social gatherings—which California defines as "meetings or other events that bring together persons from multiple households at the same time for a shared or group experience in a single room, [indoor or outdoor] space, or place"—were, and still are, banned. Earlier this month, Demi Lovato took their lead when she posted three Instagrams of two separate Nobu outings in the space of a week. "We all tested negative beforehand and recommend everyone does the same before seeing friends!!," she captioned an image of herself and Ehrich embracing two of theirs. ("Haven't been out much," Ehrich captioned his own solo Nobu gram.)
They may not flaunt it on Instagram, but celebrities are well aware that their outings—and perhaps even pandemic transgressions—will be documented anyway. (And despite all the dating rumors, it doesn't seem likely that Cara Delevingne is part of the Gerber family household.) But plenty don't seem to mind. After all, what's a little Nobu gathering to a mask-less Bieber house party—especially when COVID-19 tests are at your fingertips?
Perhaps it's a public service. After months of starvation, the paparazzi—and Just Jared and the Daily Mail's loyal readerships—finally have something to eat. There's something jarringly ordinary about their photos, which of course only adds to the allure. There's Leo, still going strong with 23-year-old Camila Morrone! There's Cole Sprouse, "surrounded by ladies" at his 27th birthday! There's Angelina Jolie, taking up precious seating real estate with six of her kids! And there's Leo—or is it Leo?—again, channeling Watchmen with a comically large hood atop his already completely obscured face!
The urge to cover up is understandable. Now, more than ever, scrutiny is guaranteed. For Justin Bieber, it's presented the opportunity to plug his new Drew House face masks; for Kendall and Kylie Jenner, those of their sister Kim Kardashian's Skims. For the first time in months, brands can boast that their designs were spotted out in the wild. The new red carpet just might be the newly reopened Nobu Malibu valet.
Of course, celebrities aren't the only members of Nobu's fanbase. Though for those who've helped make the Malibu outpost's Yelp page more vibrant than ever, the experience has been a bit less idyllic. Take this review from a California resident named Tiffany:
Tiffany wasn't kidding about being on hold. When I finally got through, an employee told me what another eventually told Tiffany: Reservations must be booked 30 days in advance. That, allegedly, goes for everyone; because Nobu is operating at reduced capacity, the employee said, the restaurant no longer makes special exceptions for high-profile guests. If that's indeed the case, here's hoping the assistants behind their schedules are getting a raise.
Related: Remembering the Bizarre History of New York's Fashion Café