Want a Tattoo? Try Noma Han, South Korean Supermodel
The Calvin Klein and Public School model moonlights as a tattoo artist in K-Town when he's not walking shows. Here's the surprise: He's good!
---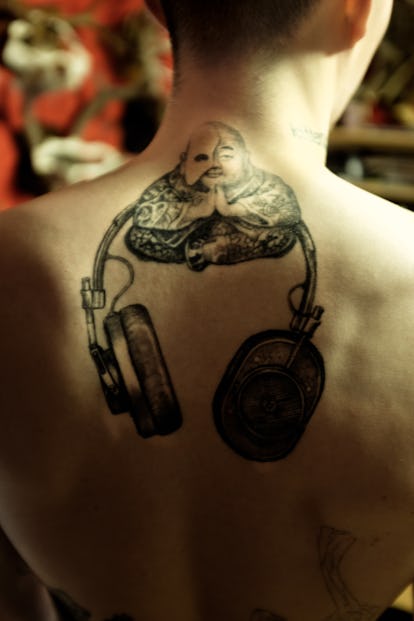 The first person South Korean model Noma Han ever tattooed was himself. Hunched over his right thigh, the process took six hours and was so painful that he couldn't even finish.
"When I started doing it, I thought it wasn't going to be that big. But then I was like, 'This is big, this is huge!' I was shaking. I was sweating. It was very nerve-racking," he said.
Han, 24, recounted all this on a recent Friday while preparing to tattoo Kevin, his mentor and the owner of Black Fish Tattoo in K-Town, Manhattan, where Han works six days a week when he's not booked for modeling gigs. It's been two years since he was forced to tattoo his own leg for practice and he was holding a loaded ink gun to his boss's clavicle with steady hands. They take turns tattooing each other when the shop is empty, which recently resulted in Kate Moss' face ending up on Han's elbow.
"She's a legend to me," he said with a smile. "She has such a badass look."
Born and raised in Incheon, South Korea, Han has always had a desire to break from tradition. "I wasn't a bad kid, but at the same time I wasn't really studying," he said. "In Asian countries, parents are crazy about studying, so they were really upset." He eventually left home to go live with his grandmother in Seoul, working at a fried chicken shop to save enough money to move to New York City at the age of 18, where he would pursue modeling with the help of a photographer roommate.
"When I first came to New York, I was a rebel," Han said. "I wanted to do something crazy. But the craziest thing I could think of was cutting my hair short and getting a small tattoo. Korea is very, very conservative. If you have tattoos, you're considered a bad kid. Like, very bad. Like, yakuza bad. I never saw tattoos as a bad thing, though."
Han's first tattoo ever was a copy of an abstract design he saw on model Ash Stymest eight years ago. He admitted that this was a time in his life when he wasn't very original. "Honestly, it just looked cool," he says. "When you're young, cool things just make you feel cool. I started modeling because it looked cool. I started tattooing because I wanted to make money, but also at the same time it looked cool."
The fashion world has decided Han looks cool, too. Since moving to New York, he's made a name for himself by starring in numerous editorials, covering *Daze*d for instance, and also landing campaigns for brands like Calvin Klein Jeans, Jill Stuart, and Public School, and walking in numerous runway shows at New York Fashion Week. He's still humble, however, and attributed his success to his tattoos. "Asians with tattoos are not normal," he said with a straight face.
On the other hand, Han also attributed modeling to helping him become a better tattoo artist: "You have to use your body to work the machine," he explained. "Like with modeling, as time passes, you get better at it and more comfortable in front of the camera, so you can actually move. At first, you're really tense."
He then demonstrated what it looks like to hold a tattoo gun when you're tense, and it's not something you want to go anywhere near.
With three years of training and over 50 tattoos he can call his own, Han is now comfortable enough to solicit clients on his Instagram. For many, the answer has been "Yes."
He can ink "Whatever" in Chinese and draw everything from toast to Tim Burton characters. And he swears not to judge you for any design, big or small.
"If it's cool in their eyes, then it's cool," he said. "This is why I love tattoos: they don't have to be cool to others. People ask me why I got mine and I'm like, 'Because I liked it.'"
Photos: Want a Tattoo? Try Noma Han, South Korean Supermodel
Noma Han. Photo by Biel Parklee.
Noma Han's tattoo of Kate Moss. Photo by Biel Parklee.
Noma Han tattooing the owner of Black Fish Tattoo in K-Town. Photo by Biel Parklee.